Mitt Romney Back At The Top In New National Poll
Rick Perry's slide in polls seems to be accelerating.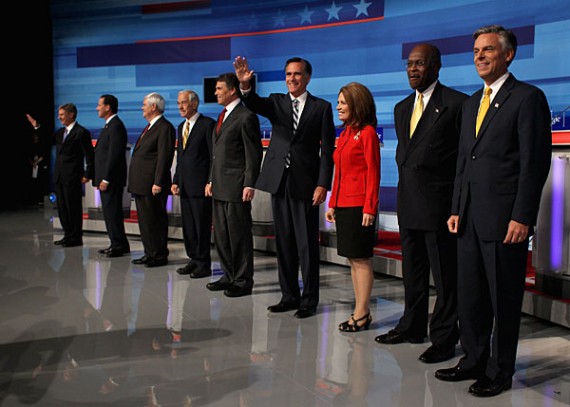 Rick Perry is paying a price for three bad debate performances in a row and the controversy he generated on the right over his positions on immigration and the HPV vaccine:
Three September debates have shaken-up the race for the Republican presidential nomination. Herman Cain has jumped into the top tier. Rick Perry's stumbled. Mitt Romney's holding steady.

And Michele Bachmann is hitting bottom. That's according to a Fox News poll released Wednesday.

The new poll found Cain's support has nearly tripled among GOP primary voters to 17 percent.

That's up from 6 percent before this month's debates, and puts him in what is essentially a three-way tie with Perry and Romney.

Perry now garners 19 percent, a drop of 10 percentage points from a month ago. That puts Romney back in the top spot with the support of 23 percent. Last month Romney was at 22 percent.

Newt Gingrich recovered some ground and now stands at 11 percent. Ron Paul receives the backing of 6 percent now compared to 8 percent before the September debates.

Bachmann registers 3 percent support, down from 8 percent in late August and a high of 15 percent in July.
It's been a good day for Romney. First he's up in state polls in Iowa and Florida, and now he's back at the top of the GOP field thanks mostly to the fact that Rick Perry has spent the past month shooting himself in the foot. The Herman Cain rise is interesting, although likely largely attributable to the press he's gotten from the debates and the straw poll victory. Most likely, many people who had been leaning to Perry are backing Cain now rather than Romney. In addition to Perry, the biggest loser here is Michele Bachmann who is near the bottom of the poll with the likes of Rick Santorum and Jon Huntsman. She still seems to be holding on to a contenders spot in Iowa, but she's fading nationally.
At the very least this should be raising some alarm bells over at the Perry campaign, especially if it's replicated in their internal polling and the other national polls that are likely to come out over the next week or so. Perry has already said today that he regrets calling the opponents of his in-state tuition program heartless, which is a necessary first step but only a first step. Perry has to re-tool his campaign away from constantly attacking Romney and start emphasizing his own plans, which are surprisingly sparse at the moment. Otherwise, he's likely to continue treading water while Mitt Romney continues on course to what might start looking like an inevitable victory.
This is still a Romney/Perry race, but if Perry continues fumbling it could be over before it begins.