Rick Perry On Painkillers During Debates?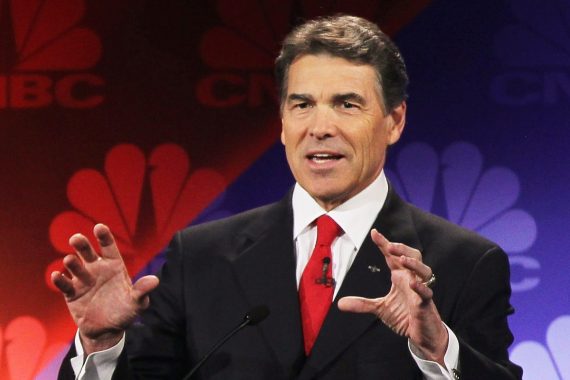 A new ebook on the 2012 campaign says that Texas Governor Rick Perry was using painkillers to deal with back pain during the Presidential debates he participated in:
Texas Gov. Rick Perry was under the influence of painkillers during televised presidential debates over the last year to help relieve severe back pain, according to a soon-to-be released eBook on the 2012 Republican race for president obtained by The Daily Caller.

"It became an open secret that he was using painkillers in sufficient dosages to keep him standing through the two-hour debates," write the authors of "Inside the Circus."

(…)

The authors imply that the painkillers may have led to a humorous incident before an October debate in New Hampshire when the "manager of a rival campaign" overheard Perry belting out the song "I've Been Working on the Railroad" while in the bathroom.

"Wondering who was making all the noise, the campaign manager turned his head and saw, to his surprise, the governor of Texas," the book states. "Perry came down the row of about twenty urinals and stood companionably close by.

Allen and Thomas continue: "Nonplussed, the campaign manager made a hasty exit; as the bathroom door closed, he could hear Perry still merrily singing away: "I-I-I've been working on the ra-a-i-i-l-road, all-l-l the live-long day . . ."
Maybe if he'd done that during the debate things would've turned out differently. Perhaps he and Herman Cain could've done a duet.
More seriously, it was an open secret that Perry had had rather serious back surgery back in June, and it was suggested at the time that his decision to go forward with the surgery at that time was a good indication that he was not going to run for President. At that point in time, he probably wasn't going to run. As the race moved into July and August and conservatives grew dissatisfied with the field, he obviously changed his mind. Perhaps he thought he had recovered enough that a rigorous campaign schedule would not be impeded by back issues. As his debate performances got worse, though, and especially since many of his worst gaffes seemed to happen in the late minutes of the events, people speculated that perhaps standing for long periods of time was having more of an impact on him than the campaign was willing to admit. This story may be confirmation of that speculation.