Reports Of Rick Perry's Political Death Are Greatly Exaggerated
Rick Perry has stumbled out of the gate, but he'll be in this race for the long haul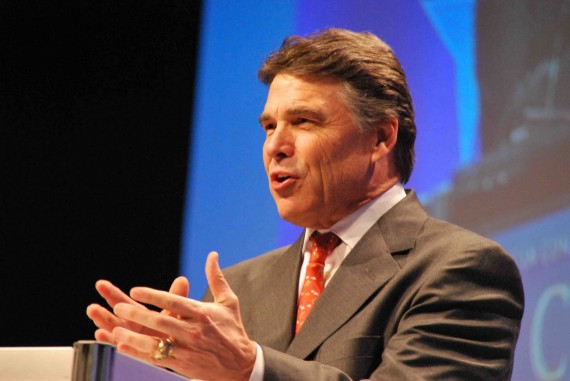 As reluctant as I am to buy into the idea that a straw poll result in Florida (or anywhere else) means anything, it's becoming quite obvious that Rick Perry's huge loss to Herman Cain yesterday is, as Steven Taylor predicted, feeding into the narrative that there is something wrong with the Perry campaign, or the candidate:
ORLANDO – The alarm bells are ringing for Rick Perry's presidential campaign.

The Texas governor, who leaped to the top of national polls immediately after his August kickoff, finds himself suddenly reeling from a pair of setbacks in the country's most prominent political battleground.

First, Perry drew a round of scathing reviews for his unfocused debate performance in Orlando Thursday night. Then he suffered a thumping defeat in the Florida GOP's straw poll – to long-shot candidate Herman Cain, no less – that amounted to a vote of no confidence from dissatisfied activists.

The back to back stumbles added up to the worst week of Perry's still-young White House bid, and left party strategists wondering what he can do to bounce back.

"Perry's showing in the straw poll was disastrous. He was here, he worked the crowd, and it just proves that the debate performance really undermined his support," said Republican pollster Tony Fabrizio, who was at the straw poll in Orlando this weekend. "Perry's gotta retool, reorganize and retrench very quickly."

Said one prominent conservative activist: "They've really got to go into damage control mode and right this ship, and they've got a relatively brief amount of time to do it. And if they don't, I think he's done."

The line coming from the Perry campaign is just the opposite. Perry is little more than a month into the race, his advisers say, and he has proven that his message can resonate powerfully. Their view is that unlike Mitt Romney, Perry still has plenty of room to grow his support.

"We will continue to take our message of being a consistent conservative, who has a proven record of creating jobs and fiscal discipline to Washington," said Perry strategist Dave Carney, pointing out that Romney came in behind Perry in the straw poll. "Mitt Romney's embarrassing showing [Saturday] after five long years building his Florida operation was unveiled as a myth and a media creation."
The difference is that nobody was really expecting Romney to win the straw poll in Florida. For one thing, the Romney campaign has largely ignored all straw polls this year, including the much-hyped and easily manipulated Ames, Iowa Straw Poll. The most that Romney has done with regard to any of these events is to show up and speak, as he did at Ames and again at the Mackinaw Island event in Michigan this weekend, but the campaign has not invested serious resources into competing in the straw polls. One reason for this, clearly, is to avoid being embarrassed by a poor showing in a straw poll in which they had invested serious resources the way Romney invested to win the Ames poll back in 2007. For another, Romney obviously wasn't going to be the first choice of the conservative Republican activists that show up to events like the one in Florida. This is why Romney didn't really participate in the Florida event, choosing instead to head north for a Midwest swing before speaking in Michigan. Perry, on the other hand, should have arguably done better.
There seem to be two explanations being raised for why Perry underperformed in Florida, and they both point to potential problems for his campaign. First, Politico reports that many of the delegates to the event noted that Perry never actually asked the delegates to vote for him:
ORLANDO — Activists at the Florida Straw Poll Saturday said Rick Perry forgot a crucial step in earning support: Asking for it.

At a morning breakfast the Perry campaign threw for the 3,500 Presidency 5 delegates on Saturday, the Texas governor touted the importance of the event — and chastised the candidates who'd skipped it — a clear reference to Mitt Romney.

Florida is a state "that picks presidents," Perry said.

But in his eight-minute address to the crowd of about 1,100, Perry never directly asked them to cast ballots for him, despite being one of the only candidates actively competing to win the straw poll.

That was a stark contrast to Herman Cain, who spent far more time personally engaging on the ground with delegates in the lead-up to the vote — helping give him a win that capped a rough week for Perry's new campaign and helped harden growing concerns among Republicans about his durability.

Tony Jackson, a Perry volunteer from Hillsborough County in Florida, said that Cain's well-attended and well-received speech to the delegates just before the vote really helped him.

"I think one of the determinative factors was Mr. Cain was still here (and spoke to the crowd)," he said.

Jackson noted that Perry had to leave for a prior commitment at a Michigan straw poll, but suggested the timing worked against him.

Attendees expressed frustration with all the candidates who didn't stick around for the whole day of the straw poll, but Perry — whose campaign worked the event hard and spent real money trying to win it — was singled out repeatedly.

"He didn't take Florida seriously by staying here," said Scott Cayouette, a delegate from outside Ft. Lauderdale who stayed undecided until deciding to back Cain after watching the former Godfather's Pizza CEO's speech.
When it comes to events like this, a candidate who personally engages with the delegates has a chance to go far. Cain did that, and Perry didn't, and the delegates noticed. Timing issues aside, this strikes me as the kind of tactical mistake that leads one to wonder just how good his campaign organization actually is at the moment. As I've noted before, Perry's campaign staff largely consists of the same people who have run his campaigns for Texas Governor for the past ten years. While this group may work well with the candidate, they may not be the best people to run a national campaign. If they continue making mistakes like this, one would think that a staff shakeup would be in order.
The other factor that seems to have been a problem for Perry this weekend, though, goes to the one area where he strays from conservative orthodoxy:
Rick Perry hit a roadblock on immigration at Florida's Presidency 5 straw poll on Saturday.

An issue that may have less impact in other early-state Republican primaries, immigration is a hot-button issue in Florida — and Perry's botched attempt to explain his policies back home in Texas during Thursday's Fox News debate has soured conservative activists here on him.

In interview after interview as they filed out of the Orange County Convention Center hall where votes were cast, delegates pointed to his support for a state-based version of the DREAM Act — which provides in-state tuition rates to some illegal immigrants — and his denouncement of those who disagree as lacking "a heart."

"I looked at my wife when he said that and said, 'I think he may have just lost,' … because it was making it personal to a lot of Republicans," Florida State Rep. Scott Plakon said of the debate answer. "His stances on immigration and [mandating the HPV vaccine], I actually think he could have gotten around that. But saying that you don't have a heart if you disagree on such an issue like that was a very poor choice of words. I know a lot of the Republicans here were offended by it."

Plakon decided to support former pizza baron Herman Cain, who won an upset victory with more votes than the next two finishers, Perry and former Massachusetts Gov. Mitt Romney, combined.

Several delegates said Perry needed to give a better explanation for the policy, as well as his opposition to a fence along the Texas-Mexico border. And Perry's decision to frame the issue with the kind of language more typically used by liberals repulsed some base voters.

"I considered Perry until he said we don't have a heart," said Joe Burk from Orlando, who voted for Romney. "We can get that liberal guilt trip stuff from someone else."
Dave Weigel noted the same phenomenon, with many delegates telling him that Perry will have to do a better job of explaining his position on this issue, including the in-state tuition program and his opposition to a border fence, if he's going to ever put it behind him. This is the kind of thing that could be a problem for Perry not only in Florida, but also in other states where immigration has become a hot button issue like George, Alabama, South Carolina, and California. Frankly, though, I'm not sure that this is something that Perry can easily put behind him. His past statements are all on the record, as is what he's said in the past three debates. You can't just take stuff like that back without looking like the kind of flip-flopper that Perry is trying to paint Mitt Romney as being.
Despite all of this, though, the narrative that has developed since the last debate of a flailing and possibly doomed Perry, some of which has led to renewed speculation about Chris Christie entering the race, strikes me as being wildly premature. Despite the fact that he has come back down to earth after rising so quickly to the top after entering the race, there's still plenty of reason to believe that Perry has staying power in this race. The main reason for Perry's amazing rise in the polls at the beginning is because many saw him as the most credible conservative candidate to defeat Mitt Romney. Romney had been at the top of the polls since the start of the year and every actual or potential candidate that had come along to challenge him — from Donald Trump to Herman Cain to Michele Bachmann — had fallen short once their rather obvious inadequacies were revealed.
As both Jonathan Tobin and Nate Silver have noted, Perry is still the most credible conservative alternative to Romney in the race despite his mis-steps and flaws. Compared to any of the other conservatives in the race he has more experience and better credentials, and he lacks the baggage of someone like Michele Bachmann. As for potential challengers who aren't in the race already, it's hard to see who could possibly get in that could credibly take on Perry as the primary challenger to Romney. Chris Christie doesn't fit the bill because, as I noted yesterday, he's neither as experienced nor as conservative as Perry so there's no reason for conservative voters to jump ship to him. Sarah Palin wouldn't be able to do it either, because she's far too divisive even among her fellow Republicans. With only one month left for candidates to get in the race (filing deadlines for the primaries start hitting the calendar on October 31st), there really isn't anyone else on the horizon who could mount a campaign in such a short period of time. Perry is the best hope the conservative/Tea Party wing of the GOP has of winning the nomination, so despite all these mis-steps, he's at least going to be around until the voting starts, at which point we'll know whether or not he can really defeat Mitt Romney.
None of this is to say that there aren't some things that Perry and his supporters should be worried about. The campaign itself is, as I've said, probably in need of a shakeup at some point in the near future. More importantly, Perry himself needs to spend the three weeks between now and the next debate learning from his mistakes over the past month of debating. Another bad performance on October 11th could mean that the Republicans who are looking to him right now give up hope and accept the inevitability of Mitt Romney being their nominee.