The Utter Folly Of Herman Cain's "9-9-9" Plan
Now that he's a top tier candidate, it's hard to see how Herman Cain's tax plan can withstand serious scrutiny.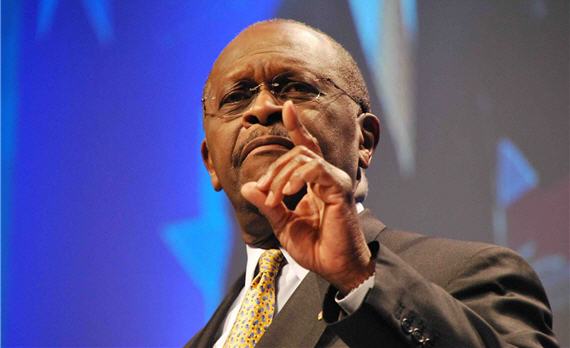 Not surprisingly, last night saw Herman Cain's "9-9-9" plan came under the microscope in a way it hasn't before:
Former Godfather's Pizza CEO Herman Cain and his "9-9-9" plan stole the spotlight at a Tuesday night debate among Republican presidential candidates in New Hampshire.

The GOP candidates took their turns weighing in on Cain and their own plans to boost the economy and job creation at the debate, while frontrunner Mitt Romney, the former Massachustts governor, emerged relatively unscathed.

Cain, who's surged to second place in recent national polling, talked up the plan — which calls for a nine percent tax on personal income, business income and sales — and responded to criticism from other GOP presidential hopefuls.

Minnesota Rep. Michele Bachmann said it's "not a jobs plan; it's a tax plan."

"When you take the '9-9-9' plan and turn it upside-down, the devil's in the details," she said, referencing the Satanic sequence of numbers, "6-6-6."

"I don't need '9-9-9,' We don't need any plan to pass Congress. We need to get a president of the United States that is committed to passing the types of regulations, pulling the regulations back, freeing this country to go develop the energy industry that we have in this country," said Texas Gov. Rick Perry, whom Cain has overtaken in recent primary polls.
After the debate, the Bachmann campaign said that Cain's plan would "wreck the economy," and she wasn't alone in piling on the new co-frontrunner. Rick Santorum denounced it as a "fantasy" that could never be passed by Congress. And, Jon Huntsam got off a good joke at Cain's expense when he said that he thought 9-9-9 referred to the price of the pizza.
Joking aside, though, Cain is now a frontrunner and he's starting to get scrutiny from the press and pundits like he hasn't before, starting with his tax plan:
Cain's so-called "9-9-9" plan has liberals and tax analysts worried that the plan would not take in enough revenue, and that it would cause lower- and middle-income families to pay more.

But conservatives have a different concern – that Cain's plan to install a 9 percent national sales tax, paired with income and corporate taxes at that same rate, would give Democrats a brand new tax stream to try to squeeze out more revenue.

Cain's rivals for the Republican nomination, like former Sen. Rick Santorum of Pennsylvania, are not the only ones expressing that concern. Even Grover Norquist's Americans for Tax Reform (ATR), while saying there is a lot to like about the 9-9-9 plan, says the idea could give liberals a chance to expand the nation's revenue base.

"All Mr. Cain's plan does is establish a new tax on the American people and, while a 9 percent tax may pass the Congress, Harry Reid and Nancy Pelosi will waste no time making 9 percent into 19 percent," Santorum told The Washington Post.

As for ATR, Ryan Ellis, the group's tax policy director, said Cain's plan to tax more on the consumption side was a positive step. But Ellis also worried that, if a new national sales tax was implemented, Democrats would try to use it to expand the scope of the federal government.

"The national sales tax in '9-9-9' would be used by the left to be that new source of money if given the opportunity," Ellis said.
Not just the left, I would submit, but the right as well. As the history of the income tax shows us, once the government has access to a new revenue stream it will inevitably act to enhance that stream as much as possible and, with a sales tax that is charged at the point of purchase and largely hidden from the taxpayer, the ability to enact stealth tax increases would be far too tempting for any Member of Congress to resist. Cain says he would prevent that from happening by making sure the plan included a required two-thirds supermajority vote to make changes to the plan. The problem with that, though, is that absent a Constitutional Amendment it's hard to see how a supermajority rule enacted by one Congress could possibly bind a subsequent Congress, or even itself. All it would take, in theory, would be a majority vote to override the supermajority "rule." Cain hasn't explained how he'd deal with this problem, partly because nobody has asked him, and partly because I doubt he's actually thought it through.
That Cain doesn't have a lot of specifics to back up the slogans shouldn't be all that surprising. While he loves to mention the plan during his media appearances, he is far less willing to share any of the details behind the plan, such as the backup for his assertion that the plan is revenue neutral, or the even who has helped him come up with the plan. That's not surprising, though, once you realize that the plan's chief architect, Rich Lowrie, isn't an economist at all and is in fact a Wells Fargo Branch employee working outside of Cleveland, Ohio whose highest educational degree is a apparently a B.S. in Accounting from Case Western Reserve University. Outside of his banking experience, Lowrie appears to have distinguished himself primarily as a volunteer adviser to Americans for Prosperity and the American Conservative Union. Considering that Cain has said repeatedly in other contexts that he intends to surround himself with "experts," his reliance on such an unqualified person to draft the central plank of his campaign is strange indeed.
The other detail about 9-9-9 that Herman Cain never mentions is the fact that it's really just step one of his tax reform plan. Step Two would be to transition the nation to something resembling the so-called FAIR Tax, a national sales tax that has been advocated for several years by people like Cain, Mike Huckabee, and talk show host Neil Boortz. Leaving aside the problems with the Fair Tax, of which there are many, Cain has never quite explained how he would be able to implement two fundamental transformations of the tax system in four or eight years in the White House. He clearly has no understanding of how Washington really works, or why he would need to worth with Congress, not merely dictate to them as he did when he was CEO at Godfather's Pizza.
National Review's Kevin Williamson did a fairly devastating takedown of the plan two weeks ago:
Mr. Cain says the proposal would be revenue-neutral. I have my doubts. The federal government took in about $2.2 trillion last year. Based on personal-income and business-income figures from the IRS, and consumer-spending figures from the Gallup survey, my English-major math suggests that a 9 percent tax on all of the above produces about $1.7 trillion in revenue, meaning that 2010's $1.7 trillion deficit would have been more like a $2.2 trillion deficit — from calamity to catastrophe. If Mr. Cain's team is building in some growth assumptions into the fiscal forecasts, they must be sunny indeed.

In any event, Mr. Cain has not spelled out in any detail a spending proposal that would allow the federal government to get by on $2.2 trillion, much less on $1.7 trillion. If the Tea Party stands for anything, it stands for smaller government, meaning lower spending. And yet the allure of magical thinking on taxes is so powerful that the tea-party favorite has given a great deal more detail about his tax proposals, with actual figures and everything, than he has about his spending proposals, which remain remarkably vague: Spending must be "reviewed with a keen eye and a red pen," he says. Well, gee willikers, why didn't I think of that? (Other than his pie-in-the-sky growth assumptions, my least favorite thing about Herman Cain is that his response to every challenge is to appoint a committee of smart guys to do the right thing. He seems incapable of appreciating the fact that moral failing is not the only reason Washington fails to do the right thing.) As I have argued before, the real danger of tax-cuts-and-growth utopianism is that it draws attention away from spending cuts, which is where the real action is needed. Mr. Cain is nibbling at that bait.

The 9-9-9 proposal also creates some perverse incentives. With business income taxed at 9.0 percent while dividends and capital gains are taxed at 0.0 percent, there is an excellent reason to pay out something approaching 100 percent of business income as dividends, or to hide it by "reinvesting" it in the business. I like dividends and am sympathetic to the case for giving them preferential tax treatment — a company that concentrates on paying a high dividend rather than on raising its share price probably is a better-behaved company, in most cases — but it is always and everywhere true that if government creates a tax shelter it will be exploited to maximum effect.
Former Reagan Administration official Bruce Bartlett,  meanwhile, points out the perverse policy impact that Cain's plan would have:
It's important to understand that the 9 percent rates on personal and business income would apply to very different tax bases than now exist. For individuals, the tax would apply to gross income less only the deduction for charitable contributions. No mention is made of a personal exemption.

This means that the 47 percent of tax filers who now pay no federal income taxes will pay 9 percent on their total income. And elimination of the payroll tax won't even help half of them because the earned income tax credit, which Mr. Cain would abolish, offsets both their income tax liability and their payroll tax payment as well.

Additionally, everyone would now pay a 9 percent sales tax on all purchases. No mention is made of any exemptions from this tax, so we may assume that it will apply to food, medical care, rent, home and auto purchases and a wide variety of other expenditures now exempt from state sales taxes. This would increase their cost of living by 9 percent while, at the same time, the poor would pay income taxes.

The business tax in the Cain plan bears no resemblance to the present corporate income tax. The tax would apply to gross sales less dividends paid and all purchases from other companies, including investment goods. Thus, there would be no deduction for wages.

How benefits would be treated is unclear, because purchases of things like health insurance might constitute a purchase from another company and remain deductible. If so, what is to stop a company from paying its employees by leasing their cars and homes for them and even buying their food and clothing? That would reduce their taxable revenue.

The abolition of any deduction for wages is likely to raise the cost of employing workers, even with abolition of the employers' share of the payroll tax. And since the dividend deduction doesn't appear to be related to profitability, companies could borrow to pay dividends and still get the deduction. Even a novice tax lawyer could easily make a tax shelter out of that.
Both Bartlett and Williamson make excellent points. As The Cato Institute's Dan Mitchell has noted, imposing a national sales tax on top of an income tax would be an invitation to disaster on the part of Congress, and Congress is always wiling to accept those kinds of invitations. On the other side of the argument, a plan like Cain's would have the perverse effect of raising taxes on those least able to pay them, while providing those in upper income brackets with an entirely new, and nearly foolproof, method of sheltering their income from any taxation at all. Yes, they'd have to pay the sales tax like the rest of us do, but that's going to be a far smaller share of their income than it is for somebody making $35,000 per year, or less.
Cain's tax plan is getting attention because it sounds simple and easy. As Mitt Romney pointed out last night, though, the solutions to our problems aren't going to be simple and easy, and hiding behind a slogan that is, as Hunstman put it, more appropriate for a pizza place than a Presidential candidate is a sign of just how unserious Herman Cain really is. The floodgates have been opened, though, and I think we're about to see people start to realize that there's far less to Herman Cain and 9-9-9 than meets the eye.