Chris Christie Reconsidering Decision Not To Run For President?
Another round of rumors is out claiming that Chris Christie is thinking about running for President.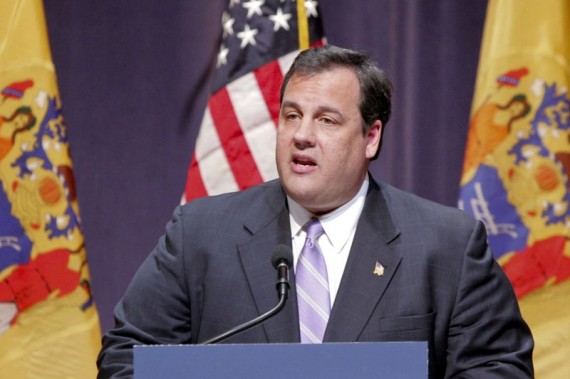 With Rick Perry's debate performances causing many conservatives to doubt his ability as a candidate going forward, attention is one again turning to New Jersey Governor Chris Christie and there are numerous reports out their purporting to confirm that Christie is indeed reconsidering his decision to stay out of the Presidential race. It started last night with a report at Newsmax that Christie is again being lobbied by Republican leaders and fundraisers to get into the Presidential race:
New Jersey Gov. Chris Christie is reconsidering his decision not to enter the 2012 presidential race — and he says he will let top Republican donors know within days about his plans, Newsmax has learned.

During the past few weeks, several leading Republican donors and fundraisers have been urging the popular Republican governor to reconsider his decision not to run and to enter the GOP primary.

These Christie supporters note that significant GOP support has remained on the sidelines of the primary fight. Many leading fundraisers have yet to commit to any current primary contender, including frontrunners Rick Perry and Mitt Romney.

Newsmax has learned that the effort to draft Christie culminated in a hush-hush powwow held in the past week with Christie and several notable Republican billionaires.

A source familiar with the meeting suggested that Christie seemed inclined to enter the race but said he needed more time.

Christie promised to make a final decision "within two weeks," the source said.

Another source involved in GOP fundraising tells Newsmax that that uncommitted fundraisers and donors have been receiving phone calls from top political aides to Christie, seeking their feedback about his possible entry into the race.
The Newsmax report was shot down by long time Christie friend and political adviser Bill Palatucci, who told Newark Star-Ledger reporter Ginger Gibson that "Newsmax is wrong."  Despite this denial, though, reports are persisting today that seem to confirm what NewsMax reported last night. The New York Post says that it has a source that confirms that Christie is indeed reconsidering his Presidential plans, and Politico is out today with it's own story on this new round of Christie speculation
With the party's frontrunner sagging, Chris Christie is reconsidering pleas from Republican elites and donors to run for president in 2012, two Republican sources told POLITICO.

The New Jersey governor has indicated he is listening to big-money backers and Republican influence-makers, and will let them know in roughly a week whether he has moved off his threat-of-suicide vow to stay on the sidelines of a presidential race that remains amorphous heading into the fall, the two sources said.

Texas Gov. Rick Perry's candidacy has failed to clear a basic bar with elites and some donors, and his shoddy debate performance in Orlando has only highlighted the window for someone who Republicans searching for a Mitt Romney alternative can rally around.

Christie's potential candidacy has been an increasingly fevered fantasy of a certain cadre of some media and business elites — mostly based in New York, with a smattering of California technology and entertainment players — since last summer. That's when he showed up at a Sun Valley conference hosted by the investment banker Allen and Co. and wowed the crowd, including Rupert Murdoch, with what many in attendance described as a nimble mind and a speaking style that was both articulate and blunt-spoken.

But after months of going out of his way to end the speculation, Christie started indicating he would at least think about getting in during the past week, the sources said, a period in which he held an event with Indiana Gov. Mitch Daniels — who has strongly indicated he'd like to see another entry to the field — and had a meeting with a group of major New York donors.

The meeting, which was with a tighter group than one he held a few months ago that featured major check-raisers like Ken Langone, Paul Singer, David Koch and Charles Schwab, and abut 35 other people, was first reported by the NewsMax website. Many of the donors have described the current climate to Christie as a rare historic moment to get in.

"I believe he is really considering it," one fundraiser told POLITICO.

Another source said Christie had been assured by the group that the money would be there if he were to run — not just in terms of what could be bundled in hard campaign committee dollars, but also in the form of a super PAC that could receive unlimited funds
Some pundits and Christie boosters are finding significance in remarks that Christie made earlier this week during a joint appearance with Indiana Governor Mitch Daniels, who has been touring the country promoting his new book:
The failure of the Republican presidential candidates to tell candid truths to the American public about the economic crisis is the reason conservatives keep begging him to run for president, New Jersey Gov. Chris Christie (R) said Thursday at an appearance with Indiana Gov. Mitch Daniels (R).

Christie, who has made blunt talk about New Jersey's problems the hallmark of his first term as governor, said Americans know the current struggles require everyone to sacrifice and are tired of both parties' politicians sugarcoating the truth.

"I think what the country is thirsting for, more than anything else right now, is someone of stature and credibility to tell them that and say, 'Here's where I want us to go to deal with this crisis,'" Christie said at Rider University in Lawrenceville, N.J. "The fact that nobody yet who's running for president, in my view, has done that effectively is why you continue to hear people ask Daniels if he'll reconsider and ask me if I'll reconsider."
It all sounds like someone who is at least thinking about getting into the Presidential race. Of course, it also sounds like it's all just wishful thinking on the part of conservative pundits and Republican insiders who are displeased with the current field and are now starting to doubt that Rick Perry is the guy who can both beat Mitt Romney for the nomination and go on to win a General Election against Barack Obama. As I noted earlier this week, though, this kind of wishful thinking tends to ignore some basic realities about Christie, and the 2012 race for the GOP nomination, that make this whole thing little more than fantasy.
For one thing, as I've said before, and as one Republican insider said to Politico's Mike Allen this morning, Christie has said more than once over the past year that he doesn't believe he's experienced enough to be President at this point in time:
"There are three reasons [Christie probably won't take the bait.] One is: He genuinely believes that he's not prepared on an issue and substance basis to address all of the things you have to address as a candidate, and he's leery of learning on the fly. Two, the performance of Perry shows the dangers of late entry: It's right in front of him. And while others use that as a reason for him to GET in, for him, it's the opposite – it's the reason that validates his decision NOT to get in this late. And the third is that … you sit and look at the map … and the path for Chris Christie [to get more delegates than Romney] is difficult to chart … If he gets in, the first thing he has to do is beat Perry and establish himself as the REAL anti-Romney. And the path to doing that is difficult: Perry's not going to just drop out."
Exactly. The one thing you never hear from the people who keep trying to boost the idea of a Christie run is what is path to victory in the Republican race would be. Yes, he's become a popular figure nationally among Republicans thanks to his out spoken demeanor and his willingness to take on the opposition. However, he also strays from conservative orthodoxy on several issues including climate change, Islam, and the Tea Party. He's also distanced himself from the GOP's "Drill Baby Drill" rhetoric on energy policy by supporting a ban on drilling off the coast of New Jersey. How, exactly, does a candidate like that win over conservative voters in states like Iowa, or pretty much anywhere in the South? If Christie really is talking to these top Republicans, I would hope for his own sake that he's asking them that question, because I'm going to bet they don't have a credible answer.