Don't Try To Parse Chris Christie
Pundits on the left and the right are having a hard time understanding what Chris Christie's praise of the President is all about.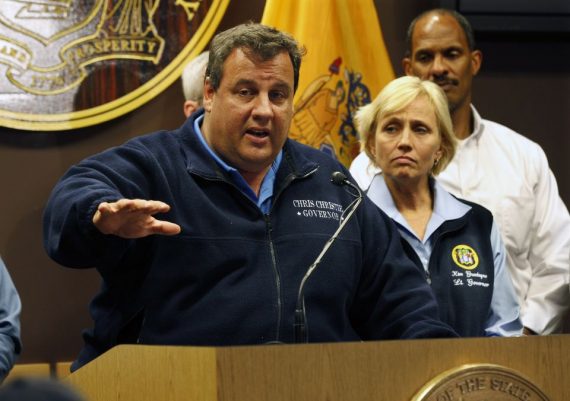 There seems to be a lot of confused pundits on the left and the right who are having a hard time trying to figure out Chris Christie's  effusive praise over the past 48 hours or so for the President of the United States and the Federal Emergency Management Agency. On the right, I've Christie accused of undercutting Mitt Romney, whom he has endorsed and campaigned for, with his praise of the President. For example, The Daily Caller's Matt Lewis put it this way:
Coming on the heels of Christie's tweet which said, "I don't give a damn about Election Day after what has happened here," Christie's over-the-top embrace of Obama has many observers scratching their heads.

It's important to put things in context. New Jersey was slammed with a deadly storm, and President Obama has — by all counts — executed his duties appropriately. New Jersey is obviously seeking federal assistance, and regardless, Christie should be gracious and respectful to the president.

The question is whether — with just days left before Election Day — Christie should have gone out of his way to lavish praise on Obama, and to provide him with a terrific photo-op for which to look presidential.

When Christie says he doesn't "give a damn about Election Day," that is also concerning — assuming he believes there are clear differences between the two candidates. While nobody should discount the seriousness of the storm — or Christie's responsibility to his constituents — electing the leader of the free world has serious consequences, too.

Is Christie really saying that the plight of his state today outweighs the seriousness of electing a President of the United States of America for four years?
Why? Well, because Chris Christie was elected to be Governor of New Jersey and he now finds himself faced with the greatest natural disaster ever to hit the state, is it really all that unusual that this is going to be the focus of his attention at this point rather than a Presidential election that he has, quite honestly, only been tangentially involved in as a surrogate to begin with. Yea, it's true that Christie was one of Romney's biggest endorsement "gets" back in the primary season, but electing Mitt Romney to the Presidency isn't Chris Christie's job. His job is to govern the state of New Jersey, provide leadership in the face of a disaster that has destroyed not only buildings but also a way of life for countless numbers of people, and make sure that everything that needs to get done to get the state back on track and on the road to recovery. Given the scale of the disaster that means working closely with the Federal Government to coordinate relief and cleanup, which in and of itself is going to take a considerable amount of time.
Confusion about what Christie is "up to" also seems to reign on the left:
White House officials seemed a bit flummoxed by Christie's bearhug. "It's unnerving," one laughed, noting how odd it is that a Romney big gun might help break the stubborn tie in the electorate in Obama's favor.

They speculate that Christie, who always puts Christie first, has decided that it's better for his presidential ambitions to be a maverick blue-state governor with a Democratic chief executive exiting in 2016 than to have President Romney and Tea-Party Republicans in Congress pulling him over to the extreme right for the next eight years. He also knows he'll need a boatload of federal cash to make his state whole again.
Jeffrey Goldberg has his own theories about what is motivating Christie:
 1) The first, most benign theory: Christie, in my experience, is a deeply emotional and highly sentimental man, and he is torn-up about the devastation along the Jersey Shore. The support he's received from President Obama — the support he receives from anyone — at such a wrenching moment, makes him inordinately grateful. And President Obama has been extremely attentive.

2) To add to Maureen's theory, Christie is an impatient guy, and the idea of running in 2016 is much more appealing to him than running in 2020. He will have faded from memory by 2020, in any case; plus Paul Ryan, who will have been vice president for four or eight years, would be a formidable challenger. For 2016, Christie is in the top-tier of Republican candidates. In 2020, who knows?

3) Chris Christie loves Bruce Springsteen. (This story, by yours truly, explains why.)  Bruce Springsteen loves Barack Obama. Bruce Springsteen does not love Chris Christie. Being overtly supportive of Barack Obama might get Chris Christie his holy grail: The approval of Springsteen, even a meeting with him. Believe me — he'd rather meet with Springsteen than with Obama, or anyone else.
Lewis, meanwhile, speculates that here may be a rift between Romney and Christie:
Based on his past support for Romney, it seems inconsistent that — with just six days to go before Election Day — Christie would now suddenly downplay the importance of the presidential election, and help bolster Obama's re-election chances.

So what's up? Is Christie angry he was passed over for vice president? Has he resigned himself to Romney's defeat? Or is something else afoot?

At some level, my guess is there must have been a Christie/Romney schism. Anything else seems implausible.
A Christie aide denies the idea that their is a rift between the two men.
When it comes to politicians, my cynicism can be unmatched at times and I think it's clearly possible that electoral issues are in the back of Christie's mind to some extent. After all, were he to screw this up it would likely be a serious problem for his political future and there is a Gubernatorial Election next year in New Jersey. I don't really buy the idea that Christie has decided to throw Romney under the bus so he can make a run for the White House in 2016, though, because that just seems far too Machiavellian for him. If there are political considerations here, though, it's simply the political reality that Christie has to handle this right or he's going to be in trouble in 2013. Isn't that how politics is supposed to work?
As for why Christie has been so kind toward Obama, isn't it just possibly that he's speaking his mind? We've all come to know that Chris Christie is a guy who tends to speak his mind, loudly at times, and who doesn't really care what anyone thinks about it. Often, that involves being critical of people and he's been accused of bullying because of that. Now, though, it strikes me that this is just Chris Christie being Chris Christie. He's always been like this, and now that he's faced with the biggest crisis of his Governorship, I don't know why anyone is surprised that he's being Chris Christie again. He's speaking his mind, and the people who are trying to read something into it, or accusing him of being disloyal to Mitt Romney by serving the people of his state are being just a little ridiculous in my opinion.
You're doing a good job Governor. Keep it up, and don't listen to the critics.
Update: A further thought. I don't think you can discount the fact that Christie is clearly a man who wears his heart on his sleeve, and a man who loves his home state. I've noticed over the past two days that his helicopter tours of the Jersey Shore area, one yesterday and then another today with President Obama, that he really does seem to be deeply affected by what he's seen. Consider these two tweets from Tuesday night:
The Jersey Shore of my youth is gone. #Sandy.

— Governor Christie (@GovChristie) October 30, 2012
The rides I took my kids on this summer are in the Atlantic Ocean. #Sandy

— Governor Christie (@GovChristie) October 30, 2012
It was an emotionally overwhelming afternoon for me as a son of this state. #Sandy

— Governor Christie (@GovChristie) October 30, 2012
Maybe you have to have grown up in New Jersey to get it.