Chris Christie And The George Washington Bridge: Politics As Usual, Scandal, Or Much Ado About Very Little?
Will a couple closed lanes on the George Washington Bridge end up being a problem for New Jersey's Chris Christie going forward?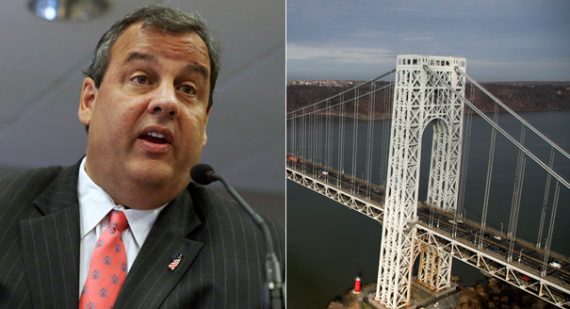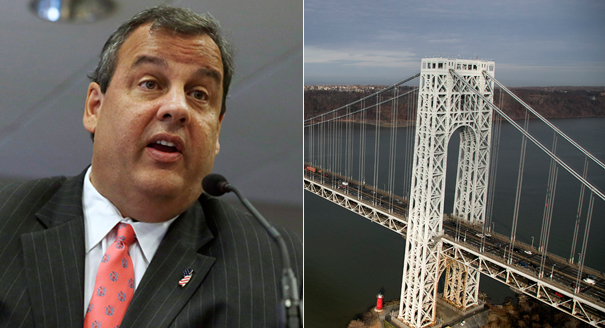 Ever since Chris Christie's massive victory in the New Jersey Governor's race, and indeed to some extent before that, there's been a story brewing in New Jersey that some people seem to think is a potentially major story. Essentially, it involves an incident in the fall of 2013 when several lanes of the George Washington Bridge, which is controlled ostensibly by the Port Authority of New York And New Jersey, were shut down, causing a major traffic jam on the New Jersey side of the bridge and major headaches for the City of Fort Lee, which sits on the Jersey side of the Hudson just next to the bridge. Fort Lee's Democratic Mayor, as it turns out, was one of the few North Jersey Mayors who had declined to endorse Christie's re-election bid and the allegation was made that the Christie Administration, the Christie campaign, or someone with connections to one or both, had made some kind of arrangements to shut those bridge lanes down and cause headaches for Fort Lee. Asked several times about the matter, Christie has dismissed the allegations as a non-story, but Christie's political opponents, including apparently some to the right of him in the Republican Party have persisted in pushing the story and insisted that it meant something significant about him, his political advisers or the way he conducts political business.
The latest revelations came today in the form of revelations that top Christie aides had discussed George Washington Bridge lane closures in a series of e-mail messages:
A series of newly obtained emails and text messages shows that Gov. Chris Christie's office was closely involved with lane closings on the New Jersey side of the George Washington Bridge in September, and that officials closed the lanes as retribution against the Democratic mayor whose town was gridlocked as a result.

The growing scandal around the bridge threatens Mr. Christie at the moment he assumes an even larger position on the national stage, as chairman of the Republican Governor's Association and a leading candidate for his party's presidential nomination in 2016.

In the documents, obtained by The New York Times and other news outlets Wednesday, Bridget Anne Kelly, a deputy chief of staff in Mr. Christie's office, gave a signal to the Port Authority of New York and New Jersey to close the lanes about two weeks before the closings occurred.

"Time for some traffic problems in Fort Lee," she emailed David Wildstein, Mr. Christie's close friend from high school, and one of his appointees at the Port Authority, which controls the bridge. Mr. Christie and some officials at Port Authority have said the closings were done as part of a traffic study, but they caused havoc for days, backing up traffic for hours.

After the emails were released, Mr. Christie canceled his one public event for the day, which had been billed as an announcement of progress in the recovery from Hurricane Sandy. His office had no immediate comment.

Mr. Christie's handpicked chairman of the Port Authority, David Samson, was also involved in the closings, according to the emails, which describe his efforts to "retaliate" against New York officials who had not been told of the changes and sought to ease the gridlock.

While the emails do not establish that the governor himself called for the lane closings, they do show his staff was intimately involved, contradicting Mr. Christie's repeated avowals that no one in his office or campaign knew.

That conflicts with the governor's carefully crafted reputation as the rare politician who will tell it like it is, even when the news is difficult. And the pettiness described in the emails flies against the image Mr. Christie's aides have sought to craft for him, of a new kind of leader, above the partisan politics and small-mindedness of Washington.

The emails indicate that Mr. Christie's staff and his associates at the Port Authority were closely aware of the political context. Mr. Christie, a Republican, was leaning on local Democratic officials to endorse his re-election bid so that he could then seek his party's presidential nomination by arguing that he was the candidate who could attract bipartisan support in a blue state.

Mr. Christie won re-election in November by 22 points, and instantly became a leading candidate for his party's presidential nomination by winning across many demographic groups. His campaign boasted that he had been endorsed by more than 50 local Democratic officials.

But the documents released Wednesday underscore what Republicans as well as Democrats in New Jersey have long said about the governor: that he is a bully who wields fear and favor to get what he wants, and lashes out at even the smallest perceived slights.
You can read the e-mail at this New York Times link.
Given the fact that Christie is, thanks to his big win in November, his Chairmanship of the Republican Governor's Association, and the fact that he has been leading in several polls regarding the 2016 race that have been released in the past two months or so, the political press and commentators on both sides of the political aisle are all over this story, with people on both sides of the aisle insisting that this is a story that indeed "matters," even if the average voter in New Hampshire or Iowa might wonder why they ought to care at all. Steven Shepard at National Journal, for example, is calling it Christie's "Worst Day" as Governor. Philip Bump at The Wire insists that the revelations regarding the emails could mean that the "Bridge Controversy" may have become a big problem for Christie. And, Chris Cillizza calls it a "very real problem," and raises some questions that, admittedly, deserve some answers at some point.
On the opinion side of things, there doesn't seem to be much sympathy for Christie. Scott LeMieux compares the bridge closing, which  he automatically sees as leading directly to Christie even though we don't have any evidence of that, compares the closing of a couple lanes on a bridge to the worst of the Nixon Administration. Jonathan Chait, prematurely I would argue, declares Christie's 2016 ambitions, whatever they may be, to be completely dead, while Ed Kilgore insists that it reinforces the reputation that Christie has, a reputation mostly created by Democrats I might add, of being a political bully. Andrew Sullivan, finally, picks up on this theme and runs with it.
Perhaps most surprising, or perhaps not considering the fact that conservatives have been trying to undercut Christie ever since the 2012 election and what they idiotically consider Christie's "stab in the back" in the wake of Hurricane Sandy, are the commentators on the right who have joined in on the Christie bashing. Paul Mirenghoff, for example, seems to accept the same portrait of Christie as a "political bully" that left wing commentators have been trying to push since Christie took office in 2010. Sean Davis at The Federalist provides a list of reasons why this issues could have implications for Christie in 2016. Finally, Matt Lewis points out some good reasons why this whole story might matter depending on where it goes:
An obvious problem for Christie is that people can easily understand traffic congestion — this isn't Teapot Dome scandal. Gridlock (another unfortunate metaphor!) directly impacts average people (Christie's team didn't go after a politician, he went after the very citizens he represents.)

Traffic is a huge deal, especially for those living in places like New Jersey. It wastes people's time every day, preventing them from seeing their families and doing their work. The notion that a politician would intentionally subject them to it — for political purposes — will stick in many a craw.

To be sure, it's entirely possible that Christie didn't order this — and wasn't aware of it. Again, though, the problem is that he hasn't had a lot of sympathy for other leaders who were out of the loop on things, or didn't demonstrate terrific leadership at one time or another. Additionally, as The Record notes, "Christie has previously said that no one in his staff or campaign was involved in the lane closings, and he has dismissed questions about political retribution by joking that he moved the traffic cones himself."
I wasn't writing about this story before now, because there didn't really seem to be much there. Yea, creating a traffic jam in Fort Lee as a form of political retribution is a petty move that isn't much above the idiotic games that political campaigns play with roadside signs in the weeks leading up to the election. The fact that it's now apparently been linked to two top Christie aides who, significantly, were communicating about it via private email rather than their official email accounts creates problems for Christie who has previously insisted that nobody in his Administration was involved in any lane closure decisions. And, traffic is a problem that every one can understand. On the other hand, there are traffic jams in the area of the George/ Washington Bridge practically every day of the week, even on weekends, for reasons that are often incomprehensible. Additionally, by the time this incident occurred it was already clear that Governor Christie was going to win re-election by near historic margins for the Garden State at the very least. So, if his top aides really were involved in this thing as it now appears, then they were arguably being more stupid than venal. As for Christie's involvement, we have, as everyone has noted, no direct evidence of that, and while it's certainly possible it is mere speculation at this point.
It's really quite obvious what Christie needs to do now. He needs to get out in front of the story as soon as possible. Dismissing it as irrelevant isn't really an option any more given today's revelations. A full investigation, followed by the resignation of those responsible is obviously called for, and if there is any legal culpability (which nobody on either side of the aisle has made an argument in favor of as of yet) then that needs to be dealt with as well. Politicians get in trouble in these situations when they try to wish the story away rather than taking pro-active action to deal with it, and that's what I'd say Christie needs to do here. Up until now, he's proven himself to be politically smart enough to be able to handle potentially damaging stories like and this is the first test of his ability to handle such a story while simultaneously being the arguably frontrunner for the 2016 Presidential nomination. Assuming he handles it correctly and there's no evidence that he was personally involved in this, I'd suggest that this is something that most people will have largely forgotten by the time the 2016 race begins.
Update: Later this afternoon, Governor Christie released this statement:
"What I've seen today for the first time is unacceptable. I am outraged and deeply saddened to learn that not only was I misled by a member of my staff, but this completely inappropriate and unsanctioned conduct was made without my knowledge. One thing is clear: this type of behavior is unacceptable, and I will not tolerate it because the people of New Jersey deserve better. This behavior is not representative of me or my administration in any way, and people will be held responsible for their actions."
This is a good start, but as I said above, Christie will need to do more to get out ahead of this story.