Conservatives Blaming Chris Christie For Romney's Loss
The ink is barely dry on Barack Obama's victory and some conservatives are already focusing blame on the Governor of New Jersey.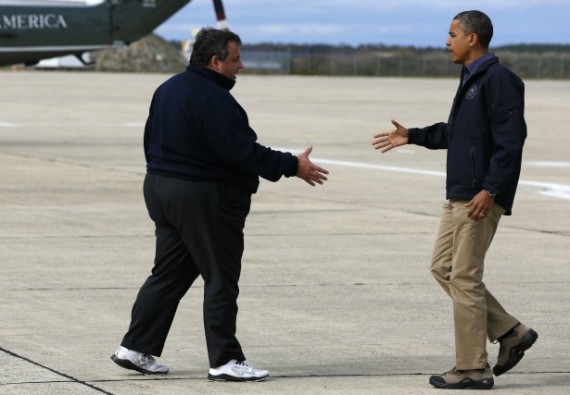 It was inevitable that conservative activists and advocates would find someone other than Mitt Romney and the Republican Party to blame for the fact that Mitt Romney lost the election and succeeded in winning only two of the states that Barack Obama had won in 2008. After all, we can't admit that the Republican Party is slowly but surely losing touch with a large segment of the American public, including its fastest growing minority group. We can't say that four years of opposing the President at every turn while failing to offer a coherent alternative contributed to the GOP's problem. Nobody's going to admit that the fact that GOP still hasn't come to terms with the legacy of the Bush years, or that it spent the better part of the winter and spring of 2012 alienating women, contributed to its electoral troubles. And, surely, it can't be because the polls were right all along and the American people actually wanted to re-elect the President. No, a scapegoat must be found and, at least in this initial 24 hours after Election Night, that scapegoat appears to be the Governor of New Jersey.
For example, here's what Robert Stacey McCain has to say at The American Spectator:
 The list of fools who have brought this disaster upon us certainly also will include New Jersey Gov. Chris Christie, the gelatinous clown who (a) hogged up a prime time spot at the Republican convention to sing his own praises; (b) embraced Obama as the hero of Hurricane Sandy; and (c) then refused to appear at campaign events in support of Romney's presidential campaign. Good luck with the remainder of your political future, governor. It is unlikely Republicans shall soon forget your perfidious betrayal.
And Andrew Malcom:
Voters witnessed the end of Chris Christie's budding hopes for a national Republican career. His ill-timed, over-the-top effusive praise for a visiting POTUS after Hurricane Sandy was an obvious bid to buy Obama's silence next year when the New Jersey governor faces a real reelection challenge, likely from Newark Mayor Cory Booker.

But beyond the Garden state, conservatives rightly view Christie's comments and presidential hand-holding and hugging as near-traitorous for needlessly elevating Obama's photo op to help stall Romney's momentum just days out. And assist the complicit media in ignoring FEMA's botched local assistance that ran out of water, of all things. "Great job, Craigie."

Christie may still try something in 2016. Oh, look! With Romney's defeat, the road is conveniently clear for him — and others from the GOP's incredibly deep bench. But Christie will have as much success with that effort as he has with Jenny Craig.
There are similar words from Dick Morris, and Mary Matalin, and there were yet more words directed at the Governor of New Jersey by some unnamed Romney adviser:
Governor Chris Christie of New Jersey, the adviser adds, is persona non grata in Romney's inner circle. "He went out of his way to embrace the president during the final week of the campaign," the adviser says. "It wasn't necessary and it hurt us. Todd Akin, Richard Mourdock, and Chris Christie undermined the Republican message."
All of this is, of course, utterly ridiculous. For one thing, it ascribes to Governor  Christie a degree of influence over the American electorate that seems to be exaggerated to say the least. To buy into this argument, one would have to believe that thee mere fact that Chris Christie said nice things about the President's responsiveness to his requests for Federal aid an assistance in the wake of the worst storm to ever hit the Jersey Shore was enough to sway a significant portion of the electorate. Now, if this were true, then why was Paul Ryan made Mitt Romney's running mate and not Governor Christie himself. After all, if he does indeed have these Svengali like abilities to influence voters from hundreds of miles away, wouldn't he have been more useful on the ticket rather than delivering stump speeches in an airport hanger in Wisconsin or Ohio? For another, there's simply no evidence to support the assertion that events in New Jersey related to Hurricane Sandy had anything to do with how the election turned out. Mitt Romney's momentum in the national polls had begun to dissipate and the President had solidified his leads in the state-level polling. The storm and the media coverage that followed may have eaten into Romney's news cycle during the last week before Election Day, but the assertion that it, or Governor Christie cost him the election is, quite honestly, complete and utter nonsense.
Of course, evidence doesn't really matter at a time like this, because it's quite obvious what's going on here. Some people on the right are angry about Romney's loss and the fact that Barack Obama has won once again, and they're looking for someone to blame. Chris Christie is an easy target because his interaction with the President occurred close to the election and received a lot of coverage from the media. More importantly, in the world they inhabit, it's clear that saying anything nice about the President is immediate grounds for condemnation. So, Christie has committed the double fault of speaking his mind and saying something nice about Barack Obama.
It also wouldn't surprise me if there isn't a little bit of groundwork for potential 2016 rivalries being laid down here. Assuming Christie did run, it's unlikely that he's going to be getting a lot of support from hard-core movement conservatives, at least initially. There have been too many occasions where he's strayed from conservative orthodoxy on something like climate change or not hating Muslims for that to occur. He would, however, be a big media draw, possibly to the detriment of other more conservative candidates. So, why not try to undercut him a little bit in advance and at least get the the thought in the head's of the base that Barack Obama had a Second Term because Chris Christie said something nice about him, not matter how ridiculous that might sound when you give it a moment's worth of thought.
For his own part, Christie had this today at a press conference:
Christie campaigned over a series of months for Romney, who he endorsed while others sifted through the then-crowded GOP field and after insisting he would not seek the presidency himself this cycle. He was thought to be on Romney's vice presidential shortlist and delivered the Republican National Convention keynote address.

But he stirred conversation with his more recent praise for Obama in the wake of Sandy. When the president visited the Garden State to tour the damage, Christie said he "cannot thank the president enough for his personal concern and compassion for our state and the people of our state." Romney praised Christie's handling of the storm and his campaign said the Obama-Christie meeting should not be seen through a political lens.

"I wouldn't call what I did an embrace of Barack Obama," Christie said when asked at the press conference about the moment. "That's become the wording of it but the fact of the matter is, I'm a guy who tells the truth all the time, and if the president of the United States does something good, I'm going to say he did something good and give him credit for it."

The governor said the moment in no way suggested a souring on Romney. "I traveled literally tens of thousands of miles for him, raised tens of millions of dollars for him, and worked harder I think than any other surrogate in America – other than [Wisconsin Republican Rep.] Paul Ryan, who became his running mate," Christie said.
Much of that will likely fall on deaf eyes as far of conservative activists are concerned, of course. Those who wish to believe that Chris Christie was somehow responsible for what happened to Mitt Romney will continue to believe that, and if he turns out to be the Republican nominee in 2016 they'll support him anyway. Additionally, four years is a long time. Memories of Hurricane Sandy and what happened last week will likely fade and other targets will be found to blame for a loss that Republicans should have seen coming a mile away. As far as Chris Christie is concerned, though, I'd advise conservatives to be wary of what fights they're picking because this isn't a guy who's going to back down.