Christie Sets October 2013 Special Election For Senate, Annoys Conservatives
Chris Christie has picked a short date for the Special Election to replace Frank Lautenberg. Already, members of his own party are complaining.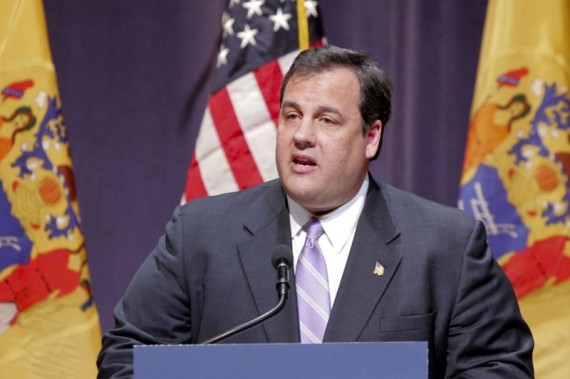 Just one day after we learned of the death of long-time Senator Frank Lautenberg, New Jersey Governor Chris Christie has already gotten the ball rolling on the process of choosing his replacement:
Gov. Chris Christie of New Jersey, in a decision fraught with political implications, announced on Tuesday that he would schedule a special election in October for the Senate seat left vacant by the death of Frank R. Lautenberg.

The decision, setting the vote for Oct. 16, a Wednesday, is expected to draw criticism from Democrats in the state, who are likely to argue that the move by Mr. Christie, a Republican, amounted to squandering taxpayer money to protect his own political ambitions. A special election will cost millions of dollars more than just adding the vote to the November ballot, when the governor is up for re-election.

Mr. Christie, anticipating such criticism, said the expense "cannot be measured against the value of having an elected representative in the United States Senate when so many consequential issues are being debated and determined this year."

A special ballot means the choice of a new senator will not overshadow the race for governor. Republicans in the state are counting on Mr. Christie, who has been hoping that a landslide re-election victory will help propel a possible run for president in 2016, to draw his supporters to the polls, helping Republican candidates for the State Legislature and for many local offices.

Mr. Christie said he had yet to decide on whom he would appoint to fill the seat between now and the special election. He said he made no distinction between so-called caretaker appointees and those who would be candidates for the seat. "I'm going to pick a person I believe to be the best person," he said.

"I do have a list in my head," he added. "You all know me. I don't dawdle."

In any case, he is expected to pick a Republican.

Conflicting New Jersey statutes on how to fill Senate vacancies left him with at least two other options about when to schedule the election.

Republicans nationally were pressing him to opt for an interpretation that would allow him to delay an election until November 2014. That would have allowed Mr. Christie's choice of an interim senator to give Republicans in the Senate the gift of an extra vote, complicating efforts by the White House and Congressional Democrats to advance their agenda, like overhauling immigration laws and pushing through presidential nominations.

Just as important, it would let a Republican enjoy a year and a half of incumbency – perhaps enough to counteract Democrats' natural advantages in a state where they outnumber Republicans by 700,000 registered voters and where Republican have not won a Senate election in 41 years.

Democrats, meanwhile, were pressing Mr. Christie to add the Senate contest to the state ballot this November. But Republican insiders said Mr. Christie and others in his party were leery of drawing to the polls Democrats who were excited about the Senate contest. A Senate race would also have been placed at the top of state ballots, ahead of the contest for governor.
There will be primaries for both the Democratic and Republican parties on August 13th, and the General Election will take place on October 16th, meaning that there will be two parallel elections going on in New Jersey this year, the race for the Senate seat, and the race for Governor and the State Legislature. Given that Christie chose to make this announcement, and sign the appropriate documents, today the dates themselves were mostly out of control given that the statutes that control the scheduling of a Special Election require the primary elections to be held within a specific amount of time after the Governor has made the declaration, and for the General Election to take place within a specific amount of time after the date of the Primary Elections. As Christie noted at his press conference today, once he signed the writ calling for the Special Election today, the dates pretty much set themselves, meaning most importantly that there was no longer the option of having the Special Election for the Senate seat on the same day as the November 5th General Election.
Obviously, Christie could have waited the ten or so days it would have taken for the timing to work out in such a way that he could have set the Special Election for November 5th, but he had a ready made answer for that. The people of New Jersey, he said, deserve to have an elected Senator in office representing them as soon as practically possible. So, given the fact that the statutes give him the complete discretionary authority to set a Special Election without regard for the date of the General Election, he is going ahead and setting the date as early as possible.  That is the kind of "doing my job for the people of New Jersey" message that has worked very well for him over the past four years, and it's likely to work very well for him now regardless of what heavily partisan Republicans might think about it.
Are there political machinations behind Christie's decision? Obviously there are. Putting the Special Election before the General Election undercuts the possibility that having the Senate race, and most likely Cory Booker, on the November ballot would increase Democratic turnout and blunt any hopes that Republicans might have to pick up seats in the legislature, which is by no means guaranteed anyway. Additionally, it guarantees that the media coverage in the state after October 16th will be focuses exclusively on the state-level elections. If the Senate race were on the November ballot, it would get most of the media attention since it's blindingly obvious that Christie is going to be re-elected. Despite these political motives, it doesn't strike me that Christie is going to suffer much for this decisions among New Jerseyans, especially given that he has sold the decision on wanting to let the people choose a new Senator as soon as possible.
Of course, while New Jersey voters will likely be just fine with this decision, the same cannot be said of national Republicans:
Republicans are fuming over New Jersey Gov. Chris Christie's decision to hold an early special election to fill the seat of the late Sen. Frank Lautenberg, with several Washington-based operatives suggesting he's putting his own interests ahead of the GOP's. The decision to hold a separate special election in October 2013—just two weeks before his own election—would give any interested Republican candidates little time to announce, organize a campaign, and raise the necessary money to take on a top-tier Democrat, likely Newark Mayor Cory Booker.

(….)

"There's no political purpose. The political purpose is to give the people a voice," Christie said. "The issues facing the United States Senate are too important not to have an elected representative making those decisions."

The governor's decision, along with growing GOP expectations that his appointee will be a placeholder, means that the GOP's chance at a pickup now looks like a long shot. But Christie protected his own interests by scheduling a separate 2013 election, ensuring that Booker wouldn't usher a surge of Democratic voters that could hurt Christie's November prospects.

That did little to mollify Republicans with a stake in retaking the Senate next year. While none wanted to be quoted publicly, all dripped with disdain for Christie's decision, calling it self-serving. And several pointed to the fact that holding an extra election one month earlier could cost the state about $25 million–a price tag that could dent his image as a fiscal hawk.

"I think this ends his 2016 chances. It's year after year with this guy," complained one senior Republican official.
I'm seeing similar reactions from conservatives online, many of whom are saying that Christie is betraying his party by not pushing the Special Election out to November 2014, which one provision of New Jersey law would permit him to do. Of course, as I noted yesterday, there is a conflict in New Jersey law regarding when an election must be held to fill a Senate vacancy. Even given the near-total authority that both statutes give the Governor in setting Special Elections, it seems rather clear that if he had tried to push that election out to a point 17 months from now that New Jersey Democrats would have tried to fight it in some way. While Christie is clearly not afraid of political fights, it strikes me that this one would have not been in his interests. A November 2014 Special Election would clearly have been seen as a move designed to help the GOP by giving them a Senate vote for the next year and a half, as well as allowing whomever he appoints to build up a resume for that election. That would have been inconsistent with the independent, no-nonsense approach he's taken to governing since taking office and, I think, against his nature as a politician. Republicans may not like it, but this is pure Chris Christie and not at all surprise.
The one question that remains unanswered is who Christie might appoint to fill the Senate seat until the winner of the October 16th Special Election is known and able to be sworn into office. At today's press conference, he didn't give a timetable for when he would make that decision other than to say that he doesn't intend to dither over the decision, nor did he give any hint as to what kind of appointment he's looking at here. For example, is he looking to appoint someone who will be a placeholder, meaning someone who won't run for the office, or is he looking to put his thumb on the scale of the eventual Republican Senate Primary by picking someone who will be running for the seat and, by picking them, essentially endorsing that person in the primary. Given what he did say in the press conference, as well as some reports that were leaking out before then, it strikes me that he's most likely going to end up picking a placeholder rather than essentially inserting himself in the Senate race. Indeed, I would not be surprised to see Christie stay completely out of the GOP Primary and let the voters make their choice.
If Christie goes for a placeholder there are, as I noted yesterday, several elder statesmen and women on the Republican side that he could pick that would be quite acceptable to the voters. The name that pops up most frequently is former Governor Tom Kean, who essentially bowed out of electoral politics after leaving office in 1990. Kean is 78 years old so he's unlikely to be interested in running for a Senate seat at this point, and he's the kind of moderate Republican that is consistent with Christie's own brand, and he remains very popular among New Jersey voters despite the fact that he's been out of the public eye for the most part for 20-odd years. If Christie wants to pick a candidate who will run for the office, then he has a whole host of options to choose from. However, while it's possible he'll take that route, I don't think it's very likely. If his pick isn't Kean Sr., or some other similar placeholder appointee, then I will be very surprised.
Already, the talking heads are discussing what this might mean for Christie in 2016. One thing that strikes me about this commentary is that it assumes both that Christie is seriously thinking about running for President at this point, and that he's making decisions in New Jersey with specific calculation about how they'll impact his chances in a 2016 Presidential Primary. I've seen no evidence of that from Christie so far. When asked about whether he's running, Christie continues to demur rather than answering the question. More importantly, if Christie does run in 2016, it won't be as a conservative Republican, it will be on a platform of competence in office, putting the people ahead of party, and telling the truth. It may not be the message that the far right wants to hear, but it just might be one that will resonate with the people who actually vote.  In either case, Christie will be himself, which is really all that he can be.
Here's the video of Christie's announcement: