Chris Christie Coasts To Victory, Next Stop 2016?
Chris Christie did as well as expected last night, but that's just the beginning.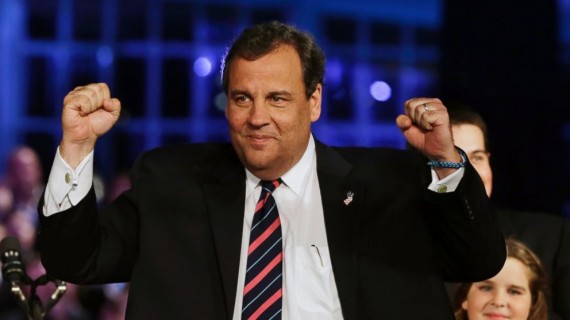 Unlike the Virginia Governor's race, the outcome of the race in New Jersey was never significantly in doubt. Chris Christie had been far ahead of any potential Democratic opponents for the past year, and maintained massive leads over his eventual opponent Barbara Buono, the only Democrat dared to step up to challenge him even in the fact of clear indications from her own party that their enthusiasm for her candidacy would be tepid at best. By the time the race closed, the poll average had Christie leading by an astounding 24.1 points and racking up numbers among women, minorities, and Independents that were ayptical for Republicans in general and New Jersey Republicans in particular. So, it was no surprise that the New Jersey race was called mere moments after the polls closed last night in New Jersey, the only question left at that point was how big Christie's margin would be and what it might mean for 2016:
Gov. Chris Christie of New Jersey won re-election by a crushing margin on Tuesday, a victory that vaulted him to the front ranks of Republican presidential contenders and made him his party's foremost proponent of pragmatism over ideology.

Mr. Christie declared that his decisive win should be a lesson for the nation's broken political system and his feuding party: In a state where Democrats outnumber Republicans by over 700,000, Mr. Christie won a majority of the votes of women and Hispanics and made impressive inroads among younger voters and blacks — groups that Republicans nationally have struggled to attract.

The governor prevailed despite holding positions contrary to those of many New Jersey voters on several key issues, including same-sex marriage, abortion rights and the minimum wage, and despite an economic recovery that has trailed the rest of the country.

He attracted a broad coalition by campaigning as a straight-talking, even swaggering, leader who could reach across the aisle to solve problems.

"I know that if we can do this in Trenton, N.J., then maybe the folks in Washington, D.C., should tune in their TVs right now and see how it's done," Mr. Christie told a packed crowd at Convention Hall in Asbury Park, where his musical idol, Bruce Springsteen, holds holiday concerts, and where red and blue lighting gave the gathering a presidential campaign-like glow.

The governor all but lectured Republicans about how to appeal to groups beyond their base. "We don't just show up in the places where we're comfortable, we show up in the places we're uncomfortable," he said, adding, "You don't just show up 6 months before an election."

Around the country, Republicans alarmed by the surging grass roots support for the Tea Party wing were cheered by Mr. Christie's success, saying they hope their party will learn not only from the size of Mr. Christie's margin over Barbara Buono, a Democratic state senator, but also from the makeup of his support.

"We'll be led back by our governors, and Chris Christie is now at the forefront of that resurgence," said Ed Gillespie, a former chairman of the Republican National Committee.

"He's proved that a conservative Republican can get votes from Hispanics and African-Americans, that a pro-life governor can get votes from women. This means that those voters are available to us, that we're not shut out demographically or geographically — that it's worth the effort."

Mr. Christie's strategy of bipartisanship and outreach deliberately echoed that of another Republican governor who seized the White House after eight years of Democratic control: George W. Bush.

"We work together and they don't," Mr. Christie said in an interview on Tuesday morning, contrasting Trenton and Washington. "It's not like we like each other any more than they do. I got plenty of Democrats I don't like here and that don't like me. But we've made the decision that we're going to work together."

In the interview, Mr. Christie said intelligent voices were being drowned out in Washington, and described the effort led by Senator Ted Cruz of Texas to cut off funding for President Obama's health care program as "a monumental failure."

The swell of national attention around Mr. Christie had grown in the run-up to Election Day, as network cameras filmed his every move — he had a CNN microphone clipped to his tie as he campaigned on Tuesday morning at the Peterpank Diner in Central New Jersey. His campaign bus had been swarmed by people seeking autographs on photos of the governor at the White House, on the cover of Time magazine, and even with his wife, Mary Pat, on their wedding day. Some clearly hoped to offer the souvenirs later for sale.

Mr. Christie's national profile will only increase later this month as he assumes leadership of the Republican Governors Association, which gives him sway over which state candidates the party will support, allowing him to rack up favors with other Republicans and create relationships with local leaders in key presidential states.

In the interview, Mr. Christie said he would be appearing frequently in "places like Ohio and Michigan and Florida," all states with incumbent Republican governors up for re-election next year. He has also told South Carolina Republicans that he wants to help Senator Lindsey Graham, who is facing a conservative primary challenge next year. And in New Hampshire, which has the country's first presidential primary, the national committeeman, Stephen Duprey, said he was inviting Mr. Christie to the state to discuss policy and to raise money for the party.
Taking a look at the exit polling (PDF), one finds that Christie did indeed score very well across the board:
Christie won female voters by 15 points over a female Democrat;
He won all age groups except 18-29 year olds, which he only lost by two percentage points;
He won 21% of the African-American vote, and won the Latino vote by six percentage points;
He won 61% of self-described moderates and nearly 1/3 of self-described liberals, as well as 66% of Independents and nearly 1/3 of Democrats;
He won all income categories except those earning less than $30,000/year, which he only lost by two points;
The poll showed him with a 64% Favorability rating;
For the first time, a majority of New Jerseyans say that he should run for President in 2016 and, in a hypothetical matchup between him; and,
In a hypothetical matchup between him and Hillary Clinton, Clinton only has a 4% lead
These are, quite obviously, highly favorable numbers for a Republican, especially in a solidly blue state like New Jersey where the President coasted to a 17 point re-election victory just one year ago. Republicans looking for a potential candidate in 2016 who could break the party's streak of not winning a Presidential election twice in a row, and only winning the Popular Vote in one of the past six Presidential elections, are obviously going to look at numbers like this and reach the rather obvious conclusions. Of course, people were reaching that conclusion about Chris Christie long before last night's election results. There was even an effort to try to persuade him to jump into the 2012 Presidential race in the Fall of 2011 when it looked like the Romney campaign was faltering in the wake of repeat challenges from Tea Party backed candidates like Michele Bachmann, Rick Perry, and Herman Cain. Christie wisely chose to demur at that time, but now that he's been re-elected by such an overwhelming margin, at the same time that a much more conservative candidate in Virginia narrowly lost, the spotlight is likely to be on him for some time to come.
In analyzing what happened in New Jersey, though, it's important to put things in the proper context. For example, as Sean Trende notes, while Christie has developed the reputation of being a pragmatist when it comes to governing, Christie is also fairly conservative in his ideology:
I've mentioned this before, but Chris Christie is easily the most conservative politician elected to statewide office in New Jersey in the past 60 years, and possibly longer (I don't know much about the politics of Gov. Alfred Driscoll). In fact, New York Sen. Al D'Amato and Rhode Island Gov. Don Carcieri are the only two successful GOP politicians from states north or east of Pennsylvania that I can think of who have approached his level of conservatism in recent memory (New Hampshire, always the political black sheep of the Northeast, gets asterisked here).

The normal Republican blueprint in the Northeast is to run as a center-right candidate on fiscal matters and center-left — if not left — on social issues (remember, Christine Todd Whitman opposed a ban on partial-birth abortions). On fiscal matters, Christie has been pretty hawkish, taking on the state's teachers' unions, overseeing cuts in spending and lowering taxes. Even on social issues, he has been fairly conservative, especially by Northeastern standards — he's pro-life, against gay marriage (though he does support civil unions), and he even cut state funding for Planned Parenthood. This is an unusually conservative overall profile for a successful Republican politician in the region, much less for one of the most successful Republican politicians there in a generation.
That's not to say that Christie is a Ken Cuccinelli, of course.
His opposition to abortion doesn't appear to extend to things like transvaginal probes, Personhood Amendments, or efforts to use state regulation to essentially drive abortion clinics out of business. Additionally, while he has made clear that he personally opposes same-sex marriage and did veto a bill that would've legalized it in the Garden State earlier in his First Term, he also said that he would have supported a statewide referendum on the issue (a referendum that, according to the exit poll taken yesterday, would have passed easily by the way). He also made the decision to drop the state's appeal of a trial court decision mandating that the state recognize same-sex marriage, thus making New Jersey the 14th state to recognize marriage equality just a few weeks ago. In other words, he has not worn his personal social conservatism on his sleeve. (In reality, of course, Democratic control of the state legislature means and the nature of politics in New Jersey made it essentially impossible for him to push any such agenda while in office.)
Nonetheless, Trende is correct to call Christie the most conservative Governor New Jersey has ever elected, and re-elected, albeit one that has not used the not inconsiderable powers of that office to push such an agenda except in a relatively modest respect. This is something that national Republicans who tend to dismiss Christie as a "RINO" either seem to willfully ignore or be totally unaware of. Potentially, it means that he will be able to speak to social conservatives in seemingly hostile states like Iowa and South Carolina as one of them if he decides to run in 2016. He may not win either of those states, but he also has the potential to do better there than many people expect in those states. On the other side of the coin, though, National Journal's Kevin Brennan notes that Christie's campaign this year could be used against him by conservatives in 2016. To a large degree, Christie tacked to the middle this year and emphasized leadership rather than pushing what anyone would call a conservative agenda. That was exactly what was needed to win, of course, but it's likely to be something that more conservative voters are going to question in a primary where a lot of candidates are going to be falling all over themselves to tack to the right.
But perhaps that appeal to leadership is exactly the kind of race that Christie needs to run. I took note just last week of his skills as a retail politician, using the example of an impromtu speech in Sea Bright, NJ, one of the towns devastated by Sandy, as an example of a speech that you don't often hear from American politicians of any kind. It's but one example of the kind of stump speeches that Christie has given in the state since the storm hit, and even before it on other issues. Yes, the style is bombastic at times and some people may not like it, but it works for Virginia and, with the right modifications, there's no reason that it couldn't work nationwide.
Indeed, one need only look at last night's victory speech, which was obviously much less impromtu than the Sea Bright remarks, for what I'm talking about:
That was, in many ways, as much a message to potential voters and supporters across the nation as it was victory speech for New Jersey voters. Now that Christie is preparing to step in as head of the Republican Governor's Association, you can bet we'll be hearing more stuff like that as he travels across the nation. How it's received will likely go a long way toward deciding whether he runs in 2016. At the moment, though, I think we've just seen the beginning of the next step in Chris Christie's political career.