Retail Politics And The Appeal Of Chris Christie
Looking at Chris Christie as he interacts with voters in New Jersey offers a glimpse of just how he could succeed in a 2016 GOP nomination fight.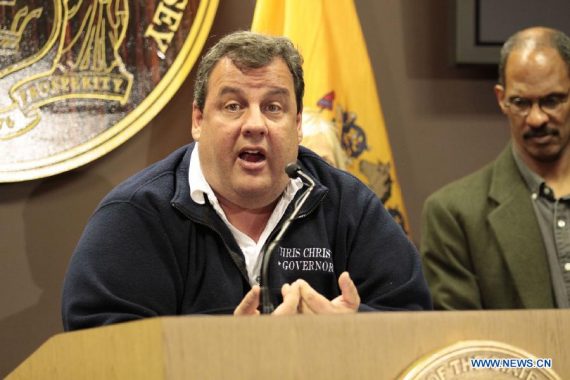 As we marked the first anniversary of the impact of Superstorm Sandy, the worst storm to hit New Jersey in modern memory if not the state's entire history, there was much obligatory discussion of the role that New Jersey's Governor Chris Christie took during that crisis, the impact it had on the way residents of the state, and what it might mean for his political future going forward. Part of that discussion has been prompted by this video of an appearance by Governor Christie in Sea Bright, New Jersey, one of the shore communities that was hit hard by the storm and is only now beginning to recover. The video is just over six minutes long, but it's worth watching because it demonstrates something that has been part of Christie's repertoire since he first ran for Governor, his ability to connect with people even while acting in a manner that many political consultants would consider to be incorrect for someone seeking higher office:
Perhaps if you didn't grow up in New Jersey you won't feel the same way, but, policy issues aside, it strikes me that there's a certain something about Christie here, and in other contexts that could be potentially appealing if he does decide to run for President three years from now. While some may dismiss him as too pugnacious and outspoken, it's also possible that voters, especially voters in Republican primary contests, could also see this quite differently. They could see it as a sign of leadership, which is quite honestly something that has been sadly lacking in recent Presidential candidates, especially on the Republican side. Say what you will about them, but neither Mitt Romney not John McCain managed to come across as particularly strong leaders during their respective campaigns. As for President Obama, he managed to project an image of leadership during his campaigns in 2008 and 2012, but his time in office has often been marked by what even sympathetic observers have described as a kind of detachment that results in things like budget negotiations on Capitol Hill spinning out of control because of Presidential non-involvement. Indeed, even his signature legislative achievement, the Affordable Care Act, was largely the result of Capitol Hill negotiation rather than the kind of Oval Office leadership that Presidents like LBJ and Reagan displayed during their Presidency. Christie, arguably, would have the advantage of both a campaign style that evokes leadership and a record that demonstrates it, thanks to things like the role he took in the wake of Sandy and the manner in which he's worked with a Democratic legislature to push through much needed reforms to state government.
Chris Cillizza puts it this way:
No one has had a better 2013. The only question for Christie is whether the power center of the party has moved so far toward the tea party that he simply cannot be its choice due to his focus on pragmatism over principle and winning over all else.
Part of the answer to that question, of course, is that the Tea Party isn't the sole force inside the GOP, and is hardly in a position to be decisive when it comes to picking a 2016 nominee. Yes, Christie is likely to have problems in states like Iowa and South Carolina, both of which are far more socially conservative than he tends to be, at least in practice, and the same goes for other parts of the South like Alabama, Mississippi, Arkansas, and Georgia. However, it's worth noting that Mitt Romney failed to win all three of those states and still managed to easily win the nomination and that the manner in which the GOP allocates convention delegates is likely to favor a candidate like Christie more than it will favor someone like Ted Cruz or Rand Paul, should they choose to run. Additionally, most GOP primaries are open primaries, meaning that independents are able to participate, and that's likely to be a voting cohort that will be favorable to Christie (in recent polling in New Jersey he's getting as much as 80% of the Independent vote). So, as long as voters don't find his style off-putting, Christie could end up being in a far better position than many conservatives seem to believe.
The video prompted Allahpundit to make this observation:
Most righties aren't going to vote for him no matter how good his retail skills are. Centristsare going to vote for him no matter how good his retail skills are, partly because of his "reasonableness" on issues like in-state tuition for illegals but mostly because of Tuesday night's results. Question: How much will Christie's retail skills matter to the people in the middle (the "somewhat conservative") who typically decide the nomination? Philip Klein of the Examiner and Jay Cost of the Weekly Standard tweeted in response to the clip that Christie's New York/New Jersey shtick wears awfully thin very quickly in other parts of the country, which could mean disaster in Iowa and New Hampshire. But there's no way around the fact that Christie will have sterling "electability" credentials in 2016, such that even people who may find him irritating will force themselves to give him a serious look. It may even be that "somewhat conservative" voters talk themselves into liking his shtickbecause of his electability; if he can convince you that he's your best chance to win, you'll find yourself looking for ways to find him acceptable in other respects. He is, undoubtedly, a stark contrast with Hillary Clinton, who's 1/100th as effective a retail politician as Bill is. Which is to say, maybe there's no way to draw conclusions from this clip without the spotlight of a campaign shining down on it. If Christie starts to look appealing for other reasons, his "Christieness" will be seen as lovably pugnacious by fencesitters. If he starts to look less appealing due to ideological heresies, it'll just seem abrasive and a curio from a gubernatorial campaign that was more about post-storm Jersey solidarity than anything national voters would care about.
These are all fair points, of course, and the conservative criticism of Christie is likely to be fierce if he does run. Nonetheless, I would suggest that the video above, along with much of everything else we've seen from Christie since 2009 shows that he very well could brush aside that criticism very easily and, in a sense, go over the heads of his critics to the voters, most of whom are likely to care more about jobs, the economy, and yes, leadership of a nation that has suffered through more than a decade of partisan bickering and economic malaise than they are about things like abortion, gay marriage, or whether Christie appointed a Muslim to be a trial court judge in Passaic County during his first term in office. If that happens, it will be because of the Chris Christie you see in that video.