Mitt Romney to Announce 2016 Plans Today
Mitt Romney is set to make an announcement at 11 Eastern today. [UPDATE: He's out!]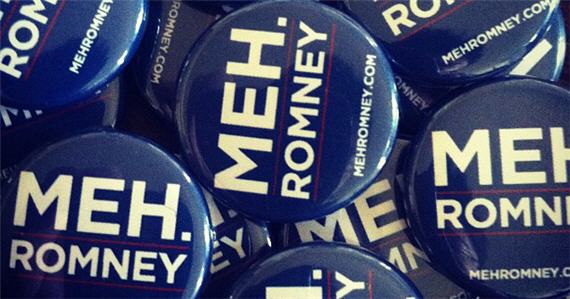 After weeks of signaling another run for the presidency, Mitt Romney is set to make an announcement at 11 Eastern today. He's almost certainly in.
AP ("Reports: Romney To Announce He's Running For President In 2016"):
Mitt Romney will reportedly be running for president for a third time.

Bloomberg and The Daily Beast report that Romney, who lost the 2012 election to President Barack Obama, will announce his intention to run in 2016 during a call with donors Friday morning.

CNN reports that Romney will make an announcement at 11 a.m. ET.

A recent CBS News poll found that 59 percent of Republicans nationwide want to see Romney run for president again.

His announcement comes as several major donors who supported him in the past and a veteran Iowa staffer defected to former Florida Gov. Jeb Bush.

The donors, in interviews with The Associated Press, said they see in Bush what they liked about Romney in 2012, the capacity to serve successfully as president, but also something Romney could not muster over two campaigns: the personality and senior staff needed to win the White House.

"I've got great respect for Gov. Romney, and I busted my buns for him," said Chicago investor Craig Duchossois, whose wife contributed $250,000 to a pro-Romney super PAC while he collected tens of thousands more for Romney's last campaign. "But I have turned the page."
And that's "Why Mitt Romney Has to Make Up His Mind Now," according  Chuck Todd and company:
No one knows for sure what Romney will announce, but the hunch coming from Romney World is that the former Massachusetts governor is going to give it another try. But here's why Romney has to make up his mind now: The ground underneath his feet is already beginning to crumble. Just yesterday, we learned that Romney's top Iowa strategist in 2008 and 2012 — David Kochel — is set to be Jeb Bush's campaign manager. We also learned, via the AP, that some of Romney's past donors are jumping aboard the Jeb Train. And get this: We can tell you that folks whom Romney has INVITED on this call are already planning to work for Bush. (Remember, a lot of these people have been connected to the Bush World longer than to Romney.) So if Romney is going to do this, he needs to make a clear statement ASAP (and don't be surprised if it comes in the form of a PAC or other committee). It's not too dissimilar for what Jeb had to do a couple of months ago: convince skeptical politicos and donors that you're actually in the race.

 From 2012 GOP nominee to "even footing" at best

When it comes to Romney possibly losing former advisers and donors to rivals, keep this in mind: Romney is going from being the GOP's general-election nominee — with most of the party fully behind him — to someone who's making a THIRD primary run. So you're bound to have these kinds of defections. As political scientist Jonathan Bernstein puts it, "The best case for [Romney] at this point is that he's on more or less even footing with several other candidates." Now, you can certainly win your party's presidential nomination on even footing. But Romney also won't be as strong right now as he was in the summer/fall of 2012 — it's just a fact.

Measuring Romney vs. Jeb

By the way, here are Romney's and Bush's fav/unfav from our most recent (Jan. 2015) NBC/WSJ poll:

Overall for Romney: 27% positive, 40% negative
Overall for Bush: 19% positive, 32% negative
Among Republicans for Romney: 52% positive, 15% negative
Among Republicans for Bush: 37% positive, 15% negative

Bottom line: Both men are unpopular overall (and have actually lost ground since our previous polling); Romney is more popular than Bush among Republicans; but Bush also has more room to grow.
Bloomberg's Mark Halperin explains "Why Mitt Romney Thinks He Can Win (and Jeb Bush Can't)."
According to people familiar with the thinking of the two-time presidential candidate, Romney has now gathered all the information he needs to reach a conclusion about whether to run a third time. Late Thursday evening, Romney's political operation sent scores of supporters an email under his name inviting them to join a Friday morning conference call to be led by Romney himself for "an update." The email was signed "All the best, Mitt."

Those who have been helping Romney make up his mind say there are three factors in favor of a run, and two factors against. The main rationale on the "go" side is Mitt and Ann Romney's strongly held conviction that no one in the current field would make a better president. Critics in both parties and the press may scoff at this view, but the Romneys believe it to their core and thus feel Mitt has an obligation to his country to once again shoulder the mantle. Following his crushing defeat in 2012, Romney has deemed Obama's second term an utter failure, particularly on issues of national security and the domestic economy. Furthermore, those in Romney's orbit are convinced that Mitt is not just best qualified, but almost uniquely qualified to turn around the nation and help guide the world to safer pastures. The Romneys consider this assessment a clear-eyed, rational analysis of his skills as a manager and a leader, augmented by the sense of duty he was raised with in the Mormon faith.

The second factor driving Romney towards another run, say those familiar with his thinking, is a host of emphatically encouraging poll results. There is ample public polling that suggests leads in the early voting states of Iowa, New Hampshire, South Carolina, and Nevada, as well as nationally. But Romney also has been briefed on what one Republican source describes as a massive, rolling private polling project recently conducted by a wealthy GOP contributor who shelled out his own money to determine which Republican has the best chance of winning the nomination.

The data, collected over an extended period of time in the first twenty states scheduled to hold caucuses and primaries in 2016, shows Romney with a huge lead across the board, and significantly better favorable/unfavorable ratings than the rest of the large potential field. The other prospects who fare well in the research are Florida Senator Marco Rubio and Maryland physician Ben Carson. The source says that after Romney publically expressed an interest in seeking the nomination, his standing in the polls improved. Romney World discounts the notion that these leads are based simply on name recognition.

Also pressing Romney forward: the sense that he can perform better in 2016 than he did in 2008 and 2012. Romney believes that if he can convince just a few more voters that he "cares about people" like them he will hold the electoral votes he won last time, while capturing additional states such as Florida, Ohio, Virginia, New Hampshire, and perhaps others. Some members of his 2012 inner circle criticized his decision to remain modest about his decades of work as a lay minister in the Mormon Church, brushing aside scads of earnest testimony from those whose lives he improved through service and charity. In the last campaign, that portrait was briefly sketched on the final day of the nominating convention in Tampa, only to be overwhelmed by the madcap appearance of Clint Eastwood, and further scarred by relentless efforts of the Obama team and its allies to portray Romney as heartless and out of touch with ordinary Americans. This cycle, Romney's history of ardent community service would be placed front and center.

Nevertheless, the opposite side of the 2016 balance sheet contains some grim realities. The Romney clan is only too aware of the toll a presidential run would take, with physical, emotional, and psychic stresses barreling down directly upon Mitt and Ann and spilling onto  family and friends around the country. While to the Romneys the call to service rings loud and true, the prospect is daunting to the entire family.

The second "no go" reason appears to weigh far more heavily on Romney.  People close to the former governor say he believes he would beat Hillary Clinton in a general election matchup if the election were held today. But, like many election watchers, Romney anticipates a vicious Republican nomination fight that will damage and deplete the ultimate winner, while Clinton, virtually unchallenged for her party's nomination, will be luxuriantly free to squirrel away hundreds of millions of election dollars and step into the general arena, rich and refreshed, against a shattered GOP nominee.

Putting aside, for the moment, the singular Democratic threat, Romney and his core team profess a steadfast optimism that he would become the Republican nominee if he chooses to make the race. His candid assessments of the GOP field, according to a source, are crisp, considered, and rather bleak. He singles out two men, both Ohioans, as strong presidential material: Governor John Kasich, who is said to be no fan of Romney as a politician, and Senator Rob Portman, who grew close to Romney as an adviser in the 2012 campaign, when he played the part of Obama in debate prep sessions.  But Portman has already said he's running for re-election to the Senate and will forgo a presidential bid, while Kasich has merely winked in the direction of 2016.

Perhaps most surprising is Romney's assessment of the major establishment figures who are lining up at the starting gate: Jeb Bush and Chris Christie. Public comments from both Mitt and Ann Romney have suggested that the Romneys thought Jeb would make a strong candidate and an able president—and that his presence in the contest would remove any obligation Romney felt to seek the office himself.

But those familiar with Romney's thinking now and over the years say that he has held a jaundiced view of the former Florida governor dating all the way back to his handling of the Terri Schiavo case, and has come to see Bush as a non-entity in the 2016 nomination contest. Romney is said to see Bush as a small-time businessman whose financial transactions would nonetheless be fodder for the Democrats and as terminally weighed down with voters across the board based on his family name. Romney also doesn't think much of Bush's political skills (a view mocked by Bush's camp, who say Romney is nowhere near Bush's league as a campaigner).  Romney also considers Bush the national Republican figure who was the least helpful to him during his last run for the White House, a position that has darkened Ann Romney's view of Bush as well.

Romney and Christie became friends in the last cycle, but Romney nevertheless has dismissed his pal as a non-factor. Thanks to the 2012 veep vetting process, Romney is intimately familiar with some of the less publicized controversies from the New Jersey governor's past, and believes that several of those flaps would mushroom so broadly that Christie  soon would be eliminated from consideration by voters and donors.
The early polling is mostly meaningless. It's all name recognition at this point and Romney is easily the best known potential Republican candidate. One presumes he'll run again because, really, that's what he does and he does genuinely seem to believe it's his destiny to be president. But it's been a mighty long time since a party re-nominated a loser (the GOP did it with Nixon in 1968, eight years after his narrow loss to Kennedy in 1960. The Democrats ran Adlai Stevenson against Ike in 1952 and 1956; with the outcome certain, there wasn't much downside).  Al Gore would have been a likely contender in 2004 given the disputed nature of the 2000 contest. But Romney got drubbed and ran an awful campaign. Why the nominating electorate would give him a second shot escapes me.
That said, I haven't the slightest clue who would beat him.
Jeb Bush has been out of the limelight a long time now. His biggest asset is that he's generally thought of as competent and reasonable. His biggest liability is that his last name is "Bush."
Christie is simply too abrasive to survive a national run, especially in a contest where schmoozing people in Iowa and New Hampshire takes up the first year. Nor is there any obvious upside to him over Romney or Bush.
Kasich is competent but bland and has given no indication of fire in the belly. Walker is a virtual unknown nationally aside from the much-ballyhooed showdown with the teachers' union; I don't see how that propels him to the nomination.
I don't think any of the more extreme candidates—Cruz, Huckabee, Rubio, Jindal, etc.—have a shot.
UPDATE:  He's out!