Why Rick Perry Failed
We won't have Rick Perry to kick around anymore.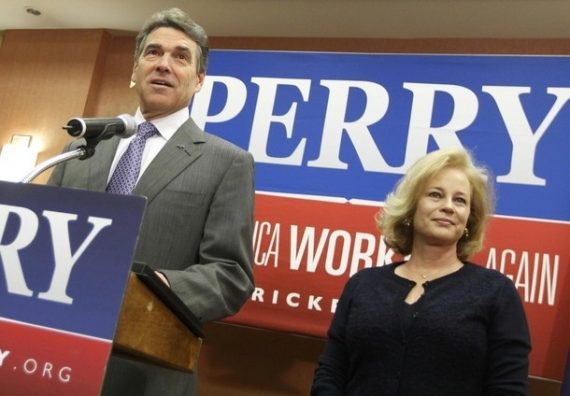 As Steven Taylor noted this morning, Texas Governor Rick Perry has dropped out of the Presidential race and endorsed Newt Gingrich just two days before the South Carolina primary. Given the fact that he had come in fifth place in Iowa, last place in New Hampshire, and was trailing badly in the poling in both South Carolina and Florida, this isn't entirely surprising. In fact, when Perry announced after Iowa that he was heading home to "reassess" his campaign, many expected he was getting out then only to be surprised when he decided to mount a Last Stand in the Palmetto State that came to an end today.
It was an ignominious end for a candidate who had entered the race in August as the hero of the Tea Party and the man perceived by many conservatives as the only person truly capable of stopping Mitt Romney from winning the Republican nomination. It started out as quite a wild ride. Within a matter of weeks, Perry had skyrocketed to the top of the Republican field, surpassing Michele Bachmann, who had won the Ames Straw Poll on the same day Perry entered the race, and becoming the first candidate to really knock Mitt Romney out of the front runner position in both national polls and in state poling in places like Iowa. Within a manner of just 49 days, Perry was able to race an astounding $17 million and, for a time, it looked like the entire Republican race would boil down to a two-man race between Romney and Perry, within everyone else being little more than an also-ran.
Then the debates happened.
Perry had not participated in any Presidential debates until September and everyone wondered how he would do. To put it mildly, he didn't do well at all. Whether it was because he wasn't well-prepared or because he was still feeling the residual effects of the back surgery he had undergone in June 2011, Perry's debate performances in September were an unmitigated disaster from beginning to end. The first debate that month at the Reagan Library didn't go too badly for Perry, although he didn't overly impress anyone either and he seemed only mildly effective in his exchanges with Mitt Romney. The next debate just about a week later was a CNN/Tea Party debate in Florida and, by this time, Perry's comments about Social Security had become part of the political narrative and, being Florida, a primary focus of the debate. Mitt Romney took the lead on the issue, but several other candidates hit Mitt Romney relentlessly over Perry's comments that the program was unconstitutional and "a monstrous lie." This was also the first debate where the issue of Perry backing a mandatory HPV vaccine for Texas schoolgirls first became an issue, and it highlighted one of the issues where Perry was at odds with conservatives. Another one of those issues came up in the final September debate when Perry got hit repeatedly on the issue of immigration and his support for in-state tuition for illegal immigrants in Texas. This was the debate at which Perry said that those who opposed the program didn't have a heart, a statement that he later took back but which in retrospect was clearly the beginning of the end of his rise in the polls.
Perry reached his peak in the RealClearPolitics average of national polls of the field in mid-September at 31%. From there, he started dropping steadily until he was behind Romney by early October, and behind Herman Cain only a week or so later. Perry had dropped as quickly as he rose and never recovered. Any chance that he would do so, seemed to evaporate when he had the now-famous "oops" moment at a Debate in November. Perry's supporters would repeatedly talk about a "Perry Reboot" after that, but it never came to pass, and the best epitaph for how badly his campaign was run came in late December when he was unable to even qualify for the Virginia ballot.
One key Perry supporter in South Carolina blamed the collapse of Perry's campaign on the media, and the fact that there were too many debates:
"The Republicans has let this become the reality show of presidential politics," said Katon Dawson, a former chairman of the South Carolina GOP.  "We've let it be driven it by people who don't like us.  We've had debates with people don't like us.  It's obvious when you see the questions, it's obvious when you see the bent of some of these debates.  For that hour and a half of earned media, we have let the drive-by shooting of the liberal media come after our Republican candidates unfettered.  And that really is the tale of this election cycle."

(…)

Perry's supporters argued that his candidacy should be measured by more than debates, and that his record as governor made him a strong contender.  But Perry never recovered from the debates, and on Thursday morning Dawson lashed out at the debate-centered process that has arisen in this Republican campaign.

"There's no question that the debates…that's where people gathered their information, and it's changed modern campaigning," Dawson said.  "I would contend that regardless of the outcome, the Democrats will never let this happen.  They will never let 19 debates — the Democrats will never let this happen.  And the Republicans did, and I don't know how you stop it.  It has become a reality show of 30-second soundbites, it's gotcha politics…This has become the political version of 'American Idol.'"
Blaming the media is a favorite Republican pastime, of course, and rhetoric like that plays well in to the victimization meme that people like Sarah Palin made famous, but it's not really an answer to the question of what went wrong with Perry. It's also arguably the case that we might have had too many debates, especially early in the cycle before Perry entered the race, but again that's not the reason Perry failed.
Perry's first problem was quite simply the fact that he entered the race late. There had already been several debates when Perry entered the race and, while he was in Charleston announcing his candidacy, the rest of the field was in Ames, Iowa at the straw poll. Nearly all of the major candidates that were in had already undergone at least some vetting in the major media and was well on the way toward building a campaign organization. The later you enter in race, the less opportunity you have to make a mistake that you can recover from. If Perry's bad debate performances had come in June or July, for example, he likely would have been able to retool his campaign in time for the fall when most Americans actually started paying attention to the race. The fact that he didn't meant that every thing he did, every debate appearance and every campaign strategy decision, had only the slightest margin for error. One mistake could potentially ruin the entire thing, and that's exactly what happened.
That leads us to Perry's second problem, the fact that his campaign was not very well run. Take Virginia as an example. The co-chair of Perry's campaign here was a former Attorney General and candidate for Governor. If the campaign was truly ready to go from Day One back in August, they would have had at least some ground operation up and running in the state before Labor Day to start the petitioner process. There even would've been time to petition the Federal Court to strike down the ban on non-resident petitioners if that was truly something the campaign felt strongly about (although I suspect it was not). Instead, they didn't start gathering signatures in Virginia until sometime in November. That's just one example, but it's clearly indicative of a national campaign that was slow to get moving and, because of the lack of time to be casual about things, they paid the price.
There's one final reason the Perry campaign failed, of course, and it's the fact that Perry just wasn't that good of a candidate. Debate skills aren't the most important thing in a a President, of course, but if Perry wasn't able to take on Mitt Romney or such luminaries as Michele Bachmann and Herman Cain, then what makes anyone think he ever would have been a formidable candidate in a General Election against Barack Obama. Perry reminded me of Rob Ritchie from The West Wing, a popular Southern Governor who ran against Josiah Bartlet in his bid for a second term and who, well, just wasn't very bright, a .22 caliber mind in .357 magnum world as Bartlet put it at one point. He may be fine for Governor of Texas but he never really was Presidential material, and the primary process revealed that quite clearly.
I will admit to being wrong about Perry in the beginning. I thought he would be a much more formidable adversary for Romney than he turned out to be, and that he'd so grab the attention of the Tea Party and GOP conservatives that there would be no reason for people like Bachmann, Santorum, and Cain to stay in the race. Of course, I hadn't seen him debate or try to explain a policy position before so perhaps I should not have been so quick to judge. In the end, Perry wasn't all that much better than the others despite having a much better resume.
Perhaps we will hear from Rick Perry again in the future, he could continue running for Governor as long as he wants actually, but I think his time on the national stage has come and gone.