Past Comments On Social Security Could Pose Problems For Rick Perry
Rick Perry's big mistake may have been putting his opinions about Social Security on paper.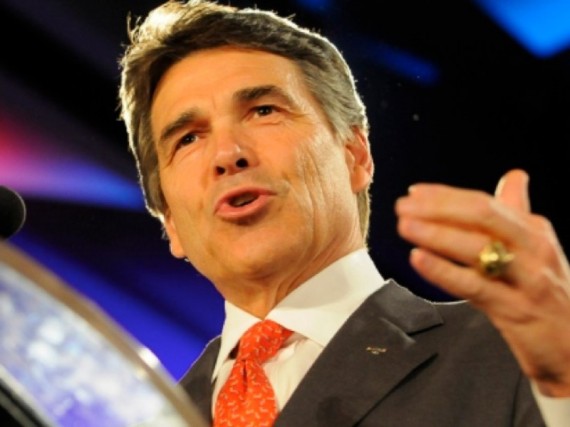 Karl Rove said on Good Morning America this morning that Rick Perry's past statements on Social Security could pose problems for the GOP if he ends up being the nominee in 2012:
On "GMA" this morning, Karl Rove noted that new GOP frontrunner has many strengths, but Rick Perry's thoughts on Social Security are not among them.

Perry's campaign has not backed away from what Perry wrote in his book "Fed Up"  — that Social Security is a "Ponzi scheme," a "failure," "something we have been forced to accept for more than 70 years now," and one of many New Deal programs that have "never died, and like a bad disease, they have spread."

But Rove pulled no punches today, calling that stance "inadequate."

"They are going to have to find a way to deal with these things," Rove said.

"They're toxic in a general election environment and they are also toxic in a Republican primary.  And if you say Social Security is a failure and ought to be replaced by a state level program, then people are going to say 'What do you mean by that?' and make a judgment based on your answer to it," he sai
Here's the video:
As with anything Rove-related when it comes to Perry, it's worth keeping in mind that there's no love lost between Perry and Rove, especially after Rove worked for Kay Bailey Hutchinson in her challenge to Perry for the GOP Gubernatorial Nomination last year. Nonetheless, Rove has a point here, I think.
More than any other prominent candidate in the Republican race, Rick Perry has taken quite a stroll along the third rail of American politics. In his 2010 book Fed Up!, he called Social Security a "Ponzi Scheme," a comment that his campaign later tried to back away from. Perry, however, would have none of that and has since repeated on the campaign trail his argument that the program is in fact a "Ponzi scheme," and that it's unconstitutional to boot. While he was on his book tour last year, he suggested that individual states be allowed to "secede" from Social Security. As I noted on Sunday, at the very least one has to admit that these are positions that are going to raise concerns among voters, especially given the fact that poll after poll shows strong support for Social Security as it exists and strong opposition to most of the radical changes that have been proposed over the years.
Jennifer Rubin argues that there is a way out of the quagmire for Perry, if he proposes something substantive:
Perry has a couple of options here. He can disclaim his prior suggestion to send Social Security to the states, but stick by his statement that Social Security is not sustainable. That would require presenting something more detailed than his campaign line that we should all have a "conversation" about Social Security. Another approach would be to stick with his call for a radical reworking or end to federal retirement benefits. That too would require a full plan and plenty of assurance that he's not going to relegate grandma to eating cat food in her old age.

(…)

A Perry spokesman e-mails me: "We realize entitlement reform is a politically touchy subject, but it must be discussed if America is serious about fiscal responsibility and economic growth. At the rate they are going, many federal entitlement programs will be unsustainable, unaffordable and unavailable for future generations. Governor Perry would protect Social Security benefits for those at or near retirement and also recognizes we must discuss changes to make Social Security and other retirement benefits financially sound and viable going forward."
That response sounds to me like little more than the lukewarm call for a conversation that we've been hearing for years, and I agree with Rubin that it's not likely to be enough to answer the concerns of voters who are just now starting to learn that, only a year ago, Perry talked about drastically changing the most popular government program in the country.  Personally, I tend to be in the camp that says that drastic reform is necessary, but I'm not sure that's politically possibly right now. Starting tonight, Rick Perry will likely find out.