Rick Perry: Social Security Is "A Monstrous Lie"
Rick Perry placed his cowboy boots firmly on the third rail of American politics.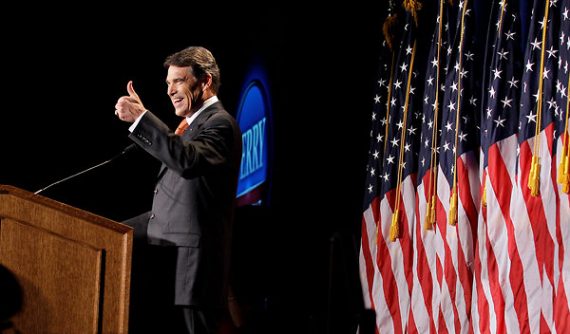 In his 2010 book Fed Up, Rick Perry, who probably wasn't thinking seriously about running for President at the time, called Social Security a "Ponzi scheme" and declared that it was unconstitutional. Soon after he declared his candidacy, of course, his book became required reading among political reporters and, inevitably questions about whether the book represented a campaign position were asked. Initially his campaign sought to disassociate Perry from the statements in his own book by claiming through a spokesman that it didn't necessarily represent how Perry would deal with the issue as President. Shortly thereafter, though, Perry said that he stood by his claims that the program in unconstitutional, contradicting the Supreme Court's decision in Heverling v. Davis 301 U.S. 619 (1937) when it upheld the constitutionality of the Social Security Act of 1935 Then yesterday in Iowa, Perry has hammered back on the theme that Social Security is a "Ponzi Scheme," taking a political risk that could hurt him in states like Florida:
OTTUMWA, Iowa – Riding high in the polls, Gov. Rick Perry rode into Iowa on Saturday with tough talk on President Obama, the economy and foreign policy and a declaration that Social Security is not only a Ponzi scheme but a "monstrous lie" for younger people.

"If you're for the status quo in America, I'm not your guy," Perry told an overflow crowd eager to see the presidential candidate at The Vine Coffeehouse, where people repeatedly sang God Bless America – once to try to encourage Perry to come in from shaking hands with people outside.

Asked by a woman in the crowd about Social Security being viewed as an entitlement program, Perry reiterated the suggestion in his anti-Washington book, Fed Up!, that the program amounts to a Ponzi scheme.

"It is a Ponzi scheme for these young people. The idea that they're working and paying into Social Security today, that the current program is going to be there for them, is a lie," Perry said. "It is a monstrous lie on this generation, and we can't do that to them."

Later, in Des Moines, when a reporter asked about the suggestion that his campaign was backing off some positions in the staunch states-rights book, Perry said, "I haven't backed off anything in my book. So read the book again and get it right."
Perry went on to clarify a bit more what his vision of Social Security reform would be:
He told the Ottumwa crowd that for people who are drawing Social Security or near eligibility "like me," he wasn't proposing a change in the program. But he said there should be a national conversation about potential changes for others, including raising the age of eligibility and establishing a threshold based on a person's means.

"Does Warren Buffett need to get Social Security? Maybe not," he said.
Perry didn't say he wants to eliminate Social Security, or privatize it. Nonetheless, raising the retirement age and means testing are perhaps the two most controversial reform ideas that have been circulated in recent years, with the possible exception of the private accounts that President Bush proposed. While I would personally prefer a move toward private accounts for younger workers, these are both good ideas, for a start. And I say that as someone who is far from being a fan of Rick Perry. It will be interesting to see how they're received.
This morning on Morning Joe, Chuck Todd made note of the political risk that Perry was taking in touching this third-rail of American politics, especially in a delegate-rich state like Florida. Todd does have a point, the potential political backlash of being seen as "tampering" with Social Security has kept many American politicians from even talking about the issue during an election campaign, or thereafter. However, it strikes me that we've entered a slightly different time and that blunt talk about entitlement programs may not be as politically risky as it once was.
That position probably seems counter-intuitive if you look at the polls. Recent polls by Pew Research Center and MSNBC show strong public opposition to the idea of including cuts in entitlement programs like Social Security as part of a deficit reduction package. When the Bush Administration made just the slightest hint about a broad Social Security reform package, the opposition was so loud that the they backed away without even making a major push to pass legislation in Congress. As Jay Bookman notes, however, there are enough doubts out there about the long-term viability of Social Security that Perry's statements are unlikely to hurt him, and may actually help him gain support with some voters:
At first glance, you might think that Perry's position would be a liability in the GOP primary as well. According to the CNN poll, only 42 percent of GOP voters say they would support major changes in Social Security and Medicare, while a large majority of 57 percent reject the idea.

Theoretically, that should open up a two-pronged attack against Perry for somebody like Mitt Romney. By defending Medicare and Social Security against major cuts, Romney could align with a majority within his own party. It would also allow him to make the case that Perry's extreme position might cost him the general election against Barack Obama.

But Romney hasn't taken that course, and I don't think he ever will. Here's why.

It gets down to the difference between music and lyrics. Lyrics provide the words, but the music is what makes people get up and dance. It's true in entertainment, and it's true in politics as well.

If Romney criticizes Perry for taking an extreme view on Social Security and Medicare, he'd be getting the lyrics politically right. However, the music that GOP primary voters would hear is there goes RINO Romney, defending government entitlement programs. It is not a tenable position. It would be like standing in front of the GOP convention and singing "My Country T'is of Thee" to a hiphop beat.
There's an another factor at work, I think, a demographic one. Talk to people in their 20s and 30s, and even some in their 40s, and they have very little confidence that Social Security will even be around when they're ready to retire, and nearly all of them accept the reality that being prepared for retirement means saving on your own, not relying on a check from the government. For that age group, discussions about making changing to the system might just resonate in a way they wouldn't for older voters. At the very least, casting doubt on the viability of the current system is unlikely to hurt Perry among voters who have no confidence in it to begin with.
Technically, of course, Social Security isn't a "Ponzi Scheme" because it lacks the essential element of being intentionally created as a fraud. The problem this system has is a demographic one related to the Baby Boomers, and the fact that in only a few short decades, the ratio between retirees and workers contributing to the system will be at unsustainable levels. At some point, we need to start talking about how we're going to fix the inevitable problems to come instead of demagoguing the people who raise the question.