Rick Perry And The Third Rail of American Politics
Rick Perry took a stroll down the third rail of American politics last night.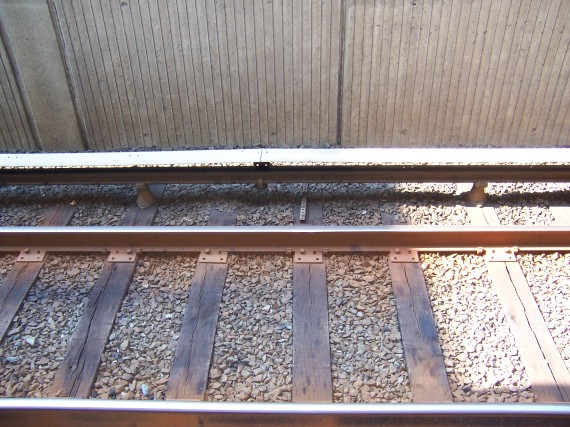 Just yesterday, I noted that Rick Perry's previous statements on Social Security were a potential problem for his campaign, so there were plenty of people who were waiting to see what the Texas Governor would say when asked about it last night's debate. Anyone who expected him to back down was disappointed:
Rick Perry is sticking to his guns on Social Security, standing by the inflammatory language in his book declaring the entitlement program a "Ponzi scheme" and a failure.

"It is a monstrous lie. It is a Ponzi scheme," Perry said in the POLITICO/NBC debate. "Anybody that's for the status quo with Social Security today is involved with a monstrous lie to our kids."

To the charge that his language was over the top, he said: "Maybe it's time to have some provocative language in this country."

POLITICO editor-in-chief John Harris noted that Karl Rove has warned Perry's rhetoric could be "toxic," and that Vice President Dick Cheney told ABC News Thursday that he didn't believe the term "Ponzi scheme" was accurate.

"You know, Karl has been over the top for a long time in some of his remarks, so I'm not responsible for Karl," Perry said of Rove.
Here's video of the full Social Security exchange, including Mitt Romney's criticism of Perry's position, which is continuing today.
Even before the debate was over, the Romney campaign was sending reporters an email saying that Perry's statements about Social Security made him unelectable, and today they followed it up with a press release repeating that same message. The Romney strategy, clearly, is to attack Perry as the man who wants to end Social Security, while Romney wants to save it. That's not necessarily a fair statement since Perry hasn't explicitly said he wants to end the program, but the fact that these statements are floating out there, and that Romney is repeating them without explaining what he proposes to do to change things leaves him open to a very easy attack, and one that history suggests has a good chance of working.
David Freddoso is right, then, when he says that Perry's rhetoric, while applauded by people on the right, doesn't help him with the broad middle of American voters:
As much as I like to hear a dose of the sharp truth, "Ponzi Scheme" is not the best way to discuss Social Security. Perry would do far better to do what other GOP pioneers in this area have done, and stick to the basics. First, emphasize that he won't mess with anyone over 55. Second, lay out ideas about what he wants to put in place for people my age. (The Chilean model, which Herman Cain invoked, is one of the best ideas for this, although there are others.) Perry should also avoid the trap George W. Bush fell into on Social Security. Don't talk about the system's solvency, but about all the wealth that it is locking up, never to be invested in American businesses. Talk about how those paying in could well end up passing a mere fraction of their lifelong contributions to their children. modern, defined-contribution pension system could turn today's uneducated day-laborers into the parents of tomorrow's college-educated professionals
Jennifer Rubin argues that Perry's decision to stick to his guns on this issue prove that Karl Rove and Dick Cheney's concerns about it are correct, and that Perry needs to sharpen his message on this issue fast:
What is surprising is how ill-thought-out this appears to be. Perry has used incendiary rhetoric about a critical topic, doesn't have a clear response in the debate and elsewhere offers a highly questionable state plan as an example of what he'd prefer. It is not reassuring to voters who may want reform but don't want entitlement programs dismantled willy nilly.

Perhaps this is the result of insufficient prep time or overwhelmed homestate staffers. But Perry can't afford to offer half-baked ideas and allow his past, troublesome statements to float around. He'd be wise to promptly disclaim his comments as intending merely to start a debate and then roll out a smart, forwarding-looking reform plan that will preserve Social Security. If he doesn't, he places his nomination at risk.
There is a possible way out of this for Perry, and it can be found in the 2010 campaign of Senator Marco Rubio, who won election in Florida despite having a record of public statements about reforming Social Security:
Maybe voters don't care as much as the polls say they do. U.S. Senate candidate Marco Rubio in his GOP primary battle with Charlie Crist said during nationally televised debate that he was open to changes to Social Security. Crist ran ads against him. But Rubio won easily.
Of course, Rubio never called Social Security a Ponzi Scheme, a monstrous lie, or unconstitutional, and he made clear to Florida's elderly citizens that his idea of Social Security benefits did not contemplate touching the benefits of current recipients. If Perry is going to get beyond the easy issue he's created for Romney now and Obama in the fall of 2012 should he become the GOP nominee, he's going to have to temper his rhetoric and explain to the public just what his idea of Social Security reform actually is. In fact, one would argue that he has a responsibility to do that before the election, because once he's elected it'll be too late.
As I've mentioned before, Perry's stance on Social Security is one that is likely to resonate with younger voter, many of whom have no real confidence that they'll ever get back what they're being forced to pay into the system. At the same time he's appealing to them, though, he needs to explain what he contemplates for people receiving benefits now, and people who are near the retirement age. If he doesn't, then I would think that people like Rove and Cheney are going to end up being proven right when they argue that his position on the most popular program administered by the Federal Government is going to be toxic to his campaign.