Rick Perry Holds Commanding Lead In GOP Race, But Obama Still Competitive In General Election
Is the GOP race really down to just two men at this point?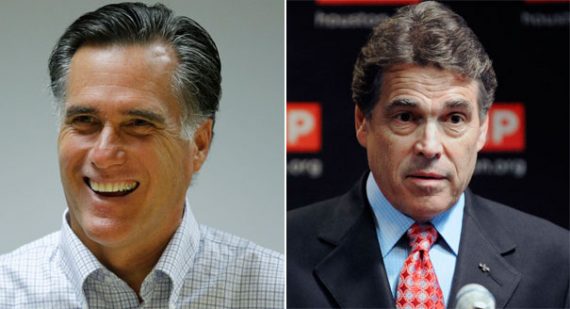 With his first Presidential debate less than 36 hours away, Texas Governor Rick Perry holds a commanding lead in the latest NBC News/Wall Street Journal Poll:
Heading into the post-Labor Day sprint and the NBC News/Politico-sponsored debate at the Ronald Reagan Presidential Library on Wednesday, Perry is the first choice among 38 percent of GOP voters — followed by Romney at 23 percent, Texas Rep. Ron Paul at 9 percent and Minnesota Rep. Michele Bachmann at 8 percent.

Former House Speaker Newt Gingrich and ex-Godfather's Pizza CEO Herman Cain are tied with 5 percent of GOP voters each, while former Pennsylvania Sen. Rick Santorum gets 3 percent and former Utah Gov. Jon Huntsman gets 2 percent.
These results are backed up by a new Politico/Battleground Poll:
Mirroring other national polls, Texas Gov. Rick Perry moved to the front of the Republican class, emerging as the first choice for 36 percent of voters only three weeks into his campaign.

Former Massachusetts Gov. Mitt Romney came in second with 17 percent, followed by Rep. Michele Bachmann (R-Minn.) at 10 percent, Rep. Ron Paul (R-Texas) at 10 percent, former Sen. Rick Santorum (R-Pa.) at 5 percent and former House Speaker Newt Gingrich at 5 percent. Businessman Herman Cain and former Utah Gov. Jon Huntsman took 4 percent and 1 percent, respectively.
This weekend also so the release of a Fox News poll of the GOP race that showing Perry garnering the support of 26% of those surveyed, with Romney at 18%, and every other candidate in single digits.
Looking at the trends, it easy to see why Ed Rollins said that the GOP race is now a race between Romney and Perry: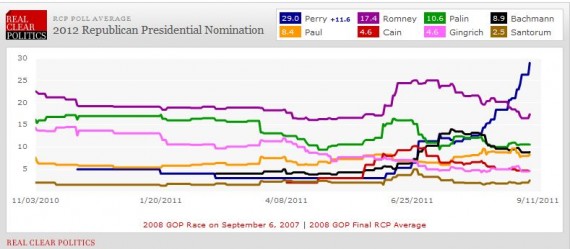 Now, it would be easy to look at this chart and conclude that the GOP race is over and that we're looking at a Romney-Perry slug fest, possibly a  protracted one, once the voting starts in February (or January, that hasn't been resolved yet). That may be how things turn out, and it seems unlikely at the moment that any of the other six announced candidates have any realistic chance of becoming competitive any time soon. However, it is worth keeping in mind where we were at this time four years ago: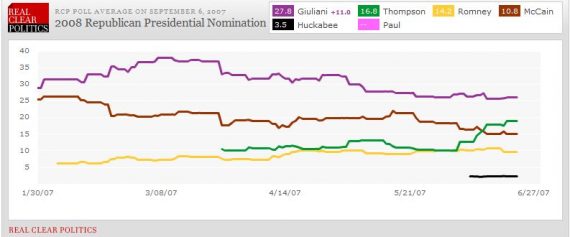 The guy who ended up winning the 2008 nomination was stuck in third place at this point in 2007, behind "America's Mayor" Rudy Giuliani and Fred Thompson, who was serving as the great hope of the conservative wing of the GOP. There was no sign of the Mike Huckabee surge that would materialize in December of that year, and nobody would've believed you if they told you that Rudy Giuliani would spend $50,000,000 and only win a single convention delegate, or that Fred Thompson, with all his Hollywood experience, would prove to be so wooden on the campaign trail. The race had yet to fully materialize at this point in 2007, and while it seems much less likely this time, it is still possible that the eventual nominee is neither of the two people at the top of the charts right now.
Whoever the nominee is, though, and despite all of the problems he's having due to the state of the economy and declining job approval numbers, President Obama is still holding his own against his probably Republican opponents:
If there's a silver lining for Obama, it's that a combined 70 percent of respondents still find him likeable (though nearly six in 10 say they disapprove of many of his policies). And 50 percent approve of his handling of foreign policy, which Hart says is significant because it suggests that the public doesn't think that everything Obama touches can be viewed negatively.

What's more, in a hypothetical general election contest, Obama leads Texas Gov. Rick Perry by five points, 47 percent to 42 percent. And he leads former Massachusetts Gov. Mitt Romney by one, 46 percent to 45 percent, though that margin is down five points since June.

But for the first time in the poll, more say they'd probably vote for a generic Republican candidate (44 percent) than say they'd probably vote for Obama (40 percent).

"Obama is no longer the favorite to win re-election," Hart said, explaining that a head-to-head score will usually conform to the generic one, especially when so many believe the country is headed in the wrong direction.
This may be true, but it's also clear that the President maintains a core level of support that could be enough to give him a second term depending on how the election turns out, and how the GOP nominee is. Which is why Larry Sabato is largely correct when he says that the 2012 race is likely to come down to a handful of toss up states:
Barring a Carter-like collapse, President Obama is assured of 175 electoral votes from 12 deep-blue states and the District of Columbia: California (55 electoral votes), Connecticut (7), Delaware (3), Hawaii (4), Illinois (20), Maryland (10), Massachusetts (11), New Jersey (14), New York (29), Rhode Island (4), Vermont (3), Washington state (12) and Washington, D.C. (3). Three more states are not quite as certain, but still likely Democratic: Maine (4), Minnesota (10) and Oregon (7). Even though Minnesota is competitive enough to vote Republican under the right set of conditions, it is the state with the longest Democratic presidential streak, dating to 1976.

Four other states usually vote Democratic for president, but they're hardly a sure thing: Michigan (16), New Mexico (5), Pennsylvania (20) and Wisconsin (10). A low Hispanic vote in 2012 could flip New Mexico, as Al Gore carried it by only 366 votes in 2000 and a dedicated effort by George W. Bush flipped it in 2004. In Michigan, economic problems might cause voters to cool on Democrats. Wisconsin, narrowly Democratic in 2000 and 2004, is a cauldron of unpredictable countertrends. And although Pennsylvania has frustrated all GOP attempts to win it over since 1988, recent polls have shown weakness for Mr. Obama there. These 51 electoral votes will be GOP targets if conditions in the fall of 2012 approximate today's.

Meanwhile, the Republicans have their own firewall. Almost any sentient GOP nominee will carry Alabama (9), Alaska (3), Arkansas (6), Idaho (4), Kansas (6), Kentucky (8), Louisiana (8), Mississippi (6), Montana (3), Nebraska (5), North Dakota (3), Oklahoma (7), South Carolina (9), South Dakota (3), Tennessee (11), Utah (6), West Virginia (5) and Wyoming (3). These 18 states have 105 electoral votes.

(…)

Republicans therefore are a lock or lead in 24 states for 206 electoral votes, and Democrats have or lead in 19 states for 247 electoral votes. That's why seven super-swing states with 85 electors will determine which party gets to the magic number of 270 electoral votes: Colorado (9), Florida (29), Iowa (6), Nevada (6), New Hampshire (4), Ohio (18) and Virginia (13).
President Obama won all these states in 2008, but there's plenty of reason to believe that many of them will be up for grabs in 2012. Florida, Virginia, and Ohio have all gone strongly Republican in elections since 2008, and Republicans have pulled off victories in statewide races in Nevada and New Hampshire. Of more concern for Obama, though, should be states like Pennsylvania, where his job approval has fallen precipitously over the past several months (see here and here). And Wisconsin seems to be a state where Republicans are far more competitive statewide than they have been in the past. Absent some disaster for Obama that pushes him into Carter/Mondale/McGovern blowout territory, this election is likely to be far closer than 2008 was, and to the extent people are voting their pocketbooks, the President could find himself in trouble when it comes time to count the Electoral College votes.