Can Rick Perry Overcome The Disaster Of 2012 With A 2016 Reboot?
After a disastrous campaign in 2012, Texas Governor Rick Perry appears to be gearing up for a new run for the White House in 2016, but questions remain.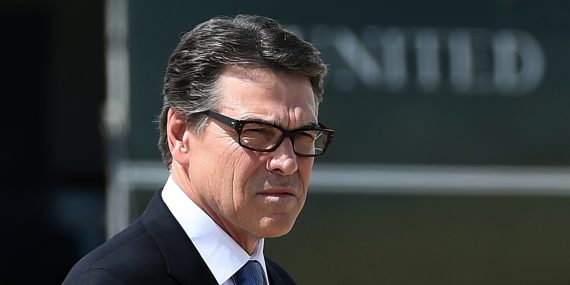 When he entered the Presidential race in 2012, Texas Governor Rick Perry was seen by many on the right as their answer to the seemingly unstoppable Mitt Romney, who was easily leading a pack of candidates that seemed inadequate to the task of challenging his position as the top of the pack candidate in the GOP field. Each in their own way, the conservative candidates in the race, Rick Santorum, Newt Gingrich, Michele Bachmann, and Herman Cain, simply did not seem to have what it would take to beat Romney in the long stretch of a primary race, not the least because it seemed unlikely that any of them would be able to raise the kind of money that Romney was easily raising even early in the race. Perry, on the other hand, was seen by many as someone who could take Romney on on his own turf as a long-serving Governor with a successful record in office, an impressive winning record in elections going back to the 1990s, and a network of donors that put those of Romney's other challengers to to shame. Given that, it was no surprise that Perry rocketed to the top of the polls within a month after entering the race and managed to raise an impressive amount of money in a very short period of time.  Just as quickly as he rose, though, Perry began to fall. In debate, the Texas Governor proved to be his own worst enemy thanks to verbal flubs, memory lapses, and comments that ended up alienating Republicans across the board. Perry now blames all of this on the painkillers he was on while he was recovering from back surgery, but the reason was pretty much irrelevant. Within a month, Perry was falling in the polls and never really recovered even though he stayed in the race until just before the South Carolina primary.
Now, after more than a year of speculation following his decision not to run again for Governor of Texas, a race he would have won easily, Perry is clearly gearing up for a new White House run:
Texas Gov. Rick Perry is inviting hundreds of prominent Republican donors and policy experts to a series of gatherings next month that are intended to rebuild his damaged national brand and lay the foundation for a potential 2016 presidential campaign, fundraisers and organizers confirmed to POLITICO.

The small-group sessions kick off Tuesday and Wednesday in Austin with a pair of lunches and dinners held in the governor's mansion wedged between policy briefings at the nearby office of Perry senior adviser Jeff Miller. In all, Perry's team expects he will meet in person with more than 500 major donors and bundlers from around the country in December as well as a slew of operatives, Republican National Committee members and policy experts.

Perry's intensive month of foundation-building comes as other prospective Republican presidential candidates – notably former Florida Gov. Jeb Bush and Texas Sen. Ted Cruz – are engaging with the wealthy Texans who for years have been among the GOP's most significant sources of cash. As the heir to a political dynasty with deep Texas ties, Bush in particular could seriously cut into Perry's financial base. Bush over the last few months has met with major Texas donors.

Perry has long enjoyed support from Texas's biggest wallets for his state campaigns, but some of the donors remain skeptical of his presidential viability as a result of his bumbling 2012 run, during which some abandoned him in favor of eventual nominee Mitt Romney.

(…)

While some in the party wonder if his star dimmed even further this summer when he was indicted on public corruption charges, Perry has nonetheless tried to remake his public image over the past year. In a series of high-profile interviews, the governor, sporting trendy new glasses that give him a more studious look, has admitted that he bungled 2012. He's said the experience "humbled" him, and admitted he erred by jumping into the race without sufficient preparation and just six weeks after back surgery that left him in pain and unable to sleep.
Perry faces several obstacles in the way of creating the venerable second act that we often see in American politics. The first involves the public corruption criminal case that was brought against him in earlier this year related to his open political dispute with the prosecutor in Austin, Texas, whose office happens to be in charge of investigating state agencies because of its location in the state capital, and his efforts to attempt to use his veto power to remove the District Attorney running that office from office after her arrest on drunken driving charges in which she attempted to use her official position to intimidate police into not charging her after she was arrested. The nature of the charges is complicated but essentially boils down to the question of whether or not there is any real limit on an Executive's use of a veto power that appears by the language of the state Constitution to have no limit or need for justification. Perry has denied that he committed any crime, and there has been a tremendous among of legal analysis that seems to support his claim, including some very persuasive arguments by The Volokh Conspiracy's Eugene Volokh, who has joined in an amicus brief that was signed by legal scholars from both sides of the political aisle arguing for the dismissal of the charges against Perry. Perry's lawyer's have also moved for dismissal of the charges, but that motion has yet to be ruled on. If it is denied, then the case is likely to go to trial sometime next year, and would obviously complicate the timing of any move by Perry to enter the Presidential race, although to be honest inside the GOP the charges do not seem to be hurting the Governor among base voters. Instead, Perry is seen as being politically targeted by an overzealous prosecutor. A fight against those charges is only likely to help him among those voters, especially if his is ultimately victorious as many seem to expect he will be.
Beyond the criminal charges, though, there is the issue of the ghosts of 2012, which Perry's supporters insist he has put behind him:
Things would be different if he ran again, say sources who have interacted with the three-term governor, who is leaving the office after having held it longer than any other person in Texas history. They describe his health as "tip-top" and his policy expertise as light years ahead of where it was in the last presidential cycle — all of which he intends to highlight in his December donor meetings.

"If Gov. Perry is going to run, he's going to be better prepared, and he's going to have the resources necessary to compete," said Henry Barbour, a Republican national committeeman who is helping plan for a Perry 2016 campaign and organizing next week's donor sessions.

After next week, there will be an additional four or five sessions throughout the month, as well as an array of briefings held at Miller's office with policy experts from leading conservative think tanks, such as the American Enterprise Institute and the Hoover Institution, according to those familiar with the planning.

The sources said Perry has been receiving twice-a-week briefings on different policy areas for months, including one on health care this past week in Austin featuring leading Obamacare critic Avik Roy of the Manhattan Institute. Perry also has been briefed – both in Austin and over the phone – by Lanhee Chen, the highly regarded policy director for Romney's 2012 campaign, who authored a 172-page job-creation outline for Romney and likely would have played a leading role in a Romney White House.

Miller – who has overseen Perry's post-2012 reemergence, and who many expect would run a Perry presidential campaign – added that full preparation means "not just on policy, but also with the necessary relationships in both the early states and with major donors around the country."
Whether or not Perry can convince these donors that he can and will be a different candidate than he was in 2012 is still an open question, of course. At the very least, the biggest concern about him is whether he has really been able to shake off the bad first impression that first campaign left in the minds of voters and political pundits. It's not unusual, after all, for candidates to run for President more than once before being successful. Richard Nixon did it, Ronald Reagan did it, and, even though he didn't win the Presidency itself, Mitt Romney was able to win the 2012 nomination after coming up far short in 2008. The difference, of course, is that none of these candidates had a "crash and burn" moment that defined their candidacy the first time around. Nixon came close to winning the White House in 1960, after all, and the reasons for his loss can't really be blamed on anything he did badly. Reagan came close to defeating a sitting President for his party's nomination in 1976 before winning outright in 1980. And, of course, Romney coming up short in 2008 was due as much to the GOP wanting unite behind a candidate quickly as anything else. Perry, on the other hand, came into the race in 2012 with the idea of being a strong, serious candidate who could challenge the front-runner and ended up becoming something of a joke. Inevitably, he will have to deal with that image if he gets into the race in 2016 and put it behind him relatively quickly if he's going to be a serious contender for the nomination.
If Perry can really get 2012 behind him, and the easiest way to do that may be to laugh it off and utilize self-deprecating humor to acknowledge that he realizes its an issue at least to some extent, then he likely would be a significant factor in the race for many of the same reasons he was in 2012. He would have more executive experience than almost all of the other potential nominees who are or have been Governors combined, for example, as well as an economic record in Texas that would likely play well with the GOP electorate. If he can keep his donor base together, then he would have a huge fundraising network to build upon that would likely give him the ability to build advantages in the early states that other candidates might not be able to do, especially if he starts campaigning earlier in process than he did last time around. The criminal charges against him have clothed him with some degree of political martyrdom that always plays well among the GOP base. Additionally, Perry's recent moves to the right on immigration have no doubt helped him in the one area that was a real source of tension between Perry and the base. And, finally, he seems to draw from both the social conservative and economic conservative wings of the GOP in terms of his support, although the growing conflicts between those two wings of the party are something that he, like any of the other potential nominees, would need to navigate carefully. All in all, though, despite crashing and burning in 2012, the idea of Rick Perry coming back in 2016 as the strong candidate he was supposed to have been four years earlier isn't nearly as far fetched as it might have seemed awhile ago.