Rick Perry's Immigration Problem
Rick Perry's immigration positions aren't at all unreasonable, and that presents a problem for him inside the Republican Party.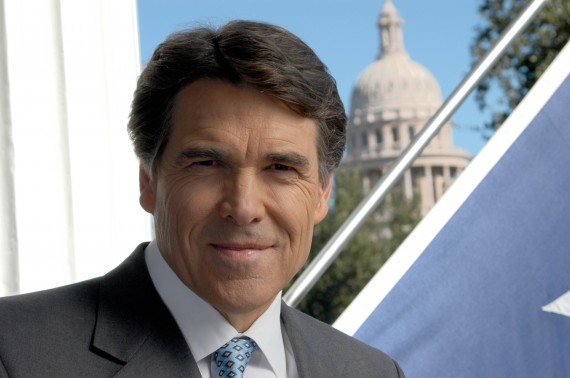 One of the most telling moments of the debate on Thursday night was the exchange between Rick Santorum, Mitt Romney and Rick Perry over immigration in general, and in particular Perry's support for a Texas law that allows Texas residents whose parents brought them here illegally qualify for in-state tuition status. Here's the entire exchange via Mediaite:
Quite obviously, Perry's response on the tuition question, calling his opponents heartless, didn't really go over very well with the GOP debate. A Fox News focus group that watched the debate and was interviewed immediately thereafter, reacted very negatively to Perry's response and his opponents have piled on him in the aftermath of the debate. Mitt Romney, for example, told a Florida CPAC gathering yesterday that he opposed illegal immigration because he had a heart and a head:
The former Massachusetts governor responded to Perry's assertion during Thursday's GOP presidential debate that those who disagree with providing in-state tuition to the children of illegal immigrants lack a heart.

"My friend Gov. Perry said if you don't agree with his position on giving that in-state tuition to illegals, that you don't have a heart," Romney said at the Conservative Political Action Conference in Orlando. "I think if you're opposed to illegal immigration, it doesn't mean that you don't have a heart. It means that you have a heart and a brain."
As a policy matter, there really isn't anything all that objectionable about the in-state tuition program that is causing Perry so much trouble. For one thing, as Kevin Williamson notes, states are already required to provide K-12 education to children of illegal immigrants, so the decision to extend this benefit isn't really all that big a deal. This is especially true in Texas, where tuition at state universities is comparatively low due to the fact that the schools benefit from oil and gas income generated by land granted to them by the state more than a 100 years ago. These students were either brought here by their parents, in which case they are not morally culpable for the fact of their illegal status, or they were born here, in which csae they are American citizens anyway. To a large extent, these students are no different from any other Texas High School student and, if they've spent their entire school career there, the Lone Star State has already invested a considerable amount of money in their education system. Cutting them off when they graduate from High School because of the actions of their parents strikes me as both unfair and unwise.
There's a final point to take note of. Offering discounted tuition rates to in-state students is a policy decision that states have made over the years, not in recognition of some "right" to discounted tuition, but because they want to create incentives for students to go to college and to do so in their home states. Obviously, the hope is that if they go to school there, they will stay after graduation and contribute to the state's economy. Looking at it from that perspective, the decision by Texas to extend that benefit to the children of parents who are here illegally makes perfect sense and the fact that it received near unanimous support from the heavily Republican Texas Legislature should be a fairly good indication of why it became law.
That's a policy argument, though. This is all about politics, and in the current political climate in the GOP anything that is seen as even slightly conciliatory toward illegal immigration is considered a deviation from orthodoxy. As Kevin Drum correctly notes, though, in this case Perry has gotten himself stuck in a corner that it will be difficult to get out of. The antipathy toward illegal immigration in the GOP is fairly strong so it's no surprise at all that anyone who is perceived to divert even slightly from full-throated opposition to the same is viewed with suspicion, just as Lindsey Graham. Now, with people like Mitt Romney framing the in-state tuition law as a subsidy to illegal immigrants, Perry is left with a huge problem that was only made worse by a response that some would interpret as arrogant and dismissive. All of which leaves of the Perry campaign with a dilemma:
The dilemma is how to repair the damage that his immigration comments have created without leaving the impression that he is ready to flip-flop on the particular issue of tuition assistance for immigrant children.

That will be difficult for several reasons.

First, Mr. Romney and his aides are ready to pounce at the first indication that Mr. Perry is backing away from his previous views. They will use that to undermine his other narrative — of a hard-charging governor who is anything but wishy-washy.

Second, Mr. Perry's campaign by necessity must spend plenty of time in Iowa and South Carolina in the coming weeks. Those are two states where the issue is still very raw and where Mr. McCain found the voters to be particularly unforgiving.

Third, the tuition assistance program that Mr. Perry supported in Texas is very similar to the national Dream Act that Mr. Obama, Senator Harry Reid of Nevada and Representative Nancy Pelosi, the minority leader, all supported. The moderator of the Fox debate on Thursday even referred to it as the Texas Dream Act.

The more that his rivals attach Mr. Perry to an Obama-like policy, the harder it will be for him to convince conservative, Tea Party voters that they should not hold it against him.
The same is true, I think, of some of other's Perry's positions on immigration such as his opposition to a border fence, which he explained quite well I think at the debate. In that particular case, Perry is right that the idea of a 2,000 mile long border fence that stretches all the way from Tijuana to the Gulf of Mexico is impractical, but as with his arguments in favor of the in-state tuition program, these arguments are likely to fall on deaf ears for people who are ideologically convinced that these ideas will work. One would think that a Governor of the state with the longest border with Mexico would be seen as more of an expert on this issue than a Congresswoman from Minnesota or a Senator from Pennsylvania, but apparently that's not the case.
In the end, it's not clear what impact the immigration issue will have on Perry's fate in the GOP race. Putting that one issue aside, he is seemingly more in line with the GOP base and the Tea Party than Mitt Romney, and more experienced and electable than any of the other Tea Party candidates. It's a vulnerability, though, and that's why you're likely to continue to see Romney and others to attack Perry on this issue. Whether it will work depends on whether Perry is able to put the issue behind him or at least convince Republican voters that they shouldn't hold it against him. If he's going to do that, though, he's going to have to come up with a better response than calling those who disagree with him heartless.