Chris Christie Enters The Immigration Debate, And The Tea Party Won't Like What He Did
Once again, Chris Christie seems to be directly challenging the right wing of his party.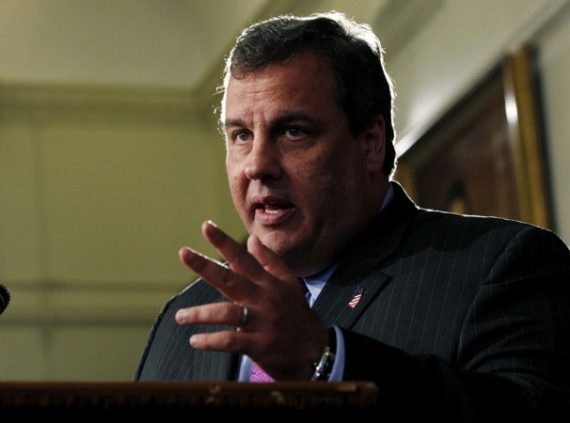 New Jersey Governor Chris Christie signed legislation this week authorizing undocumented immigrants to claim in-state tuition status at New Jersey's colleges and universities, a move that is likely to further annoy the Tea Party wing of his party:
The New Jersey Legislature approved legislation on Thursday that would allow students without legal immigration status to pay in-state college tuition. Gov. Chris Christie planned to sign it on Friday, a spokesman said.

The bill's passage was assured after Mr. Christie, a Republican, struck a deal with Democratic lawmakers, who agreed to a demand of his that they change the bill to remove a provision allowing undocumented immigrants access to state financial aid programs.

"This is what compromise looks like," the governor said at a news conference in Trenton after the accord was revealed.

The legislation, commonly known as the Dream Act, had become a political wedge between the state's large immigrant population and Mr. Christie, who has long tried to balance the sometimes-conflicting demands of being the chief executive of a liberal-leaning state while also gathering support for a possible Republican presidential candidacy.

After the deal was struck, the State Assembly passed a bill that would have allowed certain immigrants without legal status to qualify for in-state tuition as well as financial aid. The Senate approved an identical bill last month.

But in keeping with the terms of the compromise, Mr. Christie blocked the measure with a conditional veto that included a demand for the removal of the financial aid provision. Under a conditional veto, a bill is rejected unless the Legislature agrees to the changes or overrides the veto with a two-thirds majority in both chambers.

This legislative choreography was the culmination of years of lobbying by immigrants and their advocates for so-called tuition equality in New Jersey.

With Mr. Christie's signature, New Jersey will join at least 17 other states where in-state tuition is available to some immigrant students without legal status, according to the National Immigration Law Center. Three states — California, New Mexico and Texas — allow those immigrants access to state financial aid.

During Mr. Christie's re-election campaign this year, he spoke favorably of tuition equality. But after winning by a landslide, helped by the support of about half of Hispanic voters, he made comments on the issue that drew the criticism of the bill's supporters, who accused him of waffling.

Mr. Christie took the opportunity of the compromise to strike back at his critics, saying that his position had always remained consistent. "Shame on all the people — shame on you — who accused me and others of playing politics with this issue," he said. "You were wrong."

The compromise bill will allow access to in-state tuition for immigrants without legal status who have graduated from a New Jersey high school after at least three years of attendance.

Mr. Christie said the legislation would become effective immediately, allowing students to take advantage of it in time for the spring semester.

Supporters of the measure cheered the agreement but vowed to continue pushing for legislation to allow some immigrants lacking legal status to receive state tuition assistance.

"Today is a historic day in New Jersey, but the fight is not over," Udi Ofer, executive director of the American Civil Liberties Union of New Jersey, said in a statement.

"His veto will put up a roadblock for many of New Jersey's best and brightest students who cannot afford the skyrocketing cost of a college education."

Mr. Christie said on Thursday that he was concerned that opening state tuition assistance programs to undocumented immigrants would potentially turn New Jersey into what he called "a magnet state," drawing out-of-state students wanting to take advantage of the state's generosity. "I care about taking care of New Jersey kids," he said, "whether they're citizens or undocumented."
Christie's position on this issue is similar to the one that Texas Governor Rick Perry took during the 2012 Presidential campaign. Prior to running for President, Perry had signed into law a bill that very similar to the one that Christie has endorsed, and he did so with the overwhelming support of a state legislature that is overwhelmingly Republican. In addition to making note of the fact that Texas Republicans, who are not exactly known for their moderation, supported the tuition plan overwhelmingly, Perry spoke many times during the course of a campaign that soon imploded for reasons that went far beyond immigration that giving in-state status to students regardless of immigration status was in the best interests of his state because it was a way to hopefully ensure that talented students would stay in Texas after they graduated. Not surprisingly, though, Perry's position on the tuition issue became the subject of attack from his fellow candidates, including Mitt Romney, who attacked the idea of in-state tuition for undocumented students even in front of Latino audiences. Unfortunately for Perry, when the issue came up during a debate, he handled in what can only be described as the worst way possible:
Tonight's Google/Fox News Republican 2012 presidential debate is the third such event in the past three weeks, and perhaps the testiest of the bunch. Perhaps most indicative of the comfort with which the Republican candidates are slamming each other at this point is this exchange, initially between Mitt Romney and Rick Perry, and later picked up by Rick Santorum, on illegal immigration, where Perry took a strong stance in favor of educating undocumented children.

Romney first responded to a question on Texas' measures to help illegal immigrant children pay their tuition at state schools, saying "it doesn't make sense to me" that illegal immigrants can get in-state tuition discounts that American citizens aren't eligible for and calling for America to "turn off the magnet of government discounts." To that argument, Perry replied passionately that "you don't have a heart" if you don't feel for the children of illegal immigrants. "We have to educate these children," he concluded.
Not surprisingly, calling people who disagreed with him "heartless" didn't exactly go over very well, and this was just one of many of Perry's debate slip-ups that ended up dooming his campaign. In the end, I thought Perry was one of the few people in the GOP field in 2012 that had sensible positions on immigration, even though I disagreed with him strongly on many other issues and even though it became apparent quickly that Perry was not ready for the prime time of Presidential politics. However, whether he was right or wrong ended up being largely irrelevant, and while he might have fared better had he not called his opponents "heartless," it was quite obvious that his position on immigration would have been a problem going forward even if he hadn't made the other mistakes that he made during the course of the 2012 campaign, which was pretty much over for him by November 2011.
Will the same thing happen to Christe? To start at the beginning, I tend to doubt that he'd end up making the same rhetorical mistakes that Perry did. While the New Jersey Governor has a well-earned reputation for being outspoken, he's also demonstrated that he seems to know where the line is and how to avoid crossing over it. This was on display during the debates he held during the course of the 2013 campaign with Democratic nominee Barbara Buono. Having seen all or portions of all three debates on C-Span or online, I doubt he's going to be goaded into slipping up the way Perry did. Leaving that aside, though, we already know that Christie has already come under attack from the right wing of the GOP for other policy positions he's taken, as well as the truly idiotic reaction from that segment of the party to his actions during Hurricane Sandy and thereafter. This will be just another item they'll add to the list in favor of the argument that Christie is a "RINO." The question will be whether he can make a good enough argument to rise about the annoying din of the anti-immigration crowd in the GOP. I'm not sure, but he strikes me as someone who just might be able to accomplish that task.
As for the idea of in-state tuition for children of illegal immigrants, I find it hard to find a rational reason to reject the idea. As long as they meet the same residency requirements as other New Jersey High School students and have the grades and test scores to qualify for admission, I don't see what's wrong with the idea of allowing them to take advantage o the same tuition discounts. Additionally, just as Perry argued, albeit incoherently for the most part, in 2012, there are rather obvious benefits to the state in keeping talented students in the state. The fact that some of these students are people who are here illegally largely through no choice of their own should not be a bar to allowing them to take advantage of the same benefits available to any other New Jersey resident. Of course, this is politics, where being right doesn't always get you very much. It will be interesting, then, to see how Christie handles this on the national level.