Rick Perry's Immigration Problem Isn't Going Away
Rick Perry has serious problems with what people think about his immigration position.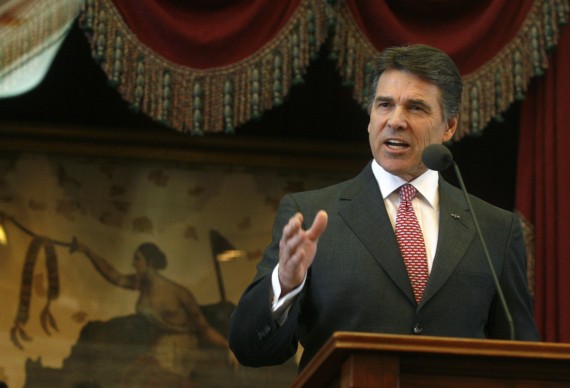 Two weeks ago, I noted the extent to which immigration had become a problem for Rick Perry in the race for the Republican nomination, especially after the most recent Republican debate, when he characterized those who opposed his position on in-state tuition for children of illegal immigrants as "heartless." This weekend, Rick Perry is making a swing through Iowa, and if anything it's clear that the issue is becoming an even bigger problem for him:
Two weeks after he said Republicans who disagree with the Texas law allowing undocumented immigrants in-state tuition "don't have a heart," angering many of his base, Perry found himself in northwest Iowa Saturday trying to explain to voters exactly what the program does.

He did not have much success, his words seeming to confuse some voters rather than allay their suspicions. "I'm not sure exactly what he wants," said one. "Maybe I misunderstood," said another.

In stump speeches at three stops here, Perry portrayed himself as an expert on immigration issues, saying in Orange City that "I have done more as the governor of Texas than I will suggest to you the federal government has done in that 10-year period of time to secure the border."

And in Sioux City, he insisted: "I've got a strong record on immigration from the standpoint of clearly being a rule-of-law person."

But each time voters asked about the tuition policy — questions were posed at all three events — it was clear those asking the questions believed the Texas program to be much broader and, to their ears, sinister, than it actually is.

In Sioux City, Perry was asked: "In Texas, you have a program that assists illegals going to college. If you were president, would you expand that beyond Texas?" In Orange City, he was asked why undocumented immigrants receive "a free ride" at Texas colleges. And in Spencer, in a packed banquet room at the Pizza Ranch restaurant, Perry explained to voter Kathryn Parsons that Texas sought to make undocumented immigrants productive members of his state, as he did at the day's first two stops.

He said that those eligible for in-state rates must be on a path to citizenship — a fact his wife, Anita, reminded him of during the Sioux City stop — and that Texas public schools had paid for their elementary and high school educations.

"Are we going to create a class of tax wasters or are we going to create taxpayers? Texas chose the latter," Perry said. "Every state has the freedom to make that decision. It's not a federal issue. I would not want it to be a federal issue. What I want to do is to be the president of the United States who secures the border so future governors don't have to mess with that particular issue."

But after that explanation, Parsons, 88, a retired secretary from Spencer, said she remained confused about what Perry was defending.

"I'm not sure exactly what he wants," she said. "I'm guessing that he expected to give money toward tuition to these illegal people."

Earlier, in Orange City, Perry gave a similar explanation to Fae Groff-Moritz, a 63-year-old medical reference clerk from Remsen, Iowa, who said her son pays out-of-state tuition to attend the University of South Dakota. She also found herself confused by Perry's response, and by what he said the Texas program does.

"What it sounded like when he was on TV, that … they came into the United States illegal, they were pursuing citizenship, that's what I understood, and then they were going to college but it sounded to me like they had a free ride. But he said, 'No, that wasn't the case,' so maybe I misunderstood."

Contributing to the confusion is, of course, Mitt Romney, whose campaign gleefully emailed reporters trailing Perry Saturday to offer their own characterization of the tuition policy.

"He opposes a border fence and signed legislation that provides taxpayer-backed benefits to illegal immigrants," said Romney spokesman Ryan Williams. "His liberal immigration policies are out of step with Iowa values and wrong for our country."
Perry's problem here is two-fold. First of all, he shot himself in the foot by saying that people who opposed the in-state tuition program were "heartless." Even the Governor himself recognizes that, which is why he finally ended up issuing an apology that was quite frankly too little, too late since the news cycle had already moved on. With that still hanging out there, it's going to be hard for Perry to make peace with people who may already be skeptical about his stance on immigration to begin with. The second part of Perry's problem is that immigration seems to be second only to abortion and gay marriage in the conservative pantheon as an issue on which even the slightest deviation is unacceptable. In reality, there's nothing about the in-state tuition program that approaches "amnesty" and, as I noted in my post two weeks ago, there are perfectly valid policy arguments in favor of why Texas implemented the program. Indeed, as Perry pointed out in that last debate, the program was passed into law with near universal support in the Texas Legislature. Clearly, Texas Republicans must have thought there was a good reason to support the plan. Those policy arguments don't matter to the people that Perry is encountering in Iowa, though:
The tuition issue is, for many, a deal-breaker.

"It doesn't play well," said Brian Rosener, the GOP chairman in Woodbury County, which includes Sioux City, Perry's first stop Saturday. "With in-state tuition for illegal immigrants, we can't be chasing after votes, we have to chase after what's right for this nation. When you do that, you will draw the vote. It's not about personal self-interest."

Perhaps just as troublesome for Perry is his Romneyesque it's-good-for-my-state-but-not-yours reply, won't come close to satisfying the majority of Republican voters who don't agree on the tuition issue, said Sam Clovis, a popular Sioux City conservative talk radio host who attended Perry's event there.

Asked if Perry's tuition answer was satisfactory, Clovis said: "No, because the states can't grant a path to citizenship. That's a plenary power of the Congress of the United States. Go look it up."
Of course, there's nothing about the law in Texas that grants a path to citizenship. Perry's problem is that no matter how many times he explains that in a stump speech, or in response to a question, the meme has been established that the legislation he shepherded through the Texas Legislature in 2001 was the precursor to the much-derided on the right DREAM Act, which would in fact grant a path to citizenship for illegal immigrants who met certain criteria. It's not unlike the meme that has set in that "RomneyCare" laid the groundwork for the Affordable Care Act. Regardless of the truth behind either allegation, once the meme sets in it becomes hard to combat it.
Will immigration be Perry's undoing? I'm not sure, to some extent the fate of his campaign depends on whether he's able to bounce back from his horrible September. Fortunately for him the next debate, on Tuesday, is solely focused on the economy. Nonetheless, it's an issue that looks to be a continual problem for him from now on, and it's one that has ironically allowed Mitt Romney to run to his right. If the reception for Perry in Iowa is any indication, that strategy appears to be working.