Reports: Rick Perry Raised $17,000,000 In 49 Days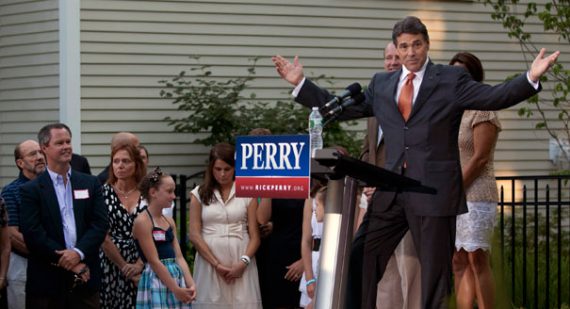 Both Hot Air and The Drudge Report are reporting that the Perry campaign will report that it raised a fairly impressive $17 million during the 49 days of the 3rd quarter that the campaign was active.
Ed Morrissey breaks the numbers down:
The pace is even more impressive.  Perry had 49 days in which to raise funds, rather than the full 92 days of the quarter, a rate of about $349,000 a day.  The final debate in September didn't hurt Perry's fundraising rate, either.  In the 42 days prior to the Orlando debate, their rate was $323K per day; in the eight days following the Orlando debate, that escalated to $478K per day. Perry's on-line operation did well, too, drawing in $1.1 million — despite, as my source says, not driving contributions with their on-line ads.

Best of all for the Perry campaign, the burn rate in the first seven weeks was negligible.  The campaign has $15 million cash on hand from its $17.1 million haul.  Team Perry wanted 18,000 contributors in this quarter, and finished with over 22,000.  More than 60% of their contributors donated $250 or less, which means that they can keep going back to them for more money.
Alexander Burns compares this to past campaigns:
The $17 million figure, which a Perry spokesman confirms to me, is almost as much as Mitt Romney raised in his first quarter as a declared presidential candidate this year.

It's also more than Rudy Giuliani and John McCain raised in the first quarter of 2007, when they were campaigning in a stronger economy and a more donor-rich environment.
Of course, as Rudy taught is well last time around, raising money doesn't necessarily mean anything if it doesn't translate into votes, or if Perry continues shooting himself in the foot. However, a report like this is why it is simply foolish to write Rick Perry off as either a frontrunner or a contender. With the bad poll numbers that have been coming out over the past several days, a fundraising number like this will send a message that Perry isn't going anywhere any time soon, and that he's more than prepared to compete with Romney, and with a flash in the pan like Herman Cain.