50 Dead, 53 Injured In Attack On Orlando Nightclub
An overnight shooting at a nightclub in Orlando, Florida has left 20 people dead and at least 42 injured.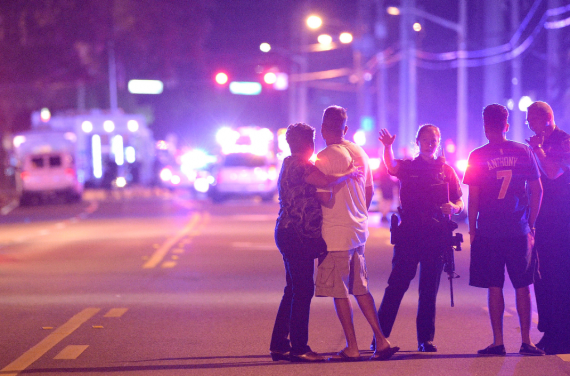 At least 20 people are dead and 42 injured in an attack on a nightclub in Orlando, Florida:
About 20 people were killed and at least 42 people were wounded when a gunman armed with an assault rifle and a handgun opened fire inside a downtown Orlando nightclub about 2 a.m., Police Chief John Mina said.

The police said they had classified the attack as a "terror incident." The gunman was not from the Orlando area and was organized and well-prepared, they said.

The gunman was found dead inside the Pulse nightclub, one of the largest in Orlando, about 5 a.m. after a shootout with the police, Chief Mina said.

The chief said it was difficult to assess the number of clubgoers who were killed because, as of 7:15 a.m., many of the bodies had not been removed.

The shooting began inside the club, the chief said, and continued outside when an officer working at Pulse attempted to confront him. The gunman then went back into the club, resumed shooting and took hostages.

At 5 a.m., Chief Mina said, the police decided to rescue the hostages, detonating a "controlled explosion" to help clear the club. At least nine officers were involved in the shooting with the gunman. One of them was slightly injured, the authorities said.

The police called it a "mass casualty" event. The wounded were taken to three area hospitals.

The police also said the gunman was carrying a "device," and that officers were searching the club for possible explosives.

On its Twitter feed, the Police Department asked residents to "stay away from area" and said that it was seeking support from local state and federal agencies. Later, employees in the area were asked to stay home if possible.

The club itself posted a message on its Facebook page about 3 a.m.: "Everyone get out of pulse and keep running."

Customers streamed out of the club into a chaotic situation with little idea of where to go. "Cops were saying, 'Go, go, clear the area,' " Christopher Hansen told an Orlando television station. "You don't know who's what and who's where."

As the sun came up, helicopter-shot video showed a situation that seemed to be under control, although windows on one side of the club appeared to be shot out.

Phone camera videos shot at the scene show police cars, ambulances and other emergency vehicles outside the club on South Orange Avenue in downtown Orlando. Streets around the the club were shut down for several blocks.

In one video, shots could clearly be heard as men and women ran from Pulse. Some of the clubgoers told local television reporters that the music was so loud it was difficult, at first, to distinguish the shots from the pulsing beat.

More than 100 people were believed inside the club when the shooting began about 2 a.m.

Many of the wounded were taken to Orlando Regional Medical Center, about three blocks from the club, which was placed on lockdown after receiving several gunshot victims. "Only essential workers are being allowed access into the building," the hospital said in a statement.

"Out of an abundance of caution, Arnold Palmer Hospital and Winnie Palmer Hospital have also been placed on lockdown," the statement added.

On Pulse's Facebook page, club officials promised to post updates as they came in: "As soon as we have any information, we will update everyone."

"Please keep everyone in your prayers as we work through this tragic event," the nightclub post0 said. "Thank you for your thoughts and love."
More from the Orlando Sentinel:
Twenty people are dead at Orlando's Pulse nightclub in what investigators are calling an act of terrorism, Orlando Police Chief John Mina said at a morning news conference.

A gunman took scores of people hostage overnight inside the nightclub; about 42 people were taken to area hospitals, Mina said.

Officers killed the gunman, who has not been identified, in a shoot out and referred to him as a "lone wolf." He was carrying an assault rifle, a handgun and was possibly wearing an explosive "device." The Orange County Sheriff's Office hazardous device team is now searching the area.

About 30 people were "saved during the rescue," Mina said.

The Federal Bureau of Investigation is assisting. Agents say they cannot rule this out as an act of domestic terrorism and that the suspect, who is not from Orlando, may have leanings toward extreme Islamic ideologies.

Dozens of emergency vehicles surrounded the chaotic scene at the club at 1912 S. Orange Ave. after the 2 a.m. shooting and rescue squads were transporting multiple victims to area hospitals.

Some victims were transported to Orlando Health, which established a family information center early this morning, asking family members to go to at 52 West Underwood St.

Several family members stood outside the North entrance of ORMC awaiting news. A relative of one victim, who did not want her name used, said she got a call at 3 a.m. about the shooting. Her friend and the friend's brother-in-law were at the club.

"He got shot twice and he's in there, but we don't know anything about her. So we're just waiting here."

Florida Hospital wouldn't confirm if any patients have been transported there this morning, but said they can check on names for families.

Witnesses said they heard at least 40 shots fired inside the club and estimated that at least 20 people had been shot.

Police reported just before 6 a.m. that the shooter inside the club was dead. Mina said his officers exchanged gunfire with the suspect in two shootings. Nine officers were involved in the shooting and one sustained an injury to his head and was saved by his helmet.

The Orlando Fire Department called for its bomb squad and hazardous material team to the scene after 3 a.m. Police K-9 dogs are searching the area around nearby Orlando Regional Medical Center with an armed deputy in head-to-toe military gear.

Emergency workers were seen taking victims away from the scene in large trucks–in one case, an emergency worker was doing chest compressions on one of the victims.

Just after the shooting, Pulse Orlando's posted a note to its own page that said, "Everyone get out of pulse and keep running." The popular gay bar was full of people at the time of the incident.

Emotional witnesses and family members of those who were in the club surrounded the area around the club after the shooting, that one witness said lasted the duration of an entire song.

Javer Antonetti, 53, went out to the club with his brother. He was towards the back of the room when he heard shots ring out.  "There were so many, at least 40," he said. "I saw two guys and it was constant, like 'pow, pow, pow,' " he said.  He said he ran out of the club. His brother is on crutches and was stuck inside. Antonetti said authorities were able to help save his brother, who he says is uninjured but still near the club.  "I'm not going anywhere," he said. "Police told me he's safe but he's still stuck back there."  He's waiting near Orlando Regional Medical Center.  Antonetti noticed when he made it out safe that he has blood smears on his shirt. He said he doesn't know how they got there and didn't see how many were injured.

Another witness, Rosie Feba, said she took her girlfriend to the club for the first time Saturday night. It was near closing time.

"She told me someone was shooting. Everyone was getting on the floor," Feba said. "I told her I didn't think it was real, I thought it was just part of the music, until I saw fire coming out of his gun."

Feba and her girlfriend ran out of the club. On the way out, they saw a man who had been shot.

Feba grabbed him. Others around her called 911. Some of the man's blood stained the sleeve of her striped T-shirt.

Both Feba and her girlfriend were unharmed, but shaken. They waited in a CVS parking lot for more information.
Obviously, at this early stage of the investigation, mere hours after the hostage situation at the club had ended, it's far too early to say exactly what kind of attack actually occurred over night. The fact that the attack is being investigated as an act of terrorism is, to a large degree, a procedural step that allows the Federal Bureau Of Investigation to step in and take over the investigation. It may turns out that the shooter in this case, who at least for now appears to have acted alone, was not motivated by a political or religious ideology but rather by a personal vendetta of some kind such as in the case of the countless work place shootings that we have seen over the years, or by some other personal situation. Given the fact that the nightclub in this case was known to cater predominantly to Orlando's gay and lesbian community, it may be that this was an attack specifically targeting the LGBT community or that it was motivated by some perverted political motivation related to gay rights. Finally, of course, it may well be the case that the shooter in this case was motivated by jihadist terrorism in which case the next question would be whether he (or she, although the police seem to be indicating the shooter was male without specifically saying so as of yet) was acting alone or after having made contact with international terrorist groups of one kind or another. The answers to all of these questions will be revealed in the coming hours and days, presumably.
What we do know is that the shooter, apparently acting alone, arrived at the club shortly before closing time when the remaining patrons were ordering their final drinks or otherwise preparing to leave. Given that the club was described as being 'packed' at the time shooting started, this suggests that the shooter had planned to take advantage of the confusion of a large crowd already making its way toward the exits in order to inflict mass casualties, although that's mere speculation at this point. We know that the shooter was carrying a rifle, a handgun, and was found with some kind of 'device,' which police are still investigating. And, we know that there was a hostage situation inside the club that lasted roughly three hours before police stormed the club and killed the gunman. A crime and terrorism analyst on CNN this morning suggested that the fact that the shooteer hunkered down for a three hour standoff suggests that this may not have been jihadist inspired terrorism, the unspoken truth being that both the shooters at the Bataclan in Paris and in San Bernardino took steps to kill as many people as possible rather than taking hostages and making demands, That's just speculation at this point, though, and we won't really know anything until the shooter is identified and we know more about their motivations. Beyond all of this, we know that 20 50 people are dead and more than 40 are being treated for injuries related to the shooting, and that's it.
Update: CBS News is reporting, and The Washington Post and NBC News have seemingly confirmed, the identity of the shooter as Omar Mateen, a 29 year-old American citizen from from Port St. Lucie, Florida. CBS is also reporting that authorities are "leaning towards Islamic terrorism"  as the motivation for the attack.
MORE: Orlando shooter ID'd as Omar Mateen, U.S. citizen from Port St. Lucie, FL https://t.co/ekBHZaL2A8 pic.twitter.com/E0cw3YAMb3

— CBS News (@CBSNews) June 12, 2016
Update #2: Authorities are now reporting that there are 50 people dead, and 53 injured. That would make this the worst mass shooting in American history, surpassing even the Virginia Tech and Sandy Hook shootings:
Law enforcement says 50 dead, 53 hospitalized in Orlando nightclub shooting.

— NPR (@NPR) June 12, 2016
Orlando officials say at least 50 dead and 53 injured in the nightclub shooting https://t.co/TogVx762OS

— CNN (@CNN) June 12, 2016
I have updated the post title accordingly.
Update #3: From NBC Nightly News, comes the report that Mateen apparently called 911 to pledge loyalty to ISIS prior to the attack, as well as other news about what may have motivated the attack on this specific target:
The gunman who opened fire at a gay Florida nightclub early Sunday, shooting over 100 people, had called 911 moments before to pledge allegiance to the leader of ISIS, law enforcement sources told NBC News.

But as investigators try to determine if extremism motivated Omar Mateen, 29, to attack the Pulse Nightclub in Orlando, his family believes he was pushed over the edge by pure hate against the LGBT community.

Various law enforcement officials have identified the shooter as Mateen, who was born in New York and lived in Port St. Lucie on Florida's eastern shores.

The attack, which claimed at least 50 lives, is considered the deadliest mass shooting in U.S. history. While authorities are still investigating what motivated the gunman, the shooting is being considered an act of terrorism.

Mateen, who was carrying a handgun and AR-15-type rifle, died after a SWAT team stormed the club, police said. The shooter, who worked in security, according to the family, had active security officer and firearms licenses, records show.

Records also show he had filed a petition for a name change in 2006 from Omar Mir Seddique to Omar Mir Seddique Mateen.

Because of his name and heritage, there were immediate questions about Mateen's possible ties to Islamic fundamentalism — but his father said it may have been a recent incident involving two men showing each other affection that set the gunman off.

"We were in Downtown Miami, Bayside, people were playing music. And he saw two men kissing each other in front of his wife and kid and he got very angry," Mir Seddique, told NBC News on Sunday. "They were kissing each other and touching each other and he said, 'Look at that. In front of my son they are doing that.' And then we were in the men's bathroom and men were kissing each other."

"We are saying we are apologizing for the whole incident," Seddique said. "We weren't aware of any action he is taking. We are in shock like the whole country."

Seddique added, "This had nothing to do with religion."

Driving the point home that religion was a consideration in the mind of investigators, at a 10:30 a.m. news conference Saturday, officials brought a member of the Muslim community to speak.

Police did not explicitly say Mateen was Muslim, but Islamic groups put out statements against the carnage.

"We condemn this monstrous attack and offer our heartfelt condolences to the families and loved ones of all those killed or injured. The Muslim community joins our fellow Americans in repudiating anyone or any group that would claim to justify or excuse such an appalling act of violence," the Council on American-Islamic Relations Orlando Regional Coordinator Rasha Mubarak said in a statement.
It's also being reported that Mateen was "known" to the FBI and other Federal authorities, but apparently was not under any form of active surveillance prior to the attack.
Update #4: President Obama addressed the nation from the Briefing Room this afternoon:
Today, as Americans, we grieve the brutal murder — a horrific massacre — of dozens of innocent people.  We pray for their families, who are grasping for answers with broken hearts.  We stand with the people of Orlando, who have endured a terrible attack on their city.  Although it's still early in the investigation, we know enough to say that this was an act of terror and an act of hate.  And as Americans, we are united in grief, in outrage, and in resolve to defend our people.

I just finished a meeting with FBI Director Comey and my homeland security and national security advisors.  The FBI is on the scene and leading the investigation, in partnership with local law enforcement.  I've directed that the full resources of the federal government be made available for this investigation.

We are still learning all the facts.  This is an open investigation.  We've reached no definitive judgment on the precise motivations of the killer.  The FBI is appropriately investigating this as an act of terrorism.  And I've directed that we must spare no effort to determine what — if any — inspiration or association this killer may have had with terrorist groups.  What is clear is that he was a person filled with hatred.  Over the coming days, we'll uncover why and how this happened, and we will go wherever the facts lead us.

This morning I spoke with my good friend, Orlando Mayor Buddy Dyer, and I conveyed the condolences of the entire American people.  This could have been any one of our communities.  So I told Mayor Dyer that whatever help he and the people of Orlando need — they are going to get it.  As a country, we will be there for the people of Orlando today, tomorrow and for all the days to come.

We also express our profound gratitude to all the police and first responders who rushed into harm's way.  Their courage and professionalism saved lives, and kept the carnage from being even worse.  It's the kind of sacrifice that our law enforcement professionals make every single day for all of us, and we can never thank them enough.

This is an especially heartbreaking day for all our friends — our fellow Americans — who are lesbian, gay, bisexual or transgender.  The shooter targeted a nightclub where people came together to be with friends, to dance and to sing, and to live.  The place where they were attacked is more than a nightclub — it is a place of solidarity and empowerment where people have come together to raise awareness, to speak their minds, and to advocate for their civil rights.

So this is a sobering reminder that attacks on any American — regardless of race, ethnicity, religion or sexual orientation — is an attack on all of us and on the fundamental values of equality and dignity that define us as a country.  And no act of hate or terror will ever change who we are or the values that make us Americans.

Today marks the most deadly shooting in American history.  The shooter was apparently armed with a handgun and a powerful assault rifle.  This massacre is therefore a further reminder of how easy it is for someone to get their hands on a weapon that lets them shoot people in a school, or in a house of worship, or a movie theater, or in a nightclub.  And we have to decide if that's the kind of country we want to be.  And to actively do nothing is a decision as well.

In the coming hours and days, we'll learn about the victims of this tragedy.  Their names.  Their faces.  Who they were.  The joy that they brought to families and to friends, and the difference that they made in this world.  Say a prayer for them and say a prayer for their families — that God give them the strength to bear the unbearable.  And that He give us all the strength to be there for them, and the strength and courage to change.  We need to demonstrate that we are defined more — as a country — by the way they lived their lives than by the hate of the man who took them from us.

As we go together, we will draw inspiration from heroic and selfless acts — friends who helped friends, took care of each other and saved lives.  In the face of hate and violence, we will love one another.  We will not give in to fear or turn against each other.  Instead, we will stand united, as Americans, to protect our people, and defend our nation, and to take action against those who threaten us.

May God bless the Americans we lost this morning.  May He comfort their families.  May God continue to watch over this country that we love.  Thank you.