Donald Trump Renews Call For Ban On Muslim Immigration
Donald Trump responded to the attack on the Pulse nightclub by renewing his call to ban members of an entire religion from coming to the United States.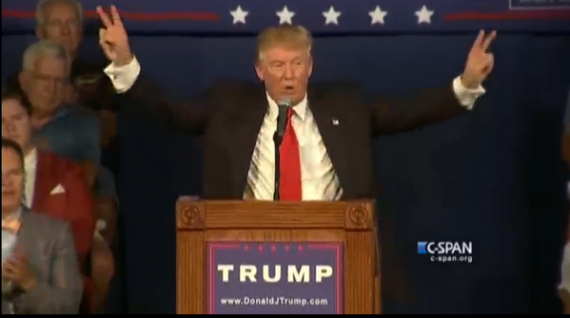 Six  months after first bringing the issue up after the attacks in Paris and San Bernardino, Donald Trump renewed his call for a ban on immigration into the United States by Muslims:
In a speech reacting to the massacre in Orlando where 50 people were killed, presumptive Republican nominee Donald Trump doubles down on his proposal to ban immigration of Muslims, and he expanded his proposal to "suspend immigration from areas of the world where there is a proven history of terrorism against the United States, Europe or allies."

Speaking at the New Hampshire Institute of Politics Monday, Trump did not mention foreign policy or discuss the fight against terrorist group ISIS, which the killer pledged allegiance, instead he said the attack early Sunday morning at the Pulse nightclub was the result of the U.S.'s immigration policies.

"TThe bottom line is that the only reason the killer was in America in the first place was because we allowed his family to come here," Trump said, reading from a teleprompter. "That is a fact, and it's a fact we need to talk about."

The killer was born in New York but his father is an immigrant from Afghanistan.

Trump had originally said he would temporarily suspend immigration from Muslims, but he was starting to soften that idea in recent weeks. But after Sunday's horror, he went further.

"The ban will be lifted when we as a nation are in a position to properly and perfectly screen those people coming into our country," Trump said. "We are importing radical Islamic terrorism into the west through a failed immigration system."
In reality, of course, Trump's position on Muslim immigration is largely irrelevant to the tragedy in Orlando because the shooter, Omar Mateen, was born in New York in 1996 to parents who had immigrated to the United States from Afghanistan in the wake of the war between the Soviet Union and Afghan rebels that ultimately led to a humiliating Soviet defeat and withdrawal. Mateen was raised in Florida and apparently didn't even leave the country until he was an adult, when he visited Saudi Arabia for reasons that the F.B.I. has yet to determine, although it appears at least one of those occasions appears to have been for the purpose of participating in the hajj, the pilgramige to Mecca that all Muslims are required to make at least once in their life if they are able. In any case, Mateen was an American citizen who was already in the country so Trump's ban wouldn't have stopped the attack in Orlando on Saturday night any more than it would have prevented Syed Farook, the American citizen involved in the attack in San Bernardino, from carrying out the attack he was involved in. In response, Trump asserts that if his ban had been in place in the past then Mateen's parents would not have been allowed to come to the United States and, therefore, the attack more than 20 years later would not have happened. He says this despite the fact that there doesn't appear to be any evidence that Mateen's father had a record of supporting extremism at the time he came to the United States, although he has apparently made statement sympathetic to the Taliban at some point in the past. Indeed, reports have indicated that his father was a supporter of the mujahadeen during the war with the Soviets, which suggests that he may have been included in one of the various programs used to grant asylum to people involved in fighting the Soviet for those who were in danger in the years after the war ended. In any case, the fact of the matter is that Trump's ban on Muslim immigration would not have prevented the attack in Orlando, just as it would not have prevented the attack in San Bernardino.
Trump's response to the attack in Orlando is hardly surprising, of course, and it largely mirrors his response to the attacks late last year in Paris and California. Back then, he advocated  closing mosques and maintaining a database to track Muslim-Americans and Muslim immigrants, constantly repeated debunked claims that "thousands" of Muslim Americans were celebrating the destruction of the World Trade Center on September 11, 2001, and in the wake of the San Bernardino attacks increased his anti-Muslim rhetoric to an even higher level until it reached its apex with his call for a ban on Muslims being allowed into the country until "we can figure out what the hell is going on," an open-ended commitment that suggests it would effectively be permanent. With that history, it's not really all that surprising that Trump would seek to exploit yet another attack for his electoral advantage, and to cynically rely on the worst forms of anti-Muslim bigotry in order to do so. As I noted when Trump first proposed this idea, in addition to the fact that it is rooted in the basest form of religious bigotry, there are serious legal arguments against Trump's idea:
Beyond the practical arguments, though, it would seem as though a complete ban on immigration based solely on someone's religious beliefs is something that would be a violation of the First Amendment as well as other parts of the Constitution. It's true that there isn't necessarily a Constitutional right for an immigrant to enter the country, but a law that bars people based on categories such as religious beliefs would strike me as being clearly unconstitutional. Of course, Trump isn't proposing this idea as something he seriously believes will become law, especially since it is exceedingly unlikely that Donald Trump will ever become President. Most likely, it's just the latest example of a campaign strategy that seems to involve saying more and more outrageous things and then sitting back and watching as the media gives him free media time that only serves to increase his poll numbers. It is a strategy that has worked exceedingly well so far, unfortunately, and it will likely work this time as well.

The most notable thing about Trump's statement, of course, is that it is the latest, and arguably one of the worst, examples of the extent to which he has built a campaign around the idea of appealing to the worst aspects of American politics. It's also another exhibit in favor of the argument that it is entirely appropriate to consider the man to be a fascist and a demagogue, and indeed just somewhat dangerous as a political figure.
Despite all of that, of course, Trump's position didn't harm him at all in the Republican primary, so it's not surprising that he'd fall back on the same strategy now. We're not in a primary now, of course, so it's unclear whether Trump's demagoguery will benefit him ax much as it did six months ago. In either case, I suppose we can expect to see a week or more of this from Trump and we should know pretty quickly how the general public reacts to it.