At Least 14 Dead, 14 Wounded In Mass Shooting In San Bernardino, California, Multiple Shooters Reported
Multiple victims, and possibly multiple shooters, reported in San Bernardino, California.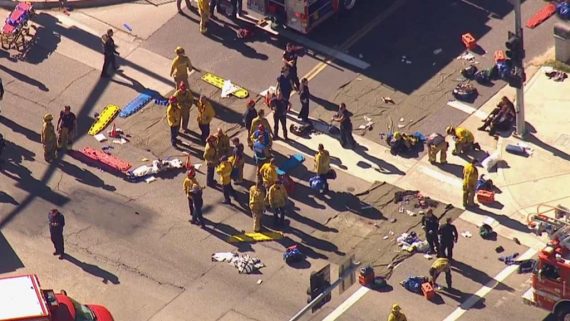 Up to twenty people are reported to have been shot, with reports of as many as twelve dead, in an apparent mass shooting in San Bernardino, California, with several reports now indicating that more than one shooter may be involved:
Up to 20 people were shot Wednesday at a social services office in San Bernardino, and officials said they were looking for one or more "active shooters."

The San Bernardino Fire Department said the shooting took place on the 1300 block of Waterman Avenue, near Orange Show Road.

Sgt. Vicki Cervantes, a spokeswoman for the San Bernardino Police Department, told reporters at the scene up to three shooters were reported inside the Inland Regional Center. Officers have not secured the building and going door-to-door.

The suspects, she said, are heavily armed and were possibly wearing body armor.

"It's a very active scene," Cervantes said. "It's very fluid."

Television news footage showed police officers and firefighters staging at the scene as well as some people being escorted out of the area.

Officials sais they got a call about the shooting at about 11 a.m.

One man whose his wife worked in the building told KABC-TV that at least gunman walked into the center at began open fire. She was able to lock herself in her office.

"They saw bodies on the floor," he said.

The Inland Regional Center provides services to disabled people and others in need.

The organization's website states: "Inland Regional Center was built on the foundation of three core values – independence, inclusion, and empowerment. In following these core values, we hope to help provide each individual with a service system that helps identify and eliminate barriers for individuals with developmental disabilities and their families so they can closely live a typical lifestyle."
By the time the news had made it to the national news, the reports of nearly two dozen fatalities and multiple shooters were already floating across the Internet, and while it is always worthwhile to remember that these initial reports can turn out to be incorrect in situations like this, both of these reports would seen to be correct based on the most recent information from local news agencies:
UPDATE: 3 shooters armed with rifles, source confirms to @abc7robmcmillan; no one in custody https://t.co/Ekf6Acw6jM

— ABC7 Eyewitness News (@ABC7) December 2, 2015
UPDATE: Witnesses say active shooters were wearing masks and possibly body armor https://t.co/Ekf6Acw6jM — ABC7 Eyewitness News (@ABC7) December 2, 2015
JUST IN: Sources say 1 suspect dressed in tactical gear walked into conference room, started shooting. LIVE: https://t.co/3QbJkFnEBr

— FOX 11 Los Angeles (@myfoxla) December 2, 2015
LIVE: At least 20 shot and 12 are dead in San Bernardino where there is an active shooter. 1-3 possible suspects. https://t.co/3QbJkFnEBr — FOX 11 Los Angeles (@myfoxla) December 2, 2015
There have been reports of multiple shooters in the early stages of mass shooting situations in the past, most notably in the shooting at the Washington Navy Yard several years ago, and they have all turned out to be untrue and usually based on mistaken eyewitness reports. That may be the case here as well, but the number of reports that have been coming through just in these initial stages of three apparently white men armed with what are described as "long guns," which sounds like shotguns, and possibly wearing body armor has been so large that it's hard to discount that possibility at this point. If true, it would suggest that this situation is not the typical mass shooting situation which typically involves a lone shooter, and often someone who has a grudge against the entity being targeted or someone located there, such as a disgruntled employee situation. If there really are multiple shooters involved, then we could be looking at something far different.
What's unclear at this point is what the motive could possible be for something like this. By all accounts, the facility that is the site of the attack is a county center that deals primarily with developmentally disabled children and adults and that there are "several hundred" people who work there or use the facility on a daily basis. Whether this means that there are children and others on the premises on the a regular basis is unclear at this point, but that certainly is what the descriptions make the facility sound like.
Based on what is being shown on television coverage, it doesn't appear that there is an active shooter situation at the facility itself, however there are several reports that the shooter(s) were seen leaving the scene in a black SUV and there is an active lookout in the area. The Los Angeles Times is also reporting multiple shooters who may have escaped:
At least three suspected #SanBernardino shooters vanished from the building after the gunfire, sources says https://t.co/fZv9BLDwk5

— Los Angeles Times (@latimes) December 2, 2015
As is CNN:
Per sources: three suspects left suspicious package on second floor, left scene in black SUV https://t.co/JIHCJwzJeW https://t.co/9ffhw1tjrh — CNN Newsroom (@CNNnewsroom) December 2, 2015
And the local Fox affiliate:
Sources are saying 3 suspects fled the scene in a black SUV in the #SanBernardino shooting.

— FOX 11 Los Angeles (@myfoxla) December 2, 2015
And ABC News:
#SanBernardino suspects very heavily armed and possibly wearing body armor, San Bernardino Police Dept. spox says: https://t.co/eLbYDSv6xC — ABC News (@ABC) December 2, 2015
Again, this is an atypical situation for mass shootings in the United States if it turns out to be true.
Update: It is now being reported that the shooting may have occurred at a conference center adjacent to the main facility where some kind of event for county employees may have been taking place:
San Bernardino PD spox says center was hosting an event today when "multiple shooters came in and just started shooting"

— Jon Passantino (@passantino) December 2, 2015
#SanBernardino shooter(s) opened fire at a meeting or party wearing camo & masks; police hunting for black Yukon SUV, says @RickSerranoLAT — Los Angeles Times (@latimes) December 2, 2015
San Bernadino PD spokeswoman says "shooters" opened fire in an area where an event was being held at Inland Regional Ctr. #SanBernardino

— Michelle Tuzee (@abc7michelle) December 2, 2015
The reports of multiple shooters has now, seemingly, been confirmed by police spokesmen. It's worth noting, though, that this may be largely based on reports from eyewitness reports which could be mistaken. Update #2:  Law enforcement has just concluded their first real press briefing on this incident. It appears to be confirmed that there are at least 14 people dead, and at least 14 wounded, that there were up to three shooters involved, and that the shooting occurred in an area of the facility where some kind of reception was being held for county employees, perhaps an early holiday party. There is apparently no description for any suspects other than the fact that the were "dressed and equipped" in a way to indicate that they were prepared, indicating some level of planning. There's no indication of motive, identity, or where these men who are apparently at large may be at this point in time. Reports indicate that wide areas of the surrounding San Bernardino area, including public buildings and up to seventy public schools are under lockdown at this time given the fact that the suspects are at large. In response to the inevitable questions given the fact that multiple shooters seem to be involved, the police spokesperson put it this way:
"We do not know where the suspects are" – San Bernardino police chief. "At minimum we have domestic-type terrorism situation." — Wesley Lowery (@WesleyLowery) December 2, 2015
Based on confirmation of casualties from law enforcement, I've changed the post title.
Update #3 (9:00pm Eastern): Several developments over the past few hours, including a gun battle with police that has apparently left two people dead, and a possible identity of someone connected with this incident, who may or may not be connected to the shootings:
Two suspects confirmed dead. 1 male & 1 female. The vehicle was cleared of any explosive devices.

— SB County Sheriff (@sbcountysheriff) December 3, 2015
FBI, ATF, SBPD and #SBCSD are all in unified command in this incident. A third suspect may be outstanding.

— SB County Sheriff (@sbcountysheriff) December 3, 2015
NBC News now reporting a US citizen named Sayeed Farouk believed to be one of the people involved in the shooting.

— Christopher Hayes (@chrislhayes) December 3, 2015
JUST IN: Suspect in #SanBernardino shooting ID'd as Syed Farook; Another believed to be Farook's brother: Sources https://t.co/XuFyOhXh2T

— NBC News (@NBCNews) December 3, 2015
The fact that one of the people who may be involved has an Arabic name will, quite obviously, lead to questions about possible international terrorism, or at least an incident that may have been inspired by international terrorism, but that has not been confirmed. Indeed, it's also worth noting the initial theory that was being floated just hours ago, which is that this all started with someone who was at the gathering where the shooting took place who left after an argument and returned with others at which point the shooting began. Given the fact that the entire incident seems to have been fairly well-planned that theory doesn't really make sense right now, but given that we're still in the early hours of this investigation it's a theory worth keeping in mind.