Donald Trump Calls For Ban On All Muslim Immigration
Donald J. Trump continues to turn the dial higher and higher on his fascist demagoguery.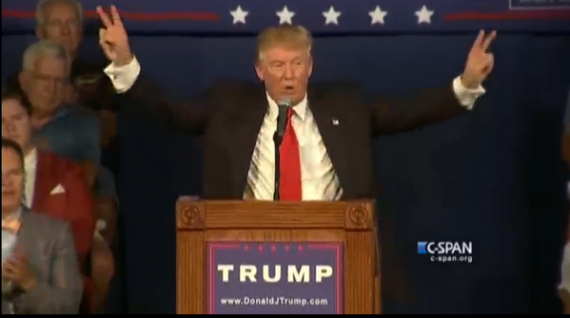 Seemingly intent on proving the assertions of those of his critics who have called him a fascist and a demagogue, as well as a racist among other things, Donald Trump is doubling down on his recent anti-Muslim rhetoric by calling for a complete ban on all Muslim immigration into the United States:
Donald J. Trump called on Monday for the United States to bar all Muslims from entering the country until the nation's leaders can "figure out what is going on," an extraordinary escalation of his harsh rhetoric aimed at members of the Islamic faith in the aftermath of the terrorist attacks in Paris and San Bernardino, Calif.

"Without looking at the various polling data, it is obvious to anybody the hatred is beyond comprehension. Where this hatred comes from and why we will have to determine," said Mr. Trump, the leading Republican candidate for his party's 2016 presidential nomination.

"Until we are able to determine and understand this problem and the dangerous threat it poses, our country cannot be the victims of horrendous attacks by people that believe only in jihad, and have no sense of reason or respect for human life," he said.

A spokeswoman for Mr. Trump confirmed the authenticity of the statement. Asked what prompted it, Mr. Trump said, "death," according to the spokeswoman.
Here's the full statement that was sent to reporters:
Full statement from @realDonaldTrump on stopping Muslims entering US pic.twitter.com/AjG7wPlUmI

— Laura Bicker (@BBCLBicker) December 7, 2015
The Hill reports that Trump's campaign says that his proposal would include barring American citizens who are overseas from returning home:
Republican presidential front-runner Donald Trump wants to bar all Muslims from entering the United States.

In a statement from his campaign, Trump called for a "total and complete shutdown" of Muslims entering the United States until elected leaders can "figure out what is going on."

When asked by The Hill whether that would include Muslim-American citizens currently abroad, Trump spokeswoman Hope Hicks replied over email: "Mr. Trump says, 'everyone.'"

Trump is quoted in the statement as saying that a significant number of Muslims harbor a "hatred" toward America and as a result should be kept out of the country.

He backed that up with a poll by the Center for Security Policy, a think-tank that has criticized the role of Muslims in America.

That poll showed that one-quarter of Muslims living in America polled "agreed that violence against Americans here in the United States is justified as part of the global jihad" and that a majority think that Muslims in America should be allowed to answer to Shariah law.

"Without looking at the various polling data, it is obvious to anybody the hatred is beyond comprehension. Where this hatred comes from and why we will have to determine," Trump said.
"Until we are able to determine and understand this problem and the dangerous threat it poses, our country cannot be the victims of horrendous attacks by people that believe only in Jihad, and have no sense of reason or respect for human life."
The Washington Post's Philip Bump has a  post up pointing out the inherent flaws in the poll of Muslim-Americans that Trump is citing in support of his argument, but such evidence is hardly going to matter to his supporters. Much like his comments about Mexicans, or other examples of outrageous rhetoric on his part that have been well-cataloged at this point, the overwhelming likelihood is that they will instead rally around him just as they have in the past. Indeed, there seems to be nothing that Trump can do or say that would dissuade these people from supporting him. As I have said mostly in jest on social media more than once in recent months, Donald Trump could perform an abortion on a woman dressed as the Virgin Mary in a Church on Christmas Eve at midnight and broadcast it live to the world and these people would still love him. For many of them, this has become a cult of personality, and that is quite troublesome.
Given the fact that, in the three weeks since the Paris attacks Trump has engaged in seemingly non-stop anti-Muslim rhetoric in the name of fighting "terrorism," this is hardly surprising. Since November 13th, for example, Trump has advocated  closing mosques and maintaining a database to track Muslim-Americans and Muslim immigrants, constantly repeated debunked claims that "thousands" of Muslim Americans were celebrating the destruction of the World Trade Center on September 11, 2001, and in the wake of the San Bernardino attacks has increased his anti-Muslim rhetoric to an even higher level. This new statement, which comes just hours before his next big campaign rally in South Carolina during which he will apparently talking about this "idea," is in some sense just a continuation of the hate and demagoguery that has been a staple of the Trump campaign for months now, and which only seems to make him more popular with his supporters if the fact that he continues to lead in the polls at both the national and state level is any indication. In any case, it seems likely that this latest proposal is one that his most loyal supporters in particular are going to love, what will be interesting will be to see how the other Republican candidates react to this idea over the coming days. The fact that Trump released this statement mere hours after I wrote about the dangers of the rise of anti-Muslim rhetoric in the wake of Paris and San Beranrdino just seems to prove the arguments I made that post correct.
As for the merits of Trump proposal, there really aren't any worthy of being discussed. For one thing, Syed Farook, one of the two San Bernardino shooters was born in the United States and his parents appear to have entered this countries many years before he was born, so proposing to ban immigration based on what happened in San Bernardino is absurd since such an idea would have done nothing to stop Farook from acting on his own even if it might have prevented his wife from entering the country. Beyond the practical arguments, though, it would seem as though a complete ban on immigration based solely on someone's religious beliefs is something that would be a violation of the First Amendment as well as other parts of the Constitution. It's true that there isn't necessarily a Constitutional right for an immigrant to enter the country, but a law that bars people based on categories such as religious beliefs would strike me as being clearly unconstitutional. Of course, Trump isn't proposing this idea as something he seriously believes will become law, especially since it is exceedingly unlikely that Donald Trump will ever become President. Most likely, it's just the latest example of a campaign strategy that seems to involve saying more and more outrageous things and then sitting back and watching as the media gives him free media time that only serves to increase his poll numbers. It is a strategy that has worked exceedingly well so far, unfortunately, and it will likely work this time as well.
The most notable thing about Trump's statement, of course, is that it is the latest, and arguably one of the worst, examples of the extent to which he has built a campaign around the idea of appealing to the worst aspects of American politics. It's also another exhibit in favor of the argument that it is entirely appropriate to consider the man to be a fascist and a demagogue, and indeed just somewhat dangerous as a political figure. That danger is enhanced, though, by the fact that he is the leading Republican candidate for President at the national level as well as in all of the early states such as Iowa, New Hampshire, South Carolina, and Florida. If he were saying these things while polling in the single digits or barely showing up in the polls at all, it would be easy to simply dismiss him and move along. The fact that he is in fact leading the race and could, very plausibly at this point, end up being the Republican nominee for President says nothing good about the state of politics in our country, or more importantly about the state of the Republican Party. Indeed, as I said over the weekend, if Trump does end up winning the GOP nomination, I fear I'm going to lose respect for a lot of people I consider friends or at least people that I can have reasonable disagreements and rational discussions with. Even though I couldn't support them myself and ended up voting Libertarian, I could understand why people decided to support and vote for a candidate like John McCain or Mitt Romney. I cannot for the life of me understand why any rational human being, and especially anyone who claims to support limited government and individual rights, could support Donald Trump just because he has an R after his name and he won the nomination of his party. If this statement doesn't lead more Republicans to reject Trump's hateful rhetoric, and to reject him, then the GOP is headed for trouble in 2016.