Donald Trump: I'd Be Okay With Closing Mosques And Requiring Muslims To Carry Special Identification
Donald Trump's demagoguery and disdain for individual liberty enters a new phase.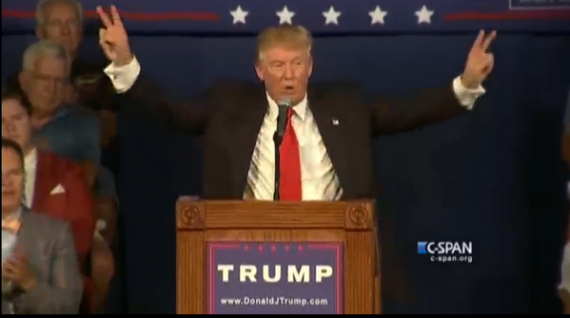 Donald Trump says he would consider closing mosques as part of his anti-terror strategies:
The United States will have "absolutely no choice" but to close down some mosques where "some bad things are happening," Donald Trump said in a recent interview, explaining his rationale for doing so.

"Nobody wants to say this and nobody wants to shut down religious institutions or anything, but you know, you understand it. A lot of people understand it. We're going to have no choice," the Republican presidential said in an interview from Trump Tower on Fox News' "Hannity" on Tuesday night.

Those remarks go further than Trump did on Monday, when he said he would "strongly consider" closing mosques as part of a response to last Friday's terrorist attacks in Paris that killed more than 130 and injured hundreds more.

Asked to explain his shifting position by Sean Hannity, Trump remarked that things are "happening a lot faster than anybody understands."

"There's absolutely no choice. Some really bad things are happening and they're happening fast," he said, taking a dig at President Barack Obama's response to the attacks. "Certainly a lot faster than our president understands because he doesn't understand anything. He doesn't get it. Refuses to even call it by its correct name," which Trump termed "radical Islam."
Trump's position, of course, is one that we've heard several times in the years since the September 11th attacks, especially the most vehement anti-Muslim spokespeople on the right, whose names don't really need to be mentioned. It is also quite similar to the rhetoric that we heard several years ago during the debate and controversy over the construction of an Islamic Community Center in Lower Manhattan several blocks from the site of the World Trade Center and the September 11th Memorial. It's also an argument that has been raised in communities around American over the past fourteen years as people have objected to the construction of new mosques or the expansion of existing mosque facilities. To these people, the mere existence of a mosque is seen as a threat largely because they believe that the Islam as a whole is not fundamentally different from the jihadism that has guided groups such as al Qaeda and ISIS and that, therefore, any mosque is a potential terrorist training center or refuge.
The reality, of course, has been somewhat more complicated and nuanced. While it is true that there have been isolated incidents of dangerous and violent rhetoric being preached in American mosques, with perhaps the most prominent being Anwar al-Awlaki, an American citizen and Imam who spent some time preaching in American mosques before moving to Yemen where he became essentially the leader of al Qaeda in the Arabian Peninsula until being killed by a U.S. drone strike. While al-Awlaki's case is obviously concerning, the more common story of how American mosques have dealt with issues of radicalism in the years since the September 11th attacks has been one in which someone affiliated with an American mosque has tipped off law enforcement about someone who has been expressing radical beliefs or otherwise acting in ways that concern them. The other side of that story, of course, have been cases involving law enforcement engaging in questionable efforts to infiltrate or spy on mosques, or in some cases to plant people in mosques in an effort to bait members of the mosque into breaking the law, a practice that has caused some American Mosques to, understandably, distrust law enforcement. More importantly, though, in the past fourteen years there has been no credible evidence presented that any American Mosques are "radicalizing" American Muslims or otherwise acting in manners that would be a threat to public safety.
The biggest danger about Trump's proposal, of course, is the threat that it would pose to the First Amendment. The surveillance of some mosques that has been engaged in by the FBI and the New York City Police Department, among other groups, has raised serious concerns about the impact it has on the free exercise of religion from the time it started. Trump, however, would take the matter a step further and actually act to close down places of worship. For one thing, in his interview Trump did not even define what circumstances he believes would justify such an action, and while there theoretically at least might be situations where a place of worship could be acting so much in violation of the law that there would be a legal argument to support a move to close it down or otherwise seriously disrupt its ability to operate. Given the First Amendment, though, they would have to be incredibly extreme and unusual circumstances, and it is clear that Trump is not talking about something that he would foresee as being extreme, unusual, or rare if he ever had the power to direct law enforcement to act, a power he would most assuredly have as President of the United States.
This isn't all that Trump is saying about Muslims in the wake of the Paris attacks, though. In an interview with Yahoo News, Trump is saying he would not rule out a government database specially dedicated to following American Muslims, and even requiring Muslims to carry special identification:
GOP presidential front-runner Donald Trump believes that the war on terror will require unprecedented surveillance of America's Muslims.

"We're going to have to do thing that we never did before," he said during a Yahoo interview.

"Some people are going to be upset about it, but I think that now everybody is feeling that security is going to rule," Trump said.

"Certain things will be done that we never thought would happen in this country in terms of information and learning about the enemy," he added. "We're going to have to do things that were frankly unthinkable a year ago."

Trump would not rule out warrantless searches in his plans for increased surveillance of the nation's Muslims, Yahoo reported Thursday.

He also remained open toward registering U.S. Muslims in a database or giving them special identification identifying their faith, the news outlet added.

"We're going to have to look at a lot of things very closely," Trump said. "We're going to have to look at the mosques. We're going to have to look very, very carefully."

Trump additionally floated former New York Police Department Commissioner Ray Kelly for a position in his potential presidential administration.

"Ray's a great guy," he said of the former NYPD chief. "Ray did a fab job as commissioner, and sure, Ray would be somebody I'd certainly consider."

Kelly notably spearheaded the NYPD's controversial surveillance program of New York City's Muslim population following the 9/11 terrorist attacks.

The Associated Press reported in November 2011 that the NYPD built extensive databases detailing life in Muslim communities.

The department monitored grocery sales, social life and even worship among New York's Islamic population, the AP added.

Trump has repeatedly called for increased surveillance of Islamic mosques following last week's terrorist attacks in Paris.

"You're going to have to watch and study the mosques, because a lot of talk is going on in the mosques," he said on MSNBC's "Morning Joe" early Monday.

"And from what I heard, in the old days – meaning a while ago – we had a great surveillance going on in and around the mosques of New York City," the outspoken billionaire added.
Replace "Muslims" with "Jews" and "Mosques" with "Synagouges," and, well, even though I seldom invoke such analogies, I'll let you the reader draw your own conclusions.
And yet, this man remains the frontrunner for the Republican Presidential Nomination.
Update (11/20/2015): Today, Trump tried to walk back his comments by saying the database was a "reporters idea," not his. As Chris Cillizza notes, though, this explanation makes no sense when you actually look at the record.
Update (11/21/2015): In light of Trump's attempt to deny he said what he clearly said, Kevin Drum has gone through the evidence of, well, what Trump actually said. Not surprisingly, Trump's effort to walk back his comments is full of nonsense.