Unease On The Right Over "Ground Zero Mosque" Rhetoric
Some Republicans are start to wonder if it's such a good idea for their party to be so closely associated with the heated rhetoric surrounding the future of this former Burlington Coat Factory.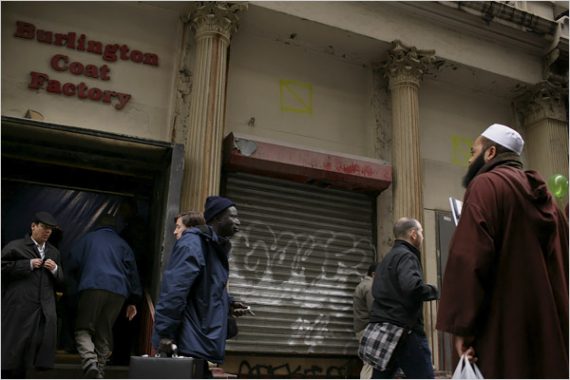 While the airwaves have been dominated by Republican insiders and pundits like Sarah Palin, Newt Gingrich, and Rudy Giuliani speaking out against the construction of an Islamic community center in Lower Manhattan, not all Republicans think it's a good idea for the party to become closely associated with the issue:
As Republican candidates across the country seize on the proposed construction of a mosque near New York's Ground Zero as a campaign issue, some influential figures in the GOP are growing concerned that it could backfire.

Although public opinion is running overwhelmingly against the construction of the Islamic center, Republican strategists said there are dangers in pushing the issue too forcefully.

Pollster David Winston, who advises GOP congressional leaders, worries that the mosque controversy could overshadow the issues voters care about most. "While this is certainly an issue that has generated a lot of emotion, when it comes to voting, the election is going to be about the economy and jobs," he said.

Others fear that the party risks appearing intolerant of religious differences.

"One of the biggest dangers in politics is to overplay an issue," said former Republican National Committee chairman Ed Gillespie, who warned that voters could conclude that Republicans who oppose the New York mosque are taking a stand against Islam in general. "It's very important that, as Republicans talk about this issue, we be thoughtful and careful about making those distinctions," he said.
Similarly, members and organizers inside the Tea Party movement aren't so sure that Islam in general, or the New York City mosque in particular, are issues the movement should be concentrating on:
The debate over the proposed mosque near ground zero, which has tied Democrats in knots, turns out to be just as tricky for their adversaries on the right—particularly those in the tea party.

Within the loose coalition of local and national conservative activist groups that form the tea party movement, a quiet tug-of-war is being waged between those who want to embrace the hard-line opposition that has emerged as the Republican Party line and those who have urged their fellow tea partiers to refrain from rallying opposition because it's inconsistent with the movement's focus on economic and constitutional issues.

While the debate is taking place within the confines of the movement, it nevertheless reflects a larger sense of unease on the right with an issue that is dividing both Republicans and tea party conservatives over tensions between core principles such as balancing religious freedom and property rights and the raw feelings evoked by the Sept. 11, 2001 terrorist attacks.

(…)

In June, the prominent political action committee Tea Party Express quietly began to distance itself from flame-throwing, anti-mosque radio host Mark Williams, replacing him as chairman partly because of his high profile opposition to the mosque. (He left the group entirely last month after his racially incendiary attack on the NAACP, which had recently passed a resolution expressing concern over racist elements in the tea party.)

Williams said opposing the mosque "is one of the projects that I told the Tea Party Express that I wanted to focus on and it's not the focus of the Tea Party Express." He called the mosque "a monument to a great victory for Islamic terror" and asserted tea party groups have frustrated some of their members by remaining mum on the issue, attributing their reluctance to "political correctness. Or maybe they believe it's a fait accompli. Maybe it's not a hill worth dying on for them. It could be any number of reasons."

Judy Pepenella, a prominent New York tea party leader, has emerged as a leading mosque opponent, but she stressed that her Long Island-based tea party group, Conservative Society for Action, hasn't taken an official position opposing it.
Other Tea Party groups, though, seem to be involving themselves more directly in the debate, including one headed by someone with a very familiar name:
In fact, Liberty Central, a tea party-related group founded by Ginni Thomas, wife of Supreme Court Justice Clarence Thomas, is circulating a petition opposing the mosque and Ginni Thomas is set to speak at an anti-mosque rally on Sept. 11.

Liberty Central's policy director Sarah Field said the petition has generated a strong response among tea party activists. She stressed, though, that the group "stands behind limited, constitutional government and respects freedom of worship, assembly, and private property rights" and isn't "proposing that the government intervene and stop the mosque's construction," but rather "leveraging citizen voices to place public pressure on the individuals and groups behind the mosque, so that they understand the extent of their insult and are pressured to stop their plans."

(Update: A Liberty Central spokesperson issued a denial of this report after this blog post had been published, see below for details)
The anti-mosque rally, which is perhaps the most distressing news to come out of this story lately, is organized by Pamela Geller and Robert Spencer, both of whom have gained a name for themselves with their anti-Muslim rhetoric. It will take place on September 11th in New York City at the site of the proposed community center and will include, in addition to Thomas, Newt Gingrich, former Ambassador  John Bolton, and conservative firebrand Andrew Breitbart. Assuming it goes forward, it will be yet another sad development in a story that has been nothing but disturbing from the beginning.
Which, perhaps is one of the reasons, that Arab and Muslim Republicans have started to raise concerns about the rhetoric coming out of the GOP on this issue:
A half-dozen Republicans have signed a letter criticizing the way some members of their party have responded to the proposed Muslim community center and mosque near ground zero in Manhattan.

The letter – whose six signers include officials from both the Reagan and George W. Bush administrations — takes issue with Republicans who have called the proposed location of the center insensitive. The letter also says that, while the signers want the G.O.P. to be successful in the midterm elections, "we cannot support victory at the expense of the U.S. Constitution or the Arab and Muslim community in America."
From the letter:
While some in our party have recently conceded the constitutional argument, they are now arguing that it is insensitive, intolerant and unacceptable to locate the center at the present location: "Just because they have the right to do so – does not make it the right thing to do" they say. Many of these individuals are objecting to the location as being too close to the Ground Zero site and voicing the understandable pain and anguish of the 9-11 families who lost loved ones in this horrible tragedy. In expressing compassion and understanding for these families, we are asking ourselves the following: if two blocks is too close, is four blocks acceptable? or six blocks? or eight blocks? Does our party believe that one can only practice his/her religion in certain places within defined boundaries and away from the disapproving glances of some citizens? Should our party not be standing up and taking a leadership role- just like President Bush did after 9-11 – by making a clear distinction between Islam, one of the great three monotheistic faiths along with Judaism and Christianity, versus the terrorists who committed the atrocities on 9-11 and who are not only the true enemies of America but of Islam as well? President Bush struck the right balance in expressing sympathy for the families of the 9-11 victims while making it absolutely clear that the acts committed on 9-11 were not in the name of Islam. We are hoping that our party leaders can do the same now – especially at a time when it is greatly needed.
Former Bush speechwriter Michel Gerson said much the same thing on Monday:
An inclusive rhetoric toward Islam is sometimes dismissed as mere political correctness. Having spent some time crafting such rhetoric for a president, I can attest that it is actually a matter of national interest. It is appropriate — in my view, required — for a president to draw a clear line between "us" and "them" in the global conflict with Muslim militants. I wish Obama would do it with more vigor. But it matters greatly where that line is drawn. The militants hope, above all else, to provoke conflict between the West and Islam — to graft their totalitarian political manias onto a broader movement of Muslim solidarity. America hopes to draw a line that isolates the politically violent and those who tolerate political violence — creating solidarity with Muslim opponents and victims of radicalism.

How precisely is our cause served by treating the construction of a non-radical mosque in Lower Manhattan as the functional equivalent of defiling a grave? It assumes a civilizational conflict instead of defusing it. Symbolism is indeed important in the war against terrorism. But a mosque that rejects radicalism is not a symbol of the enemy's victory; it is a prerequisite for our own.
In other words, there is a difference between a War on Terror (or, if you prefer a War on Radical Islamism) and a war against Islam. One is a fight we actually have a very good chance of winning. The other is the recipe for a cultural and religious conflict that will only serve to plunge the nation, and the world, into a 21st Century version of  Middle Age darkness. Republican politicians would do well to consider the impact of their rhetoric before speaking out again.
Update: A spokesperson for Liberty Central is denying that Ginni Thomas will be attending the anti-mosque rally:
"Mrs. Thomas was not invited, and has not agreed to attend and speak at the 9/11 rally at ground zero on Sept. 11, 2010, in lower Manhattan, New York City. Any report of her attending is an error," said Sarah Field, director of policy and legal counsel of Liberty Central, which is headed by Thomas. "However, Liberty Central does support leveraging citizens' voices in opposition to this mosque
I've also noted this above in the body of the post.