Is The GOP Anti-Islamic ? No, But They Are Playing With Fire
The GOP is playing a dangerous game with the anti-Islamic rhetoric that it seems to be courting these days.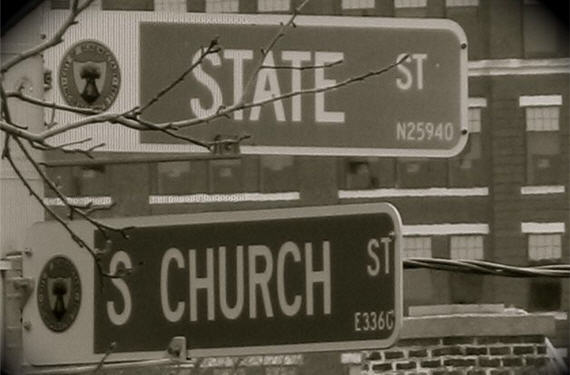 Ben Smith has a piece at Politico today that is bound to cause some on the right to get quite upset, but he raises a question worth considering, is the Republican Party becoming home to an ideology that includes, at it's core, a distrust of anything Islamic:
The harsh Republican response to President Barack Obama's defense of a mosque near ground zero marks a dramatic shift in the party's posture toward Islam — from a once active courtship of Muslim voters to a very public tolerance after Sept. 11 to an openly aired sense of mistrust.

Republican leaders have largely abandoned former President George W. Bush's post-Sept. 11 rhetorical embrace of American Muslims and his insistence — always controversial inside the party — that Islam is a religion of peace. This weekend, former Bush aides were among the very few Republicans siding with Obama, as many of the party's leaders have moved toward more vocal denunciations of Islam's role in violence abroad and suspicion of its place at home.

The shift plays to a hostility toward Islam among many Republican voters, and it fits with traditional Republican attacks on Democratic weakness on security policy.

"Bush went against the grain of his own constituency," said Allen Roth, a political aide to conservative billionaire Ron Lauder and, independently, a key organizer of the fight against the mosque. "This is part of an underlying set of security issues that could play a significant role in the elections this November."

Obama's remarks provide a clear, national focus for the simmering question of Islam in American life, and Republicans showed every sign Saturday of beginning to capitalize on it, with Republican candidates in New York and Florida seeking to inject the issue into local races as Democrats largely held their silence.

That stance in the GOP — both in terms of political strategy and policy views — appears to be carrying the day. Most of the potential Republican presidential hopefuls, led by Sarah Palin, came out sharply against the mosque.
Indeed, the so-called "Ground Zero Mosque" has become a national issue thanks largely to the fact that Republicans like Sarah Palin, Newt Gingrich, and Rudy Giuliani have chosen to speak out against it, in some cases, like Gingrich, using rhetoric that is clearly aimed not at the specifics of putting a mosque in Lower Manhattan:
There should be no mosque near Ground Zero in New York so long as there are no churches or synagogues in Saudi Arabia. The time for double standards that allow Islamists to behave aggressively toward us while they demand our weakness and submission is over.

(…)

Those Islamists and their apologists who argue for "religious toleration" are arrogantly dishonest. They ignore the fact that more than 100 mosques already exist in New York City. Meanwhile, there are no churches or synagogues in all of Saudi Arabia. In fact no Christian or Jew can even enter Mecca.

And they lecture us about tolerance.

If the people behind the Cordoba House were serious about religious toleration, they would be imploring the Saudis, as fellow Muslims, to immediately open up Mecca to all and immediately announce their intention to allow non-Muslim houses of worship in the Kingdom. They should be asked by the news media if they would be willing to lead such a campaign.
If this is solely about a "mosque" being built at "Ground Zero," by Muslim-Americans, then what is the purpose of people like Gingrich pointing out the fact that there is not enough religious liberty in Riyadh or Mecca ? That's akin to arguing that we shouldn't allow Catholics to construct churches until Vatican City lets Hugh Hefner open a Playboy club next door to St. Peter's Basilica. It 's a complete non sequiter, but it reveals what's really going on in Gingrich's mind. For him and people like him, this clearly isn't just about one building on Park Place in New York City, it's about a holy war against an entire religion (or, in Newt's case, it's more likely about using rhetoric that he thinks will help in an anticipated Presidential campaign).
And, Gingrich isn't alone, as I've noted before, the anti-mosque fight isn't limited to Manhattan. Similar protests have cropped up in Staten Island, Florida, California, Wisconsin, or Tennessee. The rhetoric that has been employed in those protests mirrors that of the likes of Pamela Geller and Robert Spencer, reinforced at various times by Fox News hosts like Sean Hannity, conservative "pro-family" organizations, and so-called "men of God." All of these sources are constantly conveying the message, either explicitly or implicitly, that every Muslim in the world holds the same extremist, murderous ideology as Osama bin Laden and others who would do us harm.
As the Politico article notes, this seems to be a trend inside the GOP as well:
New York's beleaguered Republicans, seeing an opening, have seized and driven the mosque issue, and Roth and other mainstream figures have worked to insulate it from more radical anti-Islamic voices, like blogger Pamela Geller, who might marginalize the cause.

Leading New York Republicans acknowledge a shift from the Bush years, but say Muslim leaders, not Republicans, are to blame.

"George Bush made every attempt to reach out," said Rep. Pete King, a leading critic of the mosque project. "The Muslim community did not reciprocate, did not respond. After Sept. 11, some of them became entrenched and really didn't know how to cope.

"Somehow the leadership in the community does not impel them forward to be more part of the community. That's my reading of it," said King, who also noted that sensitivities involving the site are far deeper, and more real, than many are willing to recognize beyond the boundaries of New York.

Debra Burlingame, whose brother Charles Burlingame was the pilot of the jetliner that crashed into the Pentagon and who serves on the board of Keep America Safe, agreed that there is an emotional component but rejected the notion that the mosque issue is a "feelings" concept instead of part of a larger debate about different cultures and how the U.S. should engage with Muslim culture within the country.

"I do ascribe to the 'clash of civilizations' theory now," said Burlingame, who has been among the main voices questioning the funding behind the proposed mosque, and the intents of Feisal Abdul Rauf, the imam behind it. She said, as she did after Obama's speech, that many Muslims have practiced peacefully in the U.S. before and after the attacks, but that Rauf has made statements supporting radical elements of Islam, and that the location was chosen to be provocative.

She criticized those, mostly led by Mayor Michael Bloomberg, who are defending the project under freedom of religion, saying, "That's a Western concept."
Well Ms. Burlingame, since we live in a Western country, and indeed a country that owes its very existence to people who left Europe because of religious persecution and intolerance, isn't it advisable that we follow Western traditions of religious tolerance, not to mention our own First Amendment ?
Smith's article has become the latest contretemps on the right, with many accusing Smith, without merit I think, of essentially saying that all Republicans hate Muslims.
Melissa Clouthier, for example, strongly rejects even the suggestion that religious intolerance has anything to do with the "Ground Zero Mosque" issue:
Americans are fighting and dying in Afghanistan and Iraq for Islam-believing people. In America, I challenge a lefty loon to find examples of attacks on Muslim people. Good luck with that. Now the reverse, Muslim on Christian or soldier or black or Jew or women or gay violence? That, you can find.

Americans respect religious freedom, but unlike stupid DC bubble boys, they recognize that we're at war with an ideology that is murderous, hate-filled and grounded in ISLAM. It is not like the guys who blew up the World Trade Center lived in a world devoid of ideology. They had beliefs that animated and motivated them.

And we are still at war.
At war with whom, though ?
The last time I checked we were in Afghanistan to destroy al Qaeda and to depose the Taliban for their willingness to give refuge to the people who carried out the worst mass murder in American history. In Iraq, we went to war to depose a leader that our President at the time contended was a threat to our national interests. Saying we're at war with an ideology doesn't really square with the facts on the ground, and it ignores the fact that you can't destroy an ideology with guns.
More importantly, though, whether or not it really is an ideology we're "at war" with, there's one thing that's fairly clear — we are not at war with the entire Muslim world. The fact that one faction of Islam attacked us does not mean that we can, or should, ascribe their beliefs to the rest of the adherents of their faith in this manner:
Likewise, the Ground Zero Mosque builders also have an ideology and beliefs that animate their words and actions. It is not like this building has no meaning to them. And because the building means something to them, it matters to freedom-loving Americans. You do not hand an enemy a victory out of some blind devotion to an ideal the enemy not only does not believe, but hates and would destroy if the enemy was successful.
Melissa is a Twitter friend, and I respect her opinion, but I think there's no small degree of projection going on here. Outside of Sean Hannity's rantings, there's no evidence to suggest that the people behind the mosque project are building this mosque to poke a finger in the eye of the American people. In fact, their own mission statement says the exact opposite:
New York deserves its reputation as a peerless center of arts, culture and ideas. Park51 honors and furthers that tradition, envisioning a community center for all of us, bringing the best of the world to New York City, and New York City's energy, diversity and aspirations to the world. Park51 will become a model for future institutions, with its inclusive focus, outstanding facilities and dedication to social needs. To realize this mission, Park51 will:

* Uphold respect for the diversity of expression and ideas between all people
* Cultivate and embrace neighborly relations between all New Yorkers, fostering a spirit of civic participation and an awareness of common needs and opportunities
* Encourage open discussion and dialogue on issues of relevance to New Yorkers, Americans and the international reality of our interconnected planet
* Revive the historic Muslim tradition of education, engagement and service, becoming a resource for empowerment and advancement
* Connect New York's communities to global ideas and trends
* Commit to social justice, dignified human development and spiritual growth for all
* Pursue the development of American Muslim identities, engaging New York's many and diverse Muslim communities and promoting empowerment and compassion for all
* Build partnerships and relationships with key actors and institutions who share our values, to address shared needs and solve common problems
* Establish a state-of-the-art green facility that will serve as a model and inspiration for sustainable space, helping to advance sustainable living in urban contexts
* Empower our communities with the skills and knowledge they need to advance in their various life stages
* Provide financial assistance for those in need, offering subsidies for our programming and scholarships to reach new audiences and further our vision
Hardly a statement of religious triumphalism is it ? Perhaps we would all do ourselves well to actually listen to what the people we oppose are saying, instead of to what people with agendas and ideologies claim they are saying.
Melissa goes on:
Americans are not anti-Islam, but maybe they should be. They live and work with Muslims peacefully. They are pleased that Muslim women and children are getting educated and freed from the evil of totalitarian domination. They are happy that Saddam Hussein isn't around to torture, kill and bury whole communities for some sadistic reason.

And the GOP is no more anti-Islam than the American people-which is to say they aren't. They are being rational, though. They understand what's happening in New York and finally, they're fighting back against the political taboos-willing to stand and be outraged at the outrageous.
This is true for the most part, but as Smith's article points out, the predominant rhetoric from leading Republicans right now is decidedly anti-Islamic, or at least decidedly against the idea that there is such a thing as a moderate Muslim. For the most part, I think that this is little more than a manifestation of the fact that politicians like Gingrich and Palin have taken notice of the fact that this rhetoric works and have decided to use opposition to the "Ground Zero Mosque" as a wedge issue. Do they really believe it ? Well, the cynical side of me says probably not, but they think it works politically, so they're running with it.
In doing so, however, they are playing with fire.
When you see those same arguments popping up not just in reference to this mosque, but mosques around the country, it does make one wonder if there isn't something more sinister going on beneath the surface. Whatever you think of a mosque at 51 Park Place, those arguments are irrelevant when you're talking about Murfreesboro, Tennessee or Sheboygan, Wisconsin, or when rhetoric like this manifests itself 3,000 miles away from the site of the September 11th attacks:
The pastor of Calvary Baptist Church, just across a cul-de-sac from the site of the mosque, said the two religions "mix like oil and water" and predicted a "confrontational atmosphere" if the project moves forward.

"The Islamic foothold is not strong here, and we really don't want to see their influence spread," said Pastor Bill Rench.

"There is a concern with all the rumors you hear about sleeper cells and all that. Are we supposed to be complacent just because these people say it's a religion of peace? Many others have said the same thing," he said.

Leaders of the Islamic center were surprised by the level of criticism, especially from a few religious groups, saying their current makeshift mosque and Islamic community center have been in town for more than a decade and members always have felt welcome.

"Our children go to the same schools their children go to. We shop at the same stores where they shop," said Mahmoud Harmoush, the imam of the Islamic center and an instructor at Cal State San Bernardino's World Languages and Literatures Department.

"All of a sudden our neighbors wake up and they're opposed to us building the Islamic center there, the mosque. I hope it's a small group," he said.
I hope so as well, because an America that is hostile to Islam as a whole is not going to have very much success convincing the rest of the Islamic world, or the world in general, that we're really only concerned about the radicals who want to kill us.