Anti-Muslim Sentiment In America: It's Not Just About A Mosque Near "Ground Zero"
Protests against mosques aren't just limited to Manhattan. And that's a problem.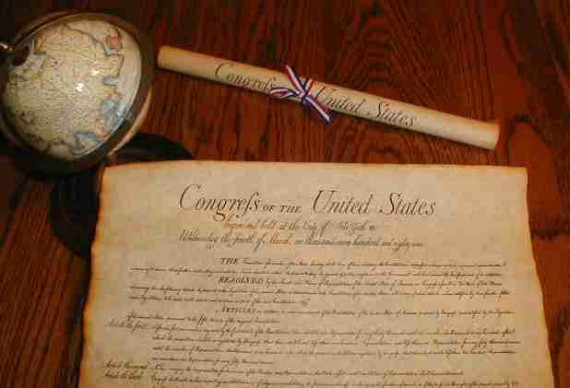 The New York Times notes today that protests against mosque construction in the United States aren't just limited to a two block area near the site of the September 11th attacks:
While a high-profile battle rages over a mosque near ground zero in Manhattan, heated confrontations have also broken out in communities across the country where mosques are proposed for far less hallowed locations.

In Murfreesboro, Tenn., Republican candidates have denounced plans for a large Muslim center proposed near a subdivision, and hundreds of protesters have turned out for a march and a county meeting.

In late June, in Temecula, Calif., members of a local Tea Party group took dogs and picket signs to Friday prayers at a mosque that is seeking to build a new worship center on a vacant lot nearby.

In Sheboygan, Wis., a few Christian ministers led a noisy fight against a Muslim group that sought permission to open a mosque in a former health food store bought by a Muslim doctor.

At one time, neighbors who did not want mosques in their backyards said their concerns were over traffic, parking and noise — the same reasons they might object to a church or a synagogue. But now the gloves are off.

In all of the recent conflicts, opponents have said their problem is Islam itself. They quote passages from the Koran and argue that even the most Americanized Muslim secretly wants to replace the Constitution with Islamic Shariah law.

These local skirmishes make clear that there is now widespread debate about whether the best way to uphold America's democratic values is to allow Muslims the same religious freedom enjoyed by other Americans, or to pull away the welcome mat from a faith seen as a singular threat.

"What's different is the heat, the volume, the level of hostility," said Ihsan Bagby, associate professor of Islamic studies at the University of Kentucky. "It's one thing to oppose a mosque because traffic might increase, but it's different when you say these mosques are going to be nurturing terrorist bombers, that Islam is invading, that civilization is being undermined by Muslims."
Indeed it is, especially when there's no evidence at all that the increased presence of mosques in the United States has led to an increase in support for extremist versions of Islam. In fact, the exact opposite seems to be the case:
There are about 1,900 mosques in the United States, which run the gamut from makeshift prayer rooms in storefronts and houses to large buildings with adjoining community centers, according to a preliminary survey by Mr. Bagby, who conducted a mosque study 10 years ago and is now undertaking another.

A two-year study by a group of academics on American Muslims and terrorism concluded that contemporary mosques are actually a deterrent to the spread of militant Islam and terrorism. The study was conducted by professors with Duke's Sanford School of Public Policy and the University of North Carolina. It disclosed that many mosque leaders had put significant effort into countering extremism by building youth programs, sponsoring antiviolence forums and scrutinizing teachers and texts.
But this is not what the anti-mosque protesters — whether they're in Manhattan, Staten Island, Florida, California, or Tennessee — believe. Instead, they've fed themselves on a steady diet of anti-Muslim paranoia by the likes of Pamela Geller and Robert Spencer, reinforced at various times by Fox News hosts like Sean Hannity, politicians, and so-called "men of God," who live in a world where every Muslim in the world holds the same extremist, murderous ideology as Osama bin Laden, Mohammed Atta, and others who would do us harm.
Not only is this demonstrably untrue, it's an insult to the entire concept of religious liberty and religious tolerance, two of the principles upon which this nation, and the British Colonies that existed before it, was founded upon. More importantly, it seems rather apparent to me that if the United States becomes perceived as a country that is hostile to Islam, even when practiced by people who have been here for generations, it will do more to harm our image in the Muslim world than it will to protect us from the supposedly imminent danger of Sharia Law.
Michael Powell at The Liberty Papers lays out the dilemma that those pushing an anti-Muslim agenda are facing:
The fact that Muslims can set up shop freely in America shows how different we are. Would conservatives rather we be more like Saudi Arabia?
Ironically, this seems to be exactly what Newt Gingrich is saying when he says something like this:
There should be no mosque near Ground Zero in New York so long as there are no churches or synagogues in Saudi Arabia.
The difference, of course, is that this the United States, not Saudi Arabia. Preventing someone from building a house of worship because of their religion, which is clearly the motivation behind the protests popping up across the nation, is not only illegal, it's also un-American.