What, Exactly, Does Uttering The Words "Radical Islamic Terrorism" Accomplish?
Republicans insist that uttering the words "Radical Islamic Terrorism" is somehow important in the fight against ISIS and other terror networks, but it is entirely unclear what doing so would accomplish.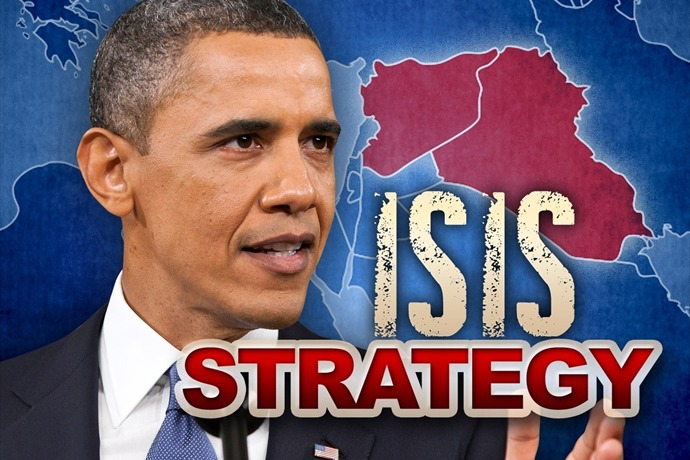 To listen to many of the Republican candidates for President, the reason that we aren't "winning," — leaving open the question of how one defines a win for the time being — the war against ISIS, al Qaeda, and other terror networks is because the President and other Democrats are refusing to use the words "radical Islamic terrorism" to define the enemy that we're fighting. Marco Rubio, for example, compared the current battle to the one against the Nazis in World War II in criticizing Hillary Clinton for not using the term either on the stump or in last night's debate:
Senator Marco Rubio, arguing that the United States is "at war with radical Islam," sharply criticized Hillary Rodham Clinton for declining to characterize the perpetrators of the Paris attacks in that way, invoking Nazi Germany to make his point.

"That would be like saying we weren't at war with Nazis, because we were afraid to offend some Germans who may have been members of the Nazi Party but weren't violent themselves," Mr. Rubio said Sunday on ABC's "This Week."

At the Democratic debate on Saturday night, Mrs. Clinton said she was wary about "painting with too broad a brush" while describing Muslims and terror.

"I don't think we're at war with all Muslims," she said. "I think we're at war with jihadists. We are at war with violent extremism. We are at war with people who use their religion for purposes of power and oppression."

Republican presidential candidates have repeatedly condemned Democrats like Mrs. Clinton for their reluctance to use the term "radical Islam" while describing how they would respond to the violence wrought by ISIS.
Donald Trump made similar comments on Twitter, suggesting that we won't defeat terrorism until President Obama utters the magic words:
When will President Obama issue the words RADICAL ISLAMIC TERRORISM? He can't say it, and unless he will, the problem will not be solved!

— Donald J. Trump (@realDonaldTrump) November 15, 2015
And there were similar comments from Ted Cruz, as well as from Jeb Bush, Rick Santorum, Mike Huckabee, and the Deputy Campaign Manager for Carly Fiorina. The Washington Post's Katie Zezima calls the refusal of the President, along with the Democratic candidates for President to use the phrase, while Republicans use it as much as possible, "a semantic fault line," and several conservative bloggers have jumped all over the Democratic candidates for declining to use the phrase. The fact that Clinton used the phrase "radical jihadists" in response to this question from John Dickerson apparently isn't good enough:
DICKERSON: Secretary Clinton, you mentioned radical jihadists. Marco Rubio, also running for president, said that this attack showed and the attack in Paris showed that we are at war with radical Islam. Do you agree with that characterization, radical Islam?

CLINTON: I don't think we're at war with Islam. I don't think we're at war with all Muslims. I think we're at war with jihadists who have —

DICKERSON: Just to interrupt. He didn't say all Muslims. He just said radical Islam. Is that a phrase you don't…

CLINTON: I think that you can talk about Islamists who clearly are also jihadists, but I think it's not particularly helpful to make the case that Senator Sanders was just making that I agree with, that we've got to reach out to Muslim countries.

We've got to have them be part of our coalition. If they hear people running for president who basically shortcut it to say we are somehow against Islam, that was one of the real contributions, despite all the other problems, that George W. Bush made after 9/11 when he basically said after going to a Mosque in Washington, we are not at war with Islam or Muslims.

We are at war with violent extremism. We are at war with people who use their religion for purposes of power and oppression. And, yes, we are at war with those people. But I don't want us to be painting with too broad a brush.
As Paul Waldman notes, Republicans have been criticizing the President for not using these words virtually from the start of his Administration, but it's unclear what, exactly, would be accomplished if he or any future President did:
[B]efore we get consumed with the politics of this argument about word usage, we should ask a simple question: To quote something Clinton herself once said, what difference does it make? Do the words "Islamic terrorism" constitute some kind of magical incantation that once spoken will drive our enemies from the earth? I'm not saying language never matters, but what exactly is this particular language choice supposed to accomplish?

Republicans have been making this criticism of Barack Obama for years, endlessly saying, "How can he defeat radical Islam if he won't call it by its name?!?" Even for them, this is an uncommonly stupid argument. Let's say Obama or Clinton came out tomorrow and said, "Hey, you know what? You guys are right. We are at war with radical Islam." Then what? Would that make anyone any safer?

I've yet to hear any conservative give a substantive reason why it would be preferable to have the president say "We're at war with radical Islam," other than that doing so would prove that he or she is tough and strong. And as Clinton pointed out, George W. Bush was careful to emphasize that we're not at war with Islam; I don't think there are many conservatives who think Bush's problem when it came to terrorism was that he was weak.

But the Democrats do have a good reason why they think it's a mistake to feed into the idea that this is a religious war. They argue that in order to stop terrorism, we need the help of the world's Muslim populations, and the last thing we want to do is drive them away by implying that they're all our enemies. The terrorists want Muslims everywhere to believe the West is at war with Islam. Should we really be helping them make that case?
In many respects, this argument over what to label the phenomenon we've been fighting since at least September 11th, 2001, and arguably long before then if you take into consideration the fact that the ideology that was behind terror attacks stretching back to the first World Trade Center attack, the embassy attacks in Africa, the bombing of the Khboar Towers in Saudi Arabia, and the bombing of the USS Cole, not to mention numerous attacks that have occurred inside Middle Eastern countries for decades now is all united around one overriding theme. That theme is, in short, a view of Islam that sees war against the "infidel" West and fellow Muslims who do not follow their strict interpretation of the Koran as not only acceptable, but some kind of duty that leads to rewards in some mythical afterlife. Both ISIS and al Qaeda, and various smaller groups, have adopted some variation on this theme as their rallying cry. For al Qaeda, it meant war with the West in the form of terrorist attacks far beyond the Middle East and the groups base of operations with the eventual goal of creating uprisings in the Islamic world that would lead to the re-establishment of a Caliphate not entirely dissimilar from what came to be known as the Ottoman Empire. For ISIS, it has meant, at least until now, largely abandoning the attacks on the West in favor of establishment of a Caliphate now, which is essentially what last year's declaration of the so-called "Islamic State" is supposed to have accomplished. The Paris attacks, along with other recent events such as the apparent though unconfirmed downing of a Russian passenger jet over the Sinai Peninsula, arguably demonstrate that ISIS is changing tactics, or at the very least attempting to draw the West into a military confrontation on its own territory.
Whatever the tactics are, though, there's really no way of denying what the motivating ideology is behind these groups, the question is whether those who argue that using the label "Radical Islamic Terrorism" rather than, say "Radical Jihadists," or just plain old "terrorists" matters, or whether it changes the nature of the enemy we're fighting and what has to be done to defeat them.
To be sure, in any conflict it's important to recognize the nature of the enemy you're fighting. To use the World War II example that Republicans often, inappropriately in my opinion, use in making their argument understanding the nature of the ideology that motivated both the Nazis and the Imperial Japanese was important for the United States and its allies to understand because it indicated rather strongly that the strategy of fighting the war to a stalemate and armistice, as had been done in World War One and countless European conflicts before that, wasn't going to work with an enemy that saw total domination, rather than mere acquisition of territory, meant that the only way to win was to pursue a strategy of "total war" until the other side either collapsed completely or gave up. One can make similar arguments about the importance of understanding the ideology that motivated Soviet power during the Cold War, and also that a failure to really understand that the enemy in Vietnam was motivated more by anti-Colonialism than Communism is what led to so many mistakes in that conflict. Applying that forward to the current conflict, it would be malpractice for leaders and military and policy advisers in the West to not understand the nature of the ideology motivating ISIS and its allied groups, and refusing to acknowledge those motivations sometimes seems as though it is an attempt to apply political correctness to a dangerous situation out of fear of offending someone. In the case of ISIS, that means recognizing that we are dealing with an ideology driven largely by an apocalyptic vision of the world that has brought to the world practices such as beheading and sexual slavery that had seemingly been eradicated centuries ago, and that they are using the chaos in Syria and Iraq in an effort to create a new nation that would be a base from which they would bring about what they seem to see as an inevitable confrontation between Islam and the rest of the world.
On the other hand, Waldman has a point when he wonders aloud what, exactly, would be changed if the White House and others started using the world "Radical Islamic Terrorism," or if it really matters that they use other words. On some level, it is hard to see exactly why it does matter what words are used in public. President George W. Bush, for example, didn't frame the argument in that manner in no small part because he took the position that equating these extremists with all of Islam posed the risk of making it appear that we were at war with all of Islam which is, arguably, exactly how the extremists want their fellow Muslims to view the situation and the argument they make when they try to recruit fighters from disaffected communities in the Middle East, Europe, and elsewhere. CNN's Jake Tapper pointed this out on Sunday's State Of The Union when Jeb Bush again repeated the argument that the President needs to "name the enemy," and Bush's response was rather nonsensical.
The idea that labeling the jihadists as "Islamic" has the potential to backfire has supporting evidence. For example, the rhetoric from the Tsarnaev brothers in the months before the Boston Marathon Bombings indicates that this is exactly what they believed. In some sense, then, turning this battle into what sounds like a conflict between the West and all of Islam would seem to be exactly what groups like ISIS want. Additionally, as Tom Toles notes, Senator Rubio's analogy to the Second World War doesn't hold up, because while American leaders did acknowledge that we were at war with Nazism, we never took the position that we were at war with all Germans. Indeed, many Germans fought for the United States with honor and distinction, and there were German resistance fighters who did their best to work with the allies during the war. The same was true of Japanese-Americans notwithstanding the fact that, in their case, we did act as if we were at war with all Japanese people in a truly shameful and regrettable manner. Both during the Bush and Obama Administrations, it has seemed to me that leaders have made clear that they are aware we are fighting people who are motivated by a radical, violent, extremist interpretation of Islam that seeks to justify terrible acts in the name of religion. What they have generally avoided doing, though, is identifying that radical ideology as "Islam" itself. What Rubio and people like him seem to want the United States to do is to imply that it is at war with all of Islam by implying that the jihadists somehow represent an accepted interpretation of Islam. Given the fact that this would put us potentially at odds with a billion people, the vast majority of whom want nothing to do with the insane jihadists of ISIS or al Qaeda, or for that matter the Wahabbists in Saudi Arabia and Shi'ite radicals in Iran, seems both unnecessary and unwise.
In the broadest sense, though, I fail to see exactly how the war against ISIS or al Qaeda would be helped simply by the President or the Democratic candidates for President uttering the phrase "Radical Islamic Terrorism." Using the phrase isn't an element of military strategy, it isn't a weapon, and it doesn't seem likely to change the nature of the conflict that we're dealing with. In fact, as I note above, it is something that could actually make things worse in the sense that it plays right into the hands of those who want to be able to tell the average man on the street in a Muslim nation that the West is "at war" with them. One can make a good case that we need to reevaluate our strategy in the "War On Terror," but the one thing that seems clear is that uttering the magic phrase that Republicans are insisting on isn't really going to accomplish anything.