ISIS Has Arrived In Libya, Just How Big A War Are We Looking At?
ISIS apparently now has a foothold in Libya, and is making inroads in Yemen.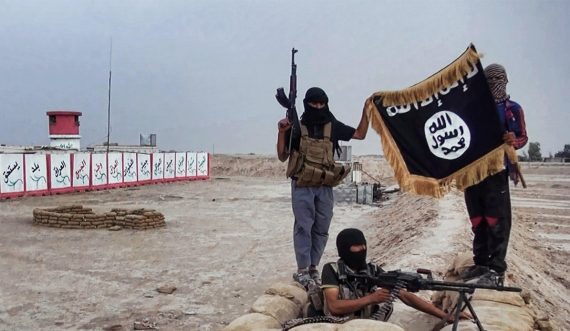 ISIS claims to have executed 21 Coptic Christians in Libya, and the video is circulating much like all the other ISIS videos have. The big takeaway from this, though, is the news that ISIS, or at least groups that are claiming an allegiance to ISIS are in Libya, a nation that is already in the grips of chaos resulting from the collapse of order after the Gaddafi regime was overthrown in the 2011 Civil War:
The black flag of ISIS flies over government buildings. Police cars carry the group's insignia. The local football stadium is used for public executions. A town in Syria or Iraq? No. A city on the coast of the Mediterranean, in Libya.

Fighters loyal to the Islamic State in Iraq and Syria are now in complete control of the city of Derna, population of about 100,000, not far from the Egyptian border and just about 200 miles from the southern shores of the European Union.

The fighters are taking advantage of political chaos to rapidly expand their presence westwards along the coast, Libyan sources tell CNN.

The sources say the Derna branch of ISIS counts 800 fighters and operates half a dozen camps on the outskirts of the town, as well as larger facilities in the nearby Green Mountains, where fighters from across North Africa are being trained.

It has been bolstered by the return to Libya from Syria and Iraq of up to 300 Libyan jihadists who were part of ISIS' al Battar Brigade — deployed at first in Deir Ezzor in Syria and then Mosul in Iraq. These fighters supported the Shura Council for the Youth of Islam in Derna, a pro-ISIS faction.

The council had been competing for superiority with another militant group, the Abu Salem Brigade, some of whose fighters' loyalties lay with al Qaeda, according to Noman Benotman, a former Libyan jihadist now involved in counter-terrorism for the Quilliam Foundation.

Al Qaeda's top envoy in Libya, Abdulbasit Azuz, left Derna after U.S. Special Forces captured Ahmed Abu Khatallah, an alleged ringleader of the Benghazi attacks in June. Azuz is now believed to be in Syria, Benotman told CNN.

Amateur video from the end of October showed a large crowd of militants affiliated with the Shura Council for the Youth of Islam chanting their allegiance to ISIS leader Abu Bakr al Baghdadi. The new ISIS wing in Derna calls itself the "Barqa" provincial division of the Islamic State, the name given to the eastern region of Libya when Islamic rule replaced the Roman Empire.

The Libyan branch of ISIS now has a tight grip on the city, controlling the courts, all aspects of administration, education, and the local radio. "Derna today looks identical to Raqqa, the ISIS headquarters town in Syria," Benotman told CNN.

"ISIS pose a serious threat in Libya. They are well on the way to creating an Islamic emirate in eastern Libya," Benotman said.
And Libya isn't the only nation where ISIS appears to be expanding its reach. Last month, CNN noted that the group was also starting to gain strength in Yemen, a nation that has already served as an strong source of support for al Qaeda:
The Syria-based terror group ISIS is active and recruiting inside the Middle Eastern state of Yemen, already a hotbed of terrorist activity, CNN has learned.

The disturbing information comes from a Yemeni official, who told CNN on Wednesday that ISIS has a presence in at least three provinces in southern and central Yemen, and there is now a "real competition" between ISIS and the Yemen-based terror group al Qaeda in the Arabian Peninsula, or AQAP.

That competition manifested itself in a gun-battle between the two groups in Yemen's eastern provinces last month, the same official said, though he did not have specifics on the casualties that resulted from that incident.

CNN cannot independently confirm the claims.

American officials do think ISIS is trying to recruit in Yemen. But one U.S. counter-terror official stressed the view that AQAP remains the dominant force there. The American intelligence view is that while there may be a smattering of ISIS loyalists among Sunni extremists in Yemen, they are likely "mid-level AQAP militants who are sympathetic to ISIL's vision but haven't broken ranks."

According to some experts, ISIS may be seeking a foothold in the Middle East's poorest country because of its historical importance.

"Yemen is significant in Islam," said Katherine Zimmerman, a research fellow at the American Enterprise Institute.

"It is a place where we've seen attacks against the United States. It also has been a major feeder for foreign fighters into Afghanistan, into Iraq, and now into Syria," Zimmerman added, "There's a recruiting pipeline that ISIS may try and tap into."

The Yemeni official who spoke to CNN said AQAP is still the dominant terrorist presence in Yemen, with "hundreds" of members, compared to "dozens" for ISIS.

Still, he added, "there's a new kid on the block."

And ISIS may be using its financial strength to win over some of AQAP's potential recruits.

The Yemeni official told CNN that ISIS supporters are telling potential recruits they can fund operations better than AQAP can at the moment.

U.S. officials have long expressed concerns about ISIS' financial strength, which it derives from the export of stolen oil, ransom payments from hostages, criminal activities and foreign donors. For this reason, the U.S. Treasury Department has undertaken aggressive efforts to cut the group off from the international financial system.
It isn't surprising that, much like al Qaeda has done over the past three and a half years, ISIS would attempt to take advantage of the chaos inside Libya in order to expand its reach in what seems to be not just an effort on its part to confront the West, but also a competition with al Qaeda for dominance in the world of Islamic radicalism. Much like post-Saddam Iraq and Syria in the wake of the civil war that has been going on in that country for nearly four years now, these nations are breeding grounds for extremism and the lack of an effective central government makes it easy for terrorist groups and other criminal gangs to expand their influence quickly. This becomes even more true when, much like Hamas has in Gaza, these ISIS and al Qaeda groups also take it upon themselves to earn the loyalty of the civilian population through a combination of terror and bribery by providing basic resources such as food and water that the central government has been unable to provide. If anything, one can expect that ISIS's influence in Libya and Yemen will continue to expand as it has in Syria and the Sunni areas of Iraq precisely because these areas are the perfect breeding ground for terrorism and likely to remain so for the foreseeable future.
All of this poses some rather interesting questions for U.S. policy regarding ISIS, though, and most especially for the upcoming debate about the Authorization For The Use Of Military Force that the White House has requested from Congress. As I noted last week, the draft AUMF that the White House has sent to Congress does not contain any geographic limitation, meaning that Congress would essentially be authorizing the same border-less war against ISIS that the 2001 AUMF drafted in the wake of the September 11th attacks authorized against al Qaeda. In that case, a war that started out in Afghanistan, with occasional and often unauthorized forays into Pakistan, has now expanded into a war that has included drone strikes in Yemen, Somalia, and elsewhere in the Middle East and northern Africa. The 'war against ISIS, and make no mistake we have effectively been at war against ISIS since the summer, started out in Iraq and quickly expanded into Syria. Now, ISIS appears to be following a strategy of expanding its own influence across the Middle East, which means that the war itself would necessarily have to expand. In other words, we'd be looking at a multi-front war unlike anything we've seen since World War Two, even if it wouldn't necessarily be on the same scale.
Additionally, the prospect of ISIS gaining a foothold in Libya and Yemen raises the prospect that it could become a threat to other nations in those regions. In Libya's case, that includes similarly chaotic nations such as Mali, Sudan, and Somalia and, indeed, there have already been reports of ISIS-inspired groups in these nations. An ISIS foothold in Libya could also be a potential threat to Egypt and, indeed, Egypt has already been involved in bombing raids against Libyan militia groups. An ISIS foothold in Yemen, meanwhile, poses a potential threat to Saudi Arabia, which is already quite nervous about the foothold the group has gained on the Kingdom's northern border in Iraq and Syria. The act that all of this expansion is happening while the United States and our coalition enters the seventh month of an air campaign against ISIS targets in Iraq and Syria makes one wonder just how effective our strategy has been.
On a final note, it would be remiss to let this news pass without taking note of the fact that this seems to be yet further proof that the decision to intervene in the Libyan Civil War in 2011 was a mistake. Libya would likely have remained a chaotic place had we not done so, since the rebellion against Gaddafi had started well before the West intervened in the war, but putting our thumbs on the scale in the favor of rebels who we could not possibly have vetted properly beforehand certainly doesn't seem to be working out so well. Much like post-Saddam Iraq and Syria before the uprising against Bashar Assad, Libya under Gaddafi was, at the very least, not a launching pad for massive international terrorist group. For all the problems the world had with him, Gaddafi was at most a minor nuisance. In his wake, much like in the wake of Saddam Hussein, we seem to have created a monster that we may not have the ability to control. At the very least, maybe allying ourselves with rebels we could not have possibly vetted to overthrow someone who was not a real threat to the United States or anyone else wasn't such a good idea after all. I hate to say I told you so, but I told you so.