Obama To Seek Authorization For A War That He Already Started
President Obama will ask Congress to authorize a war he started six months ago.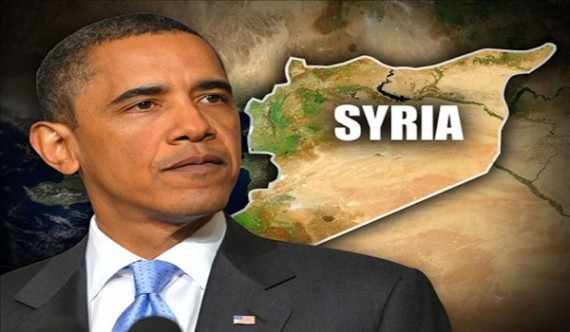 After nearly six months of war in Iraq and Syria that has escalated from an effort to provide humanitarian relief to and effort to aid Kurdish Rebels and, now, an effort to "degrade and destroy" ISIS in both Iraq and Syria, the Obama Administration is finally going to ask Congress for authorization to proceed with a war against ISIS:
WASHINGTON — The Obama administration has informed lawmakers that the president will seek a formal authorization to fight the Islamic State that would prohibit the use of "enduring offensive ground forces" and limit engagement to three years. The approach offers what the White House hopes is a middle way on Capitol Hill for those on the right and left who remain deeply skeptical of its plans to thwart extremist groups.

The request, which could come in writing as early as Wednesday morning, would open what is expected to be a monthslong debate over presidential war powers and the wisdom of committing to another unpredictable mission in the Middle East while the nation is still struggling with the consequences of two prolonged wars.

Congress has not voted to give a president formal authority for a military operation since 2002 when it backed George W. Bush in his campaign to strike Iraq after his administration promoted evidence, since discredited, that Saddam Hussein's government possessed unconventional weapons.

The new request to conduct military operations would repeal that authorization. But it would leave in place the broad authority to counter terrorism that Congress granted Mr. Bush in 2001 after the Sept. 11 attacks, which many Democrats now believe is being interpreted too broadly to justify military actions that were never intended.

After more than a decade of war and 7,000 American military lives lost in Iraq and Afghanistan, President Obama will face doubts not only from Democrats who want stricter limitations set on where he can send troops and how long his authority will last, but also from Republicans, who are dubious of the administration's strategy for defeating the Islamic State extremist group.

The White House has tried to address concerns by drafting a resolution that tries to be both circumscribed and flexible. It would explicitly disallow extended use of combat forces, lawmakers and aides who are familiar with the plan said Tuesday. That language is intended as a compromise to ease concerns of members in both noninterventionist and interventionist camps: those who believe the use of ground forces should be explicitly forbidden, and those who do not want to hamstring the commander in chief.

The resolution also requests authority to wage battle beyond the fight against the Islamic State to include "associated forces." It would contain no geographic limitations. Both are sticking points for many Democrats, who expressed concern that the president was setting the country up for another open-ended conflict.
Josh Rogin, among others, places emphasis on the restrictions that the proposed AUMF would supposedly place on President Obama and his successor:
If enacted, the president's AUMF could effectively constrain the next president from waging a ground war against the Islamic State group until at least 2018. Aides warned that the White House may tweak the final details before releasing the document publicly.

In advance of the release, top White House and State Department officials have been briefing lawmakers and Congressional staffers about their proposed legislation. Two senior Congressional aides relayed the details to me.

The president's AUMF for the fight against Islamic State would restrict the use of ground troops through a prohibition on "enduring offensive ground operations," but provide several exemptions. First, all existing ground troops, including the 3,000 U.S. military personnel now on the ground in Iraq, would be explicitly excluded from the restrictions. After that, the president would be allowed to deploy new military personnel in several specific roles: advisers, special operations forces, Joint Terminal Attack Controllers to assist U.S. air strikes and Combat Search and Rescue personnel.
Daniel Larison, though, is skeptical about the supposed limitations:
Limiting the use of ground forces makes it easier for members to vote for the authorization, but then the administration would have been happy enough if Congress never voted for a new resolution. The resolution would have to be renewed after three years, but that is likely to be a mere formality when the time comes. Fighting such an open-ended, ill-conceived war all but guarantees that it will continue beyond any time limit set for it in the AUMF. When such a resolution has been passed once, there will be great reluctance in Congress to withdraw support for an ongoing war a few years down the road. The sunset provision is included to make a bad policy seem more reasonable. There is likely to be no more serious rethinking of the policy three years from now than there was serious consideration of the wisdom of intervention last summer. The entire process of authorizing the war is happening long after the decision to intervene was made without any real debate. There has never been any meaningful public deliberation over whether military action was either wise or necessary, and the debate over this resolution isn't going to remedy that.
Larison, of course, is exactly correct. As far as an extended war against ISIS is concerned, the Obama Administration has already made the decisions necessary to commit the United States to that task. It started over the summer when we started bombing ISIS positions for the purported purpose of protecting ethnic minorities in Iraq, quickly expanded to aid Kurdish rebels battling ISIS in the area of Mosul, and has since evolved into near daily air raids on ISIS positions in Iraq and Syria along with a purported effort to arm and train the discredited and defeated Iraqi Army and so-called "moderate" Syrian rebels. At no point in this entire process did the Obama Administration seek Congressional authorization for the actions that it was taking in Iraq and Syria. Instead, the Administration contended, rather absurdly, that its actions against ISIS were authorized by either the 2001 AUMF authorizing war against al Qaeda in the wake of the September 11th attacks or the 2002 AUMF authorizing George W. Bush's war against Iraq, or maybe both depending on which Administration official was speaking on a given day of the week. As I noted at the time, these legal arguments were fundamentally absurd given the fact that the relationship between ISIS and 9/11 was tenuous at best and the fact that the 2002 AUMF was clearly only designed to deal with the regime of Saddam Hussein and its alleged failure to comply with its treaty obligations in the wake of the Persian Gulf War. Given this, are we really supposed to believe that the Administration will consider the paper restrictions of this proposed AUMF to be much of restriction on its authority to act? This seems especially true given the fact that a term like ""enduring offensive ground operations" seems to be open-ended enough to allow a wide range of potential action to be taken if this President, or the next one, considers it to be necessary. Finally, as Larison notes the time limitation is little more than political cover for Members of Congress who may face questions back home. When 2018 comes around and the next President seeks renewal of this AUMF, is there any real doubt that Congress will rubber stamp it just as they have rubber stamped renewal of the supposedly time-limited PATRIOT Act? Of course not.
Not all of this is President Obama's fault, of course. As I noted in the summer while the President expanded his war against ISIS, Congress had a responsibility to step up and deal with this matter from the beginning and, as it has in numerous cases in the past, it instead abdicated that responsibility to the President just as Congress has done in the past. They could have debated this war when airstrikes began, but instead it took the entire month of August off. It could have dealt with the matter when it came back in September, but neither the House nor the Senate chose to act. And, finally, they could have tried to debate this matter during the Lame Duck Session and totally failed to do so. Now here we are, some six months after the President already set the nation on the road to war with ISIS and we're supposed to believe that there will be an honest debate about what the United States should do with regard to this conflict? Of course there won't be. As I've noted before, once Congress chose not to assert its proper Constitutional role when this conflict started, the future course of American involvement was placed entirely in the Presidents hands. Congress is not going to turn the Presidents request down, nor are they going to seriously question the White House's interpretation of the purported limitations on American action going forward. All those questions were already decided and they're just going to be adding a rubber stamp at this point. Technically it will make the war against ISIS "legal," but it won't be an action of any substance whatesoever.