Some Republicans Can't Seem To Admit That Racism Was Behind The Charleston Murders
It's been obvious from the moment the news broke that the murders in Charleston were rooted in racism, but some Republicans have had trouble acknowledging that.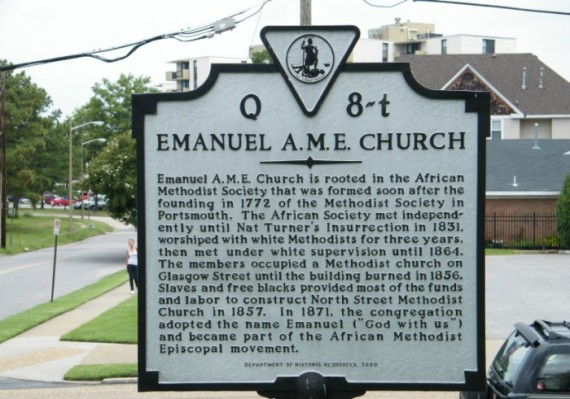 Some people on the right, including most significantly several candidates for the Republican nomination for President, seem to be having a problem acknowledging the fact that the murder of nine people at an African-American church in South Carolina was motivated by racism:
We live in an age where mass shootings are so common that there is now a template for politicians to plug in the victim's names, the date and location of the massacre, and synonyms for words like "tragedy" and "horror." In the last 36 hours, we've heard ersatz condolences filled with hollow words, anodyne phrases about "unimaginable" horrors.

But the Charleston church shooting that left nine African-Americans dead while they prayed is not an inexplicable tragedy. It simply took white rage and racism and conservative political race-baiting to their logical conclusions. It echoes a disturbing trend in right-wing media inflaming fringe factions, encouraging maximum armament, and then turning around after a tragedy and saying "we had no idea this would happen."

On Wednesday night, South Carolina's governor Nikki Haley trotted out a boilerplate statement, calling the shooting a "senseless tragedy." One could excuse this choice of words as a rushed assumption issued in real time, but as more and more details about Dylann Roof surfaced, conservatives refused to face the music. One by one, politicians and pundits acted like this terrorist act was one of life's great unsolvable mysteries.

"We don't know the motivation of the person who did it," Rudy Guiliani said yesterday. "Maybe he hates Christian churches. Maybe he hates black churches or he's gonna go find another one. Who knows." Donald Trump, in a tweet yesterday, said the crime was "incomprehensible."

Last night, a Wall Street Journal columnist wrote: "What causes young men such as Dylann Roof to erupt in homicidal rage, whatever their motivation, is a problem that defies explanation beyond the reality that evil still stalks humanity. It is no small solace that in committing such an act today, he stands alone."
Things aren't much better among the Presidential candidates. Rick Santorum was among the first candidates to chime, making the argument that the attack on the Emanuel AME Church was another example of an "attack on Christians" and attempted to tie it into the broader conservative claim that religious liberty is somehow under assault in the United States due to things such as the near complete acceptance of same-sex marriage. This is an argument that was picked up by others on the right, including several Fox News Channel pundits. In his initial comments on the massacre, South Carolina Senator Lindsey Graham seemed to echo Santorum when he suggested that the shooter may have be "looking for Christians to kill."  Rick Perry's comments were particularly perplexing in that he has both suggested that the attack was caused by drugs and referred to the shootings as an "accident," a comment which his campaign was quick to retract. Other candidates went off in different directions, such as Rand Paul, who said that there was nothing government could do to stop attacks like this, and Mike Huckabee, who said that the attack could have been prevented if one of the victims had been armed.  After Roof was arrested, Rick Santorum tried to clarify his remarks by saying that the attack was "clearly" rooted in racism, but even at that point Jeb Bush said that he didn't know whether racism was at the root of the murders. Things aren't much better on the pundit side of the aisle, where Fox's Steve Doocy expressed surprised that the attack was being called a hate crime, Bill O'Reilly blamed it on "far-left rhetoric," and Erick Erickson somehow managed to tie Dylann Roof's actions to Caitlyn Jenner.  To their credit, both Ben Carson and John Kasich were quite forceful in their agreement with the idea that the murders were, at their core, a racially motivated hate crime. Additionally, there are many pundits on the right who have said much the same thing, and criticized those who have tried to divert the conversation over Charleston to something other than race. To a large degree, though, there is a significant segment on the right that seems unwilling to admit reality, including many Presidential candidates.
It's really quite incomprehensible how anyone could deny the fact that racism is at the core of Wednesday night's attack. Even before we knew who the shooter, the fact that someone had chosen to attack an African-American church, and one with a fairly significant history at that, should have been a clue, as were the reports from survivors that the shooter had said that he was killing them because they were 'taking over the country.' Even so, I suppose that one could give a pass to people who were commenting at that point since we didn't know for sure what the circumatnsces of the shooting were. Once Dylan Roof was arrested, though, anyone who was continuing to deny the truth was entering some questionable territory. Roof's Facebook page depicted him wearing patches of the flags of two nations that existed because of racism. The front license plate on his car depicts the Confederate flag. His roommate has described Roof's descent into the racist paranoia of "white nationalism." Roof apparently has confessed to committing the crimes because he wanted to start a race war. Today, there is news of what appears to be a website that Roof maintained called "The Last Rhodesian" on which he spewed racist nonsense regularly, including the claim that he was motivated by the George Zimmerman case and material he found on the web from a hate group called the Council of Conservative Citizens. There's also what seems to be a photograph of Roof as a teenager holding a Confederate flag and wearing a shirt with "88" on it, which is apparently code among that crowd for "HH" and "Heil Hitler." The overwhelming evidence is that Roof is a racist and a terrorist, and any attempt to explain away what he did as something else is, at this point, just denying reality.