Nine Dead In Shooting At African-American Church In Charleston, South Carolina
Nine people died overnight in a shooting at an historic African-American Church in Charleston, South Carolina.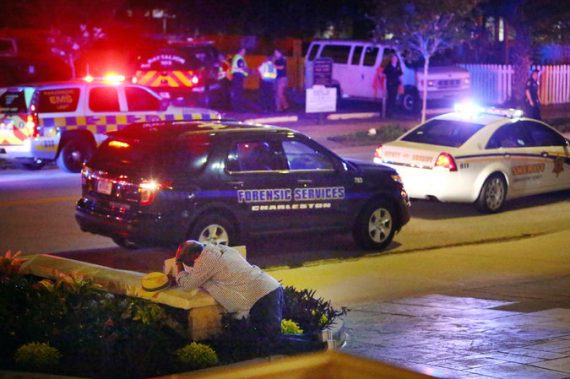 Nine people were killed last night in a shooting at an historic African-American church in Charleston, South Carolina, and the shooter remains at large:
CHARLESTON, S.C. — A white gunman opened fire Wednesday night at a historic black church in this city's downtown, killing nine people before fleeing and setting off an overnight manhunt, the police said.

At a news conference with Charleston's mayor early Thursday, the police chief, Greg Mullen, called the shooting a hate crime.

"This is a tragedy that no community should have to experience," he said. "It is senseless and unfathomable that someone would go into a church where people were having a prayer meeting and take their lives."

The police said the gunman walked into the historic Emanuel African Methodist Episcopal Church around 9 p.m. and began shooting.

Eight people died at the scene, Chief Mullen said. Two people were taken to the Medical University of South Carolina, and one of them died on the way.

"Obviously, this is the worst night of my career," Chief Mullen said. "This is clearly a tragedy in the city of Charleston."

City officials did not release information about the victims and did not say how many people were in the church during the shooting. Hospital officials declined to comment.

The pastor, the Rev. Clementa Pinckney, 41, and his sister were among those killed, said J. Todd Rutherford, the minority leader of the State House of Representatives.

Mr. Rutherford, who has served in the State Legislature with Mr. Pinckney since 1998, recalled him as a tireless leader with a booming voice and a mission to serve.

"He was called to the ministry when he was 13, ordained at 18, elected to the House at 23 and the Senate at 27," Mr. Rutherford said. "He was a man driven by public service."

Mayor Joseph P. Riley Jr. said the city was offering a reward for information leading to the arrest of the gunman, whom the police described as a cleanshaven white man about 21 years old with sandy blond hair and wearing a gray sweatshirt, bluejeans and Timberland boots.

"To walk into a church and shoot someone is out of pure hatred," the mayor said as he walked away after the news conference.

Law enforcement officers from the F.B.I.; the Bureau of Alcohol, Tobacco, Firearms and Explosives; the South Carolina Law Enforcement Division; and other agencies were assisting. Chief Mullen said the police were tracking the gunman with police dogs.

Around 10:45 p.m., police officers escorted a man in handcuffs who appeared to match the attacker's description. But officials said later that they were still searching for the gunman.

In the first hours after the shooting, the police blocked reporters and passers-by from approaching the church, opposite a Marriott Courtyard hotel, because of a bomb threat. Many among the news media cluster were political reporters in town to cover campaign events of Hillary Rodham Clinton and Jeb Bush.

Helicopters with searchlights circled overhead, and a group of pastors knelt and prayed across the street.

"The question is, 'Why God?' " a man wearing a shirt bearing the name of the Empowerment Missionary Baptist Church said during the prayer.

Later, a group of church leaders gathered at the corner of Calhoun and King Streets, a few blocks from where the shooting occurred, and held an impromptu news conference. Tory Fields, a member of the Charleston County Ministers Conference, said he believed the attacker had targeted the victims because of their race.

"It's obvious that it's race," he said. "What else could it be? You've got a white guy going into an African-American church. That's choice. He chose to go into that church and harm those people. That's choice."
Further details from The Post and Courier in Charleston:
A white gunman killed nine people during a prayer meeting at one of Charleston's oldest and best-known black churches Wednesday night in one of the worst mass shootings in South Carolina history.

Heavily armed law enforcement officers scoured the area into the morning for the man responsible for the carnage inside Emanuel AME Church at 110 Calhoun St. At least one person was said to have survived the rampage.

Police revealed no motive for the 9 p.m. attack, which was reportedly carried out by a young white man. Charleston Police Chief Greg Mullen said, "I do believe this was a hate crime."

Mayor Joe Riley called the shooting "a most unspeakable and heartbreaking tragedy."

"An evil and hateful person took the lives of citizens who had come to worship and pray together," he said.

Authorities did not identify the dead.

State Sen. Clementa Pinckney is the church's pastor and was believed to be inside during the shooting. Authorities would not confirm that he was wounded, but church members, friends and political colleagues said he was among the dead.

Riley said city police were being assisted by sheriff's deputies, the State Law Enforcement Division and the FBI.

Mullen pledged to put all efforts, resources and energy into finding the gunman.

"This is a tragedy that no community should have to experience," he said. "It is unfathomable that somebody in today's society would walk into a church when people are having a prayer meeting and take their lives, and I can assure you that we're going to do everything in our power to find this individual, to lock him up and to make sure he doesn't hurt anyone else."

The city will hold a news conference at 7 a.m. Thursday. A group of AME pastors plans to hold a prayer vigil at noon.

The shooting occurred on the eve of the eighth anniversary of another local tragedy, the death of nine Charleston firefighters in the June 18, 2007, Sofa Super Store blaze in West Ashley. A ceremony is planned for later today to honor the fallen firefighters as the city now grapples with another mass loss of life.

Church members at Emanuel AME were gathered for a prayer meeting when gunfire erupted in the 19th century building. A female survivor told family members that the gunman initially sat down in the church for a bit before standing up and opening fire, according to Dot Scott, president of the Charleston NAACP.

The gunman reportedly told the woman he was letting her live so she could tell everyone else what happened, Scott said.

Police spokesman Charles Francis described the suspect as a 21-year-old white man in a gray sweatshirt/hoodie and jeans with Timberland boots. He has a slender build.

Police and emergency vehicles swarmed several blocks surrounding Henrietta and Calhoun streets, just east of Marion Square. Barricades blocked off several streets to traffic, and police asked nearby residents to leave their homes.

Helicopters circled overhead and officers with dogs searched nearby properties.

Though information was scant, the scope of the tragedy quickly became apparent. Dozens of law enforcement officers, several carrying military-style rifles, fanned out across the area as a team of coroners arrived. Several crisis chaplains also rushed to the area.

State Sen. Marlon Kimpson, D-Charleston, said he was praying for Pinckney and for "our Mother Emanuel AME Church," as it's affectionately called by many parishioners. It is the South's oldest black congregation south of Baltimore.

"I ask the nation to keep Charleston in our prayers," he said.

Gov. Nikki Haley said her family also was praying for those touched by the killings.

"While we do not yet know all of the details, we do know that we'll never understand what motivates anyone to enter one of our places of worship and take the life of another," she said. "Please join us in lifting up the victims and their families with our love and prayers."

U.S. Sen. Tim Scott said it was "absolutely despicable" for such violence to occur in a place where people come together to "laugh, love and rejoice in God's name."

"My heart is breaking for Charleston and South Carolina tonight," he said.

Outside Medical University Hospital, the area trauma center where the wounded were taken, Jon Quil Lance stepped away from the building to smoke a cigarette and think about his grandmother, Ethel Lance, who he'd heard was shot in the church.

"I'm lost, I'm lost," he said. "Granny was the heart of the family." He said his grandmother had worked at the church for more than 30 years.

"She's a Christian, hardworking; I could call my granny for anything. I don't have anyone else like that." He said he didn't know her condition. "I don't even know if she's alive now." He threw his hands up. "I don't even know if my grandmother is alive."

He paced up and down Ashley Avenue, and his thoughts gathered momentum. "What was this guy thinking? That dude shot a bunch of elderly people! Now people are going to be afraid to go to church. I don't know what's going to come of this. I'll tell you this, I'm not the only one praying tonight."

At 12:45 a.m., as word spread about the deaths, Lance fell to the ground and sobbed. "Somebody better get that (expletive)." A friend cradled him at the hospital's entrance. Officers ushered loved ones inside.
The church where this occurred, the Emmanuel African Methodist Episcopal Church (Also, see this write-up from the National Park Service), is among the oldest in the City of Charleston, among the oldest African-American congregations in the United States, and the oldest A.M.E. Church in the country. It has roots that stretch at least as far back as the 1816, and possibly sooner, and in its current incarnation was founded by a man name Denmark Vesey who was implicated in plotting a slave revolt in Charleston in the 1820s, and was among of a group of African-Americans who were executed in the aftermath of that plot in a procedure that could fairly be described as a kangaroo court. During that controversy, the original building used by the Church was burned to the ground but the congregants continued to meet in other locations until 1834 when African-American churches were made illegal under South Carolina law. After meeting in secret, the church finally became public again in the aftermath of the Civil War, only to see the building they constructed destroyed in and earthquake in 1886, leading to the current building which was built in 1891. Last night's shooting took place some 193 years after the events of the failed slave uprising that lead to the death of Denmark Vesey.
At this early hour, there are few details related to the shooting other than some items that have been reported by reporters on the scene via Twitter or by local media. The only things that seem to be confirmed at this point is that there were eight people dead inside the church when authorities arrived there, that a ninth died at the hospital, that there are a still unconfirmed number of injured still being treated, and that among the dead are South Carolina State Senator Clementa Pickney, who is also the Pastor of the Church and was just 41 years old. At a late night/early morning press conference near the scene, the Police Chief and Mayor of Charleston both described the crime as a likely hate crime, and given the circumstances of the shooting that certainly seems like a logical assumption to make at this point. Racially motivated attacks against African-American churches in the South has a long, horrible history, most notably perhaps the most famous of those being the bombing of the 16th Street Baptist Church in Birmningham, Alabama less than a month after the March On Washingotn in the summer of 1963. While it's entirely possible that this shooter, whomever he may be, was motivated by something else or simply mentally ill, the fact that he chose a target like this on a night when there would be a regular Bible study group in attendance, leads one to believe that he had a specific target in mind. Indeed, when a white man shoots up African-Americans inside an African-American Church the odds that there wasn't at least some racial motivation involved are pretty low. If that's the case, then this shooting seems likely to revive not only the gun debate just as every other mass shooting has in recent years, but also to put an entirely new spin on the race issues that seem to have reached new prominence over the past year or so.
Early this morning, the police issued a bulletin to the media with captured surveillance video of the suspect they are looking for:
Police issue pictures of #CHSShooting suspect #chsnews pic.twitter.com/eI9rUlXsNw

— Jon Bruce (@ABCnews4jbruce) June 18, 2015
More to come, I'm sure.
Update: The suspect has been identified as Dylann Roof, a 21 year old from Columbia, South Carolina. What appears to be his Facebook Profile picture shows him wearing a jacket displaying the flags of Rhodesia and Apartheid-era South Africa:
Authorities have ID'd the suspect as Dylann Roof, 21, of Columbia area #CharlestonShooting http://t.co/5qGzSd8Zpr pic.twitter.com/2kaYjA5jKG

— David W. MacDougall (@davemacdougall) June 18, 2015
Photo via The New York Times