Get Ready For More Rick Santorum In 2016
Rick Santorum looks to be getting ready to hit the campaign trail again, but it's doubtful he can find appeal beyond the religious conservatives who supported him in 2012.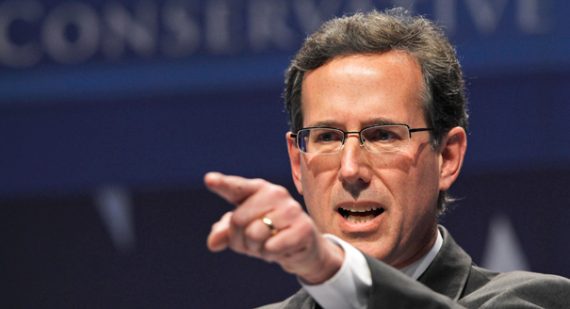 If anyone has the right claim the status as the guy who came in second place in the race for the Republican nomination in 2012, it is former Pennsylvania Senator Rick Santorum. While he was not given much of a shot when the race began, Santorum managed to end the race with the second highest level of total votes throughout the entire primary process and winning the second highest number of primaries or caucus. When things got to the Republican National Convention in Tampa, that didn't exactly translate into the second highest number of delegates in the final count, a status that went to former Texas Congressman Ron Paul, but that was largely because most of the states ended up giving all their delegates to Mitt Romney as a sign of unity regardless of how the primary or caucus in their state had gone. Granted, those numbers become far less impressive one you realize that Romney had won roughly 10,000,000 votes and 37 states while Santorum had won less than 4,000,000 total votes and come in first place in 11 states while gaining second place in 15 others and third place in the final 17 contests and that Newt Gingrich was only 1.2 million votes behind Santorum in popular votes. (Source)
Some have suggested that, because of this, he qualifies as the Republican "heir apparent" for 2016, but that designation is questionable largely because, even if you consider the numbers that Santorum racked up in 2012 to be impressive, the reality is that the former Senators appeal throughout the campaign remained limited to a very specific segment of the Republican Party. Unlike previous "next in line" Republicans, there was never any sign that Santorum would be able to obtain crossover appeal from people who were voting for Newt Gingrich, Ron Paul, or, most importantly, Mitt Romney. In the two years that have passed since the race for the 2012 Republican nomination, there's really no indication that Santorum's appeal has evolved beyond this limited segment of the GOP, and there are several other potential candidates who also appeal to the same religious and social conservatives who arguably would give Santorum a run for his money.
Despite all of that, Santorum seems to be gearing up for another run at the White House, and of course he thinks he can win:
Rick Santorum won primaries and caucuses in 11 states in 2012, coming in a respectable second in the GOP presidential primary season. And Republicans have a history of bestowing their nomination on the next guy in line, usually an also-ran from the last contest.

Yet the former senator from Pennsylvania is rarely mentioned in the already feverish pre-game 2016 chatter among the political commentariat and the donor class.

That's just the way he likes it. Or so he says.

"America loves an underdog. We're definitely the underdog in this race," he said in an interview Tuesday. Santorum added that being underestimated — again — "has given me a lot of latitude."

His iconic sweater vests will likely make a return appearance. But Santorum 2.0 will be a very different presidential campaign than the one that came from almost nowhere to win the Iowa caucuses in an overtime decision, he vows.

"I get the game," Santorum said.

Where he had to build his operation from the ground up in 2012, Santorum now has a grass-roots operation called Patriot Voices, which boasts 150,000 activists across the country. Its current push, an online petition drive to oppose President Obama's recent executive action on immigration, has generated what Santorum strategist John Brabender says are "30,000 new e-mail relationships."

Whether Santorum can raise the money he needs is another question. Foster Friess, the benefactor who ponied up $2.1 million to a pro-Santorum super PAC in 2012, says he would support him again. The former senator is sounding out other deep-pocketed donors, whom he declined to identify.

He is retooling his message, hoping to appeal beyond his socially conservative base and reach blue-collar voters who are being left behind in the economy.

"I don't think I've met a 'suit' yet," Santorum said of his travels around the country. "It's very much heart of America, average Americans who have found a place where they see someone who will stand up and fight for them. If the Republican Party has a future — and I sometimes question if it does — it's in middle America. It's not in corporate America."

That is a theme he has sounded for years, though it often got overlooked in the 2012 campaign, where most of the attention was on Santorum's culture warrior credentials.

"Part of what I had to do last time was lay out my bona fides" on moral and social issues, Santorum said. "That's done."

At the same time, Santorum is likely to have more competition for the support of social conservatives than he did in the last campaign. Former Arkansas governor Mike Huckabee, who won the Iowa caucuses in 2008 and retains a strong reservoir of support among evangelical voters, is considering another White House bid.

Santorum argues that the reemergence of immigration as an issue will work in his favor because he takes a tougher line than many other Republicans do.

"I take the approach that immigration policy in America ought to be about Americans," he said. "The principal focus of immigration policy is not about the rest of the world. It's about us."
Perhaps Santorum has a better chance than I am giving him credit for, but I kind of doubt it. One of the main reasons he did well in 2012 is because he was the lone representative of the socially conservative wing of the Republican Party that was left in the race and, in many ways, served as a way for some voters to express their discontent with Mitt Romney, who was clearly headed for victory in the race by the time the Florida primary was over in late January. Even prior to then, Santorum's only real competition for the religious conservative vote came from candidates like Michele Bachmann and Herman Cain, neither of whom were ever really considered viable or serious candidates for the nomination notwithstanding the fact that they both had brief spikes in their poll numbers during which they could claim to be a "front runner." Had their been an actual contest for the social conservative vote at the time, or if the contest for the nomination were still actually up in the air, then its probable that Santorum would not have done as well as he actually did, which again wasn't nearly as well as the phrase "came in second place" makes it sound when you actually look at the details. As the Washington Post's Karen Tumulty notes in the article linked above, if Santorum runs in 2016 he's likely to find himself competing against candidates like Ted Cruz, Rand Paul, Scott Walker and Mike Pence, all of whom have broad appeal with the very same voters that Santorum was drawing from in 2012 and the advantage of a more recent governing record than a guy who hasn't held political office in nearly a decade now. Indeed, even Foster Friess may find that his money is best spent on someone other that Santorum, in which case the odds of the former Pennsylvania Senator being able to run a viable campaign would seem to be dead.
In any, case, Santorum hasn't officially said that he's running again, but his comments to Tumulty seem to make it clear that this is the direction that he's headed in. At the very least, that should be good for the sweater vest industry.