Romney Fails To Deliver Knockout Punch, Will Still Win Nomination
The race will go on after Super Tuesday, but the outcome seems ineviable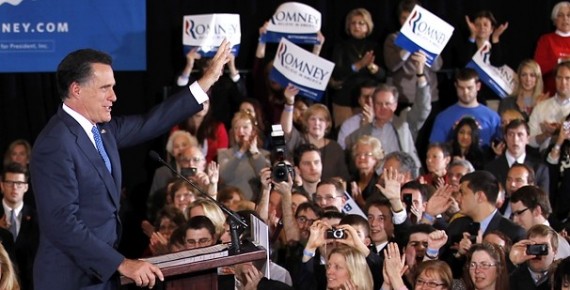 For a good part of last night, it was unclear what kind of night this was going to be for Mitt Romney. Going into the night, it looked like he had a chance to win not only Ohio but also steal Tennessee from Santorum. Fairly early, the networks were able to call Vermont, Massachusetts, and Virginia for Romney, as well as Georgia for Newt Gingrich. None of these were really surprises, though. In Tennessee, the chances for Romney to pass Santorum seemed to dwindle away in the cold light of reality and Santorum ended up winning the state by five points, less than he had been leading there a month ago but more than the most recent polls. Santorum also picked up a somewhat surprising win in the North Dakola Caucuses, although it's worth noting that this was another one of those caucuses that doesn't award delegates. Similarly, Romney picked up a win in the Idaho Caucuses which may or may not come with delegates but probably also includes some potatoes.  Jumping ahead in the evening a bit, Romney also won the Alaska Caucuses where the candidate that Sarah Palin had voted for came in fourth place.
The big prize of the night, though, was Ohio. For much of the night, as the returns came in from the rural parts of the state, things were looking pretty dicey for Mitt Romney. Rick Santorum was leading and pundits were talking about the possibility of Romney losing the state. When the numbers started coming in from Cuyahoga County (Cleveland) and Hamilton County (Cinncinnati), tough, Romney pulled ahead and looks to have pulled off a victory, a slim victory but a victory nonetheless:
WASHINGTON — The race between Mitt Romney and Rick Santorum for the Republican presidential nomination was fought down to the wire in Ohio, and so was the result, with Romney leading by a mere 12,000 votes early today.

But with 99 percent of the vote counted, that lead was certain to hold, and more importantly, so was Romney's clear victory in amassing delegate

(…)

Romney, regarded as the moderate in the GOP field, has had a hard time convincing the party's Tea party wing that he is grounded in his beliefs. But he appeared to carry Ohio's urban areas Tuesday, including Cuyahoga, Franklin and Hamilton counties and their suburbs.

(…)

Santorum did well in Ohio's rural areas, and the Ohio secretary of state's map with returns from Ohio's 88 counties made clear the urban-rural divide between Romney and Santorum. Early exit polls in Ohio showed Santorum carrying the most conservative voters, including those focused on social issues such as abortion and gay marriage as well as evangelical and born-again Christians, the Associated Press reported. But his efforts to carry blue-collar workers may have fallen short, with Santorum and Romney running about evenly among voters who lack college degrees, the AP said.
As of this morning, with 99.8% of the vote in, Romney is leading Santorum by just over 12,100 votes, a lead that is clearly insurmountable. More importantly, though, it looks like Romney will score a nice delegate pickup out of his Ohio victory, which is what really matters at this point.
Despite his Ohio win, though, Mitt Romney was denied the one thing that his campaign clearly wanted, a knockout punch against his opponents and the effective end to this race. If he'd picked up Tennessee and scored a more decisive victory in Ohio, then it would have been hard for Rick Santorum or Newt Gingrich to make a credible case for their campaigns to continue. Now, though, both Santorum and Gingrich have victories in southern states under their belt, and next week they head into primaries in Alabama and Mississippi, along with a caucus in Hawaii. There has not been any polling in either of the primary states, but it's logical to assume that they are going to be far more hospitable to Santorum and Gingrich than they will to Romney. This coming Saturday, there's also a caucus in Kansas, which is also unlikely to be Romney Country. After that, there's a caucus in Missouri where Rick Santorum scored a massive victory in last month's non-binding primary. Looking at things realistically, March doesn't look friendly to Romney until March 24th when Illinois holds its primary. Even then, the race is going to have to drag into April unless Romney wins Illinois so convincingly that he scares everyone else out of the race. That means that we're looking at three more weeks, at least, of headlines in which the story is about the guys challenging Romney.
Some of the evaluations of what happened last night are about what you'd expect. David Frum, for example is perplexed about why it's taking Republican rank-and-file voters to get behind the former Massachusetts Governor:
Has the Republican Party gone on strike?

Tonight's message: Outside the Federalist heartland and the peculiar Virginia ballot, Republicans won't accept Mitt Romney. Against such a weak field, for Romney to be battling to carry Ohio is deeply, deeply ominous.

(…)

The donors all made up their minds months ago. The rank-and-file are refusing.
Jim Geraghty seeks dark clouds on the horizon for Romney, and a return to a topic we've heard before:
After last week's big wins in Michigan and Arizona, we were supposed to see signs of the party starting to unify around Romney. Instead, the frontrunner has a problem with the Midwest and South that is keeping him at less than 3 in 10 right now. That was good enough for second place in most of these states, but that's still setting a low bar – beat out Ron Paul and in most cases, Newt, who is becoming an afterthought. (More on this below.) Sure, Romney had a great night in terms of delegates. I stand by my assessment that his road to the nomination is the hardest, except for all of the others. But he's still got glaring weaknesses in connecting with people. Maybe it's the Mormon issue. Maybe it's his background. But I think the "brokered convention yields a surprise nominee" talk just got a new jolt of energy this morning.
I suggested one reason for the reluctance of the base to coalesce around Romney last night, and if it's true then there's not much he can do about it without damaging his General Election prospects. At the same time, though, I continue to find all this talk about a brokered convention where the party ends up picking a nominee that is not one of the people running at this moment to be largely silly. That may have worked in 1924, it's not going to work today with the glare of the 365/24/7 media. It's still possible that we'll see a contested convention, where none of the candidates go into Tampa with the majority needed to win on the First Ballot but even here the most likely outcome is that a deal gets made before any votes get taken just as it was in 1976. While it may be a political junkies dream, the last thing the GOP wants is a floor fight at the convention and they'll do everything they can to stop it.
Despite all of this hand-wringing, though, the reality is that last night made Mitt Romney's inevitability even more certain. NBC News's Political Director Chuck Todd pointed out this morning on Morning Joe that Rick Santorum would have to win 61% of all the remaining delegates in order to win the nomination. If Romney actually wins several Northeaster states outright, which seems likely, Santorum's would need to win 67% of the remaining delegates and, if Romney gains the lions share of the small number of Republican "Superdelegates," then Santorum would need to win 71% of the remaining delegates. Romney, on the other hand, would have to win 45% of the remaining delegates. To date, Mitt Romney has won  55.85% (415) of the  (743) delegates up for grabs. When you look ahead into April, and even May, there are many big delegate states that would likely be favorable to Romney that will be up for grabs, two of the biggest being California and New York. Unless Mitt Romney's campaign utterly collapses, which seems unlikely, the odds are fairly good that he'll be able to grab the delegates he needs to win the nomination outright. The odds of Santorum doing the same, or even coming close enough to be competitive at the convention are very slim to say the least.
All of this causes Stephen Green to say that it's time for the right to admit that the game is over and that Romney will be the nominee:
I don't like Mitt Romney. Given the choice between Romney and nothing, to turn the old adage upside-down, I'd take nothing. But in politics "nothing" isn't one of the choices.

Correction: You can vote for nothing, but then worse-than-nothing wins by default.

So keep that in mind when I call on Rick Santorum and Newt Gingrich to surrender gracefully tonight, and to pledge their delegates to… this isn't easy for me to say… to pledge their delegates to Romney.

Santorum has proven he can win — just barely — in states the GOP is likely to take in November regardless. Newt has proven that he can win his home state, and the one state that hates Mitt Romney almost as much as it hates Barack Obama. And I'll miss Newt — I really will. I want to see his Old Media Crusade go on and on.

(…)

Before Super Tuesday, Romney had more delegates than Gingrich, Paul, and Santorum combined. So, not only does "Gingrich, Paul, and Santorum" sound like the world's worst folk group, together they can't even beat Mitt Effing Romney. After Super Tuesday, that math will not have changed very much.
If anything, the math has gotten worse for all of them. Perhaps if there were another "moderate" candidate in the race taking support away from Romney things would be different, but that's not what's happening here. Slowly but surely, Mitt Romney is pulling together the delegates he needs to win the nomination. All else is theater.