Mitt Romney Not Crazy Enough For The Base?
Mitt Romney's Presidential rhetoric probably won't appeal to the GOP base.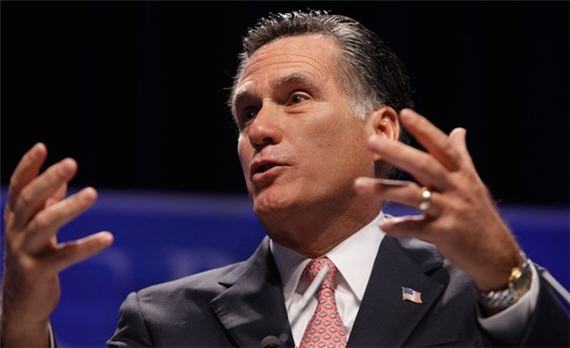 Mitt Romney sat down with Larry Kudlow for a quick interview while out on the Ohio campaign trail and appeared to openly criticize his two chief rivals for the nomination, and perhaps send a message to the GOP base that they don't really want to hear right now:
KUDLOW: All right. And… I'm not going to light my hair on fire.' That's you. I don't have it up here. But you say, `I'm not going to light my hair on fire.' Was that your way of saying that the economic issues have to be preeminent relative to the social issues? Was that your message?

Gov. ROMNEY: Well, my message is I'm not going to say outrageous things about the president or about my opponents. It gets headlines and a lot of excitement, and it gets you, by the way, a number of days in the polls to get a nice little bump. But I'm going to talk about the real issues Americans face and talk with respect about people who have differing views. I'm not going to attack them personally. I mean, I know that's fun, but it's just not productive. And we need, as a nation, to come together to recognize that even though we have differing views about the country and about where we should go, we all love the country. And I recognize that among Democrats and among Republicans. I want to lead the country. I don't want to castigate half of Americans. I want to bring us together and finally get the job done of having a stronger economy with a–with a government that's been kept in the—in the–into the box it ought to be kept into..
There are two observations that one can make here.
The first is that Romney sounds in this interview, or at least this excerpt, like a General Election candidate. Not only putting behind the strong rhetoric about the President that we've heard from candidates like Santorum and Gingrich, but also hitting only that good old political standby, unity. It's right there in the lines "I don't want to castigate half of Americans. I want to bring us together……" Once you start hearing a Presidential candidate talk like this, it usually means that their campaign has made the determination that it's time to shift focus to November, tone down the partisanship just a bit, and talk about how you want unite the country. Every eventual nominee does it at some point, and the fact that Romney is doing it now should be taken as an indication of the confidence inside his campaign.
The second observation is one made by Jazz Shaw:
I hope the eventual candidate can dance circles around Obama at the debate lecterns, drawing clear comparisons between current policy and what they have to offer. But I also understand that such an approach isn't always enough to get supporters out in the streets and pounding the pavement for a victory in November. The implication here is that some of the other charges leveled against Obama by the rest of the field are not just in the high tension category, but "outrageous."

This isn't gong to do much to bring the base home to roost on Super Tuesday evening.
One of the reasons that we've seen candidates like Gingrich and Santorum continue to be able to challenge Romney, I think, is because they do something he doesn't, they use rhetoric that plays well with a Republican base that obviously wants to see a candidate that aggressively goes after the President not just on policy but on what might be called "culture" issues Santorum has done it by saying such things as the President is a snob for encouraging kids to go to college. Gingrich just does it as a matter of course, it's part of his DNA and there's really not much difference between what he used to say about Jim Wright or Bill Clinton and what he says about Barack Obama. And the base just eats it up.
Mitt Romney isn't like either of these guys. Yes, he repeats several idiotic myths about the President such as the idea that he's spent the last three years going around the world "apologizing for America." On the whole, though, Romney has limited his criticisms of the President to policy rather than culture and, as his comment to Kudlow indicates, he doesn't intend to change that when the campaign switches to General Election. The base knows this and that, I think, is why there's still so much reluctance to jump on the Romney bandwagon. He's not going to run a campaign that mirrors the daily agenda of Rush Limbaugh's show, or whatever it is that's being published at Andrew Breitbart's websites. Frankly, that's a smart thing, because there's no way the GOP is going to win in November by engaging in that kind of rhetoric. The question is whether the base will get so upset by the fact that Romney won't play their crazy games that they'll stay home in November.
Here's the full Kudlow interview, by the way: