Santorum Surging Into The Lead Nationally
Once again, the face of the Republican race has changed.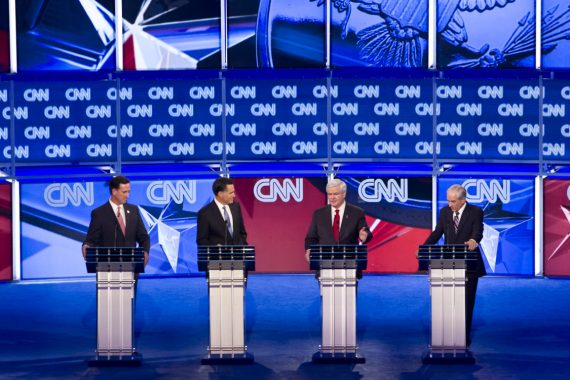 For the second time since voting started in early January, it looks like Rick Santorum is surging into the lead nationally thanks in large part to his big night in last Tuesday's primaries and the fact that Newt Gingrich is apparently sinking while Mitt Romney continues to fail to close the deal with the conservative base. The last time this happened, shortly after the Iowa Caucuses, it was over in the blink of an eye largely because Santorum's campaign was unable to capitalize on the rise in the polls either in terms of voter support or fundraising. It's unclear whether things will be any different this time around, but nonetheless Rick Santorum is getting his second act and only time will tell what he'll be able to do with it. We saw some evidence of a Santorum rise late last week in a poll from Public Policy Polling that showed Santorum jumping to huge lead nationally and in Michigan. At the time, I questioned the accuracy of these polls because they seemed inconsistent with other polling, but now we have corroboration that there is indeed a Santorum sure going on.
The first evidence for this came yesterday in a new Pew Research poll showing Santorum leading Gingrich, albeit within the margin of error:
Rick Santorum's support among Tea Party Republicans and white evangelicals is surging, and he now has pulled into a virtual tie with Mitt Romney in the race for the Republican presidential nomination. In polling conducted Feb. 8-12, 30% of Republican and Republican-leaning registered voters favor Santorum while 28% favor Romney. As recently as a month ago, Romney held a 31% to 14% advantage over Santorum among all GOP voters.

Santorum is now the clear favorite of Republican and GOP-leaning voters who agree with the Tea Party, as well as white evangelical Republicans. Currently, 42% of Tea Party Republican voters favor Santorum, compared with just 23% who back Romney. Santorum holds an almost identical advantage among white evangelical Republican voters (41% to 23%).

(…)

In the early GOP primaries, Romney has struggled at times in winning over the conservative elements of the Republican electorate – Tea Party supporters, conservatives and white evangelical Republicans. The new poll shows that nationally he trails Santorum among all three groups.

In contrast, Romney holds leads over Santorum among non-Tea Party Republicans (34% to 19%) and moderate and liberal Republicans (34% to 20%).

While Santorum holds a substantial advantage over Romney among white evangelical Republicans, he also runs about even with Romney among white mainline Protestants (24% Santorum, 30% Romney).

Romney also trails Santorum among Republican and GOP-leaning voters who have not completed college (33% to 24%). Romney leads among Republican college graduates (39% to 25%).
As we've seen in the past, one of Romney's biggest problems ends up being the doubts among Republican voters about the candidate's conservatism, doubts that seem to reassert themselves every time Romney slips in polls. In the current poll, only 42% of those surveyed say they consider Romney a "strong conservative," and those numbers are significantly higher among Republicans who described themselves as strongly conservative and/or Tea Party supporters. The numbers for Santorum aren't included in the poll release but one can presume that they are higher than the numbers for Romney, which is likely one of the reasons that he is again surging in the polls.
Santorum is also leading in a new CBS/New York Times poll:
After his surprise triple victories in Colorado, Minnesota and Missouri, Rick Santorum has begun soaring among Republican primary voters, erasing Mitt Romney's lead in the race for the party's presidential nomination.

A New York Times/CBS News poll released Tuesday morning showed Mr. Santorum surging among Republican primary voters nationwide, lifted by support among conservatives, evangelical Christians and Tea Party supporters.

In the new poll, 30 percent of Republican primary voters say they support Mr. Santorum, compared with 27 percent for Mr. Romney. While Mr. Santorum's lead is essentially a tie with Mr. Romney because it is within the margin of sampling error, it reflects a significant jump for him from earlier polls.

The two other major candidates are further behind, at 12 percent for Ron Paul and 10 percent for Newt Gingrich. Mr. Gingrich's numbers have fallen sharply since his win in South Carolina on Jan. 21.

(…)

Mr. Santorum's bump is largely fueled by increased support from self-described conservatives, evangelical Christians and Tea Party supporters. The poll shows Mr. Santorum, a former Pennsylvania senator, backed by nearly four in 10 voters from each of these groups; last month, no candidate was the clear favorite among these voters.

At the same time, another result in the poll underscores the race's continuing fluidity. A majority of voters (six in 10) who expressed a candidate preference said they could still change their mind – down from 74 percent who said so a month ago, but enough to potentially mix things up again.
Finally, the new Gallup Daily Tracking Poll shows the same Santorum lead, and the sane same statistical tie:
PRINCETON, NJ — Mitt Romney and Rick Santorum are now statistically tied for the lead in Republican registered voters' preferences for the 2012 GOP nomination — 32% to 30%, respectively. Newt Gingrich, who led the field as recently as late January, is now third, favored by 16%, while Ron Paul's support has dwindled to 8%, the lowest level yet seen for him in 2012.

These results are based on Gallup Daily tracking from Feb. 8-12 — the first Gallup tracking period conducted wholly after Santorum's sweep of the Feb. 7 state nominating contests.

Santorum's 14-point surge in support since just before Feb. 7, from 16% to 30%, appears to have come at the expense of all of his major opponents. Support for Romney and Gingrich has declined by five and six percentage points, respectively, over the same period, and support for Paul, by three points. The percentage unsure has increased slightly, from 11% to 13%.
There are a few caveats to note about each of these polls, of course. For one thing, each poll is surveyed registered rather than likely voters, a measure which may not be entirely accurate now that we are actually in the middle of primary battles. For another, the sample sizes of Republican voters in each poll is relatively small compared to the overall sample size so there may be some inaccuracies there. Finally, as I've noted before, national polling doesn't really tell us very much about where the primary battle stands right now or where it might go. Just as with the General Election race after Labor Day, the real battles are at the state level and those are the polls that really matter. To a large degree, these national polls are merely reflective of trends at the state level and reflections of the kind of bandwagon effect that happens when one candidate or another scores a victory. For example, Gallup notes that the race so far has tended to show a bounce for victorious candidates: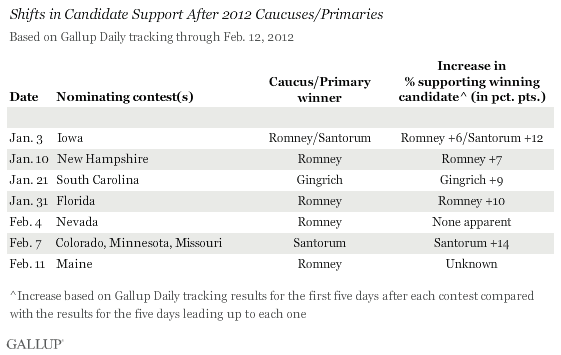 So if you're  looking for a real idea of where the race stands right now, watch the state-level polls far more closely than the national ones. Nonetheless here's where things stand in the latest RealClearPolitics chart: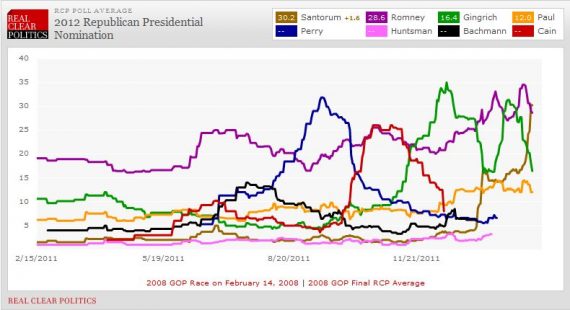 So there you have it, another week, another candidate rising to challenge Mitt Romney. This time, things seem to be breaking Santorum's way but, as we've learned, the news cycle moves so fast at this point that it's hard to say that this is what the race will look like two weeks from now when Michigan and Arizona vote.
Update:  This afternoon, CNN released a poll showing Santorum and Romney in a statistical tie, although there are suggestions of a developing gender gap:
A large gender gap appears to be developing between supporters of GOP presidential candidates Mitt Romney and Rick Santorum, as well as a split between white collar and blue collar Republicans, according to a new national survey.

A CNN/ORC International poll also indicates that Santorum supporters are much more highly motivated than those backing Romney.

"The new numbers indicate a split in the Republican party that goes deeper than ideology, with signs of a gender gap and class warfare breaking out in the GOP ranks," says CNN Polling Director Keating Holland.

According to the survey, released Tuesday afternoon, Santorum and Romney are basically all tied up for the lead in the race for the GOP nomination. Thirty four percent of Republicans and independents who lean towards the GOP say they back Santorum, the former senator from Pennsylvania, with 32% backing Romney, the former Massachusetts governor who has been at or near the top of national polling over the past year. Santorum's two point margin over Romney is well within the survey's sampling error.

(…)

Santorum's newfound support may be coming from Republicans who backed candidates who are no longer in the race, like Texas Gov. Rick Perry. But the poll also indicates that Santorum's surge is also the product of a notable gender gap, with Santorum holding a 10-point edge among Republican men and Romney winning Republican women by nine points. And Republicans who describe themselves as blue collar are backing Santorum by 11 points over Romney. But among those who say they come from white collar families, Romney has a 10-point advantage.
Look for the battle in Michigan to get a lot more interesting.