Ted Cruz, Mike Huckabee, And The Minister Who Thinks It's Okay To Kill Gay People
Ted Cruz and Mike Huckabee recently kept company with a very disturbing religious leader.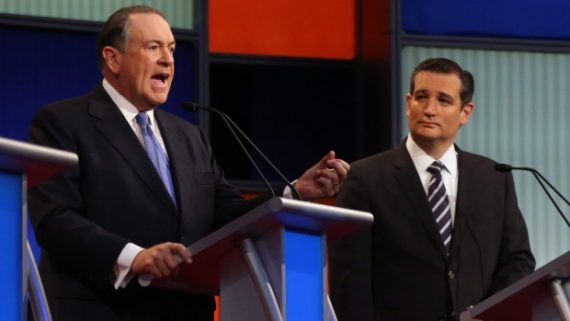 Two Republican candidates for President, and one who just dropped out of the race last night, spent a weekend recently cozying up to a Pastor who believes the Bible tells us that it is acceptable to kill people simply because they are gay or lesbian:
Ted Cruz, Bobby Jindal, and Mike Huckabee spoke at a conference in Des Moines called "Freedom 2015: National Religious Liberties Conference," a two-day event that began last Friday. Now, that doesn't sound so bad. In fact, my colleagues at the Cato Institute and I have recently defended the rights of Hobby Lobby, the Little Sisters of the Poor, and the bakers and photographers who don't want to participate in same-sex weddings.

But this conference was about something far different from liberty, although you wouldn't know that from bland media coverage like this CBS News article. So it's a good thing that The Daily Beast and Rachel Maddow of MSNBC picked up the story, with video from People for the American Way's RightWingWatch.

The conference was organized by Kevin P. Swanson, a minister in Colorado and host of the Generations Radio Show. Swanson is part of the Orthodox Presbyterian Church and the far-right fundamentalist Christian Reconstructionism movement, which author Walter Olson wrote about at length in 1998. Swanson gave the conference's opening and closing talks and interviewed Cruz, Jindal, and Huckabee. And in his closing keynote address, Swanson ranted at length about topics that would hardly be characterized as religious liberty:

YES! Leviticus 20:13 calls for the death penalty for homosexuals. YES! Romans Chapter 1, Verse 32, the Apostle Paul does say that homosexuals are worthy of death. His words, not mine! And I am not ashamed of the Gospel of Jesus Christ. And I am not ashamed of the truth of the word of God. And I am willing to go to jail for standing on the truth of the word of God.

To be sure, he did say that "civil leaders" should not apply the death penalty today, not until the culture has changed and gays have been put on notice that they must repent or be put to death. Thanks for small favors, I suppose. But it's also worth noting that at least two other speakers at the conference likewise have advocated the death penalty for gay people.
Callum Borchers at The Fix wonders why this hasn't received much attention outside places like MSNBC:
Swanson, the director of the Generations with Vision ministry in Elizabeth, Colo., and host of an online radio program, is no run-of-the-mill opponent of same-sex marriage. He's known among evangelicals for, at the very least, suggesting that it wouldn't be such a bad idea to make homosexual behavior punishable by death.

The Web site Right Wing Watch (whose political persuasion is pretty self-explanatory) has made a habit of tracking Swanson's statements on the subject over the years. At the conference, Swanson was a keynote speaker and interviewed each of the three candidates onstage. In his remarks, Swanson said this:

Romans chapter 1, verse 32. The apostle Paul does say that homosexuals are worthy of death — his words, not mine. And I am not ashamed of the gospel of Jesus Christ. And I am not ashamed of the truth of the word of God. And I am willing to go to jail for standing on the word of God.

(…)

Swanson also said this:

Do you advocate for our civil leaders to do this today? And my answer is no. But why? Here's why: Because that's not such a big deal. … The discussion concerning the capital punishment of homosexuals is nothing, is not all that important when contrasted with hellfire forever. You say, 'Why wouldn't you call for it?' I say it's because we need some time for homosexuals to repent.

 (…)

Swanson's sharing the stage with three Republican presidential candidates has received scant coverage from what the candidates themselves call the "mainstream media." Why?

One simple explanation is that Cruz, Jindal and Huckabee aren't front-runners and are therefore getting less media coverage, in general. Jindal and Huckabee were relegated to the "kiddie table" debate on Tuesday, and Cruz is in fourth place and flying somewhat below-the-radar in the GOP primary race. If the trio appearing with Swanson had been Donald Trump, Ben Carson and Sen. Marco Rubio (R-Fla.), things might be different.

Still, Cruz isn't so out of it that he's immune to criticism. Plus, his father, conservative activist and pastor Rafael Cruz, was also a speaker at the religious liberties conference, adding another layer of connection.
Borchers goes on to note that Swanson isn't really very well known outside of the evangelical community and suggests, not unfairly, that it's possible that Jindal, Cruz, and Huckabee weren't aware of the comments he's made over the years. Notwithstanding the fact that I have been highly critical of all three of these candidates many times, I will admit that this is not an unfair point and perhaps suggest that someone should ask their campaigns just how aware they were of Swanson's controversial comments prior to agreeing to speak at his conference. After all, if they really weren't aware of what he had said in the past, and he didn't say anything resembling these remarks while they were present last weekend, then they can hardly be held responsible for things he said in the past that they were not aware of and would never endorse if they had been aware of them.
It strikes me, though, that there are two problems with this explanation.
The first thought is that the idea that Presidential candidates agree to speak at events without having at least some general idea of who else will be there and what they have said in the past seems implausible to me. Perhaps that was true in the past when it wasn't always easy to make oneself aware of the past of someone you might be sharing a stage with, but it's hard to believe in an age when all you really need to do is type someone's name into Google and you'll find out all you need to know, and many things you probably didn't want to know. A campaign that doesn't do that kind of due diligence before an event is, quite honestly, committing the kind of political malpractice that makes one wonder how competent a campaign actually is. Such things do happen even in the Internet age, of course, but at some point you'd think campaigns would learn the lesson that you ought to research the backgrounds of the people your candidate is interacting with if only to avoid an embarrassing photograph later on down the road.
The second thought is the fact that, to this day, Republicans continue to attempt to attack President Obama based on his associations, real and imagined, with controversial figures. The most prominent of these, of course, was the Rev. Jeremiah Wright, the Pastor of the church in Chicago that President Obama attended who had a long history of making controversial statements that proved to be enough of a problem for President Obama during the 2008 Presidential campaign that he was forced to repudiate him not just once, but twice, during the course of the campaign. Similar issues were raised, and continue to be raised by many on the right over the President's alleged associations with Bill Ayres, a former member of the Weather Underground who was apparently somehow involved in the beginning of Obama's political career. Finally the more conspiratorial minded people on the right, including apparently Ben Carson, have tried to link Obama to Frank Marshall Davis, an activist who has been alleged to have ties to the U.S. version of the Communist Party and who has been claimed to be everything from the real author of Obama's book Dreams From My Father (although sometimes it is claimed that Ayers had that role) to Barack Obama's "real" father. If conservatives believe that Obama should have been scrutinized because of connections to these men, then why should Cruz, Jindal, and Huckebee get a free ride for their apparent association with a man who thinks it would be morally acceptable, and indeed may be a Biblical requirement, to kill gay people?