Romney/Huckabee 2012?
All of a sudden, people are talking about Mike Huckabee as a potential Romney running mate.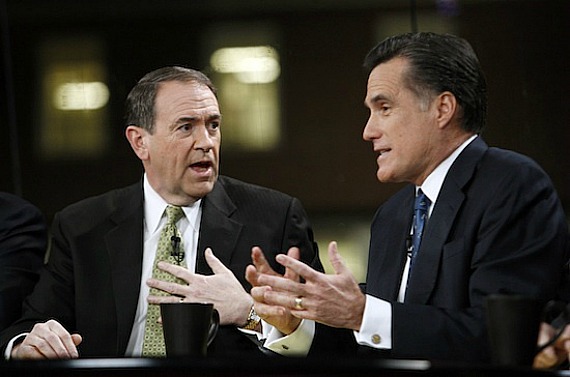 By the end of the 2008  Republican nomination fight, there wasn't much cordiality left between Mitt Romney and Mike Huckabee. When Romney became the subject of an anti-Mormon whispering campaign in December 2007 during the run-up to the Iowa Caucuses, there was plenty of speculation that the Huckabee campaign and its supports was behind the whole thing.  For his part, it seemed rather obvious that Huckabee saw Romney as the guy who was blocking him from taking on John McCain early on in the process. More generally, one got the impression that these two gentlemen just didn't like each other very much. As the 2012 campaign started gearing up, there was much speculation about whether Huckabee would take Romney on again, especially considering that early polls seemed to indicate that the one people capable of mounting an effective challenge to Romney was none other than Mike Huckabee. Huckabee didn't run, of course, Romney is the nominee, and National Review's Robert Costa wrote yesterday that the former Arkansas Governor is apparently being considered for the Vice-Presidential spot on the ticket:
The conventional wisdom about Mitt Romney's vice-presidential short list, according to a handful of Romney insiders, may be wrong. Instead of picking a straitlaced Midwestern senator such as Ohio's Rob Portman, or an outspoken northeastern Republican governor such as Chris Christie, there is a chance Romney will tap an evangelical from the South.

And the name on the lips of Romney friends and supporters isn't a rising southern senator or a current Dixie governor. He has been out of office for five years, resides on a beach in the Florida panhandle, and hosts a television show.

In other words, Mike Huckabee, the bass-guitar-playing former governor.

Yes, according to several sources close to the Romney campaign, who insisted on anonymity because of the sensitive nature of the vice-presidential search, the 56-year-old Arkansan may be included in the veep mix.

To many Republicans, a ticket with a Mormon bishop and a Baptist preacher isn't far-fetched. "In a way, it's almost a dream ticket," says Ed Rollins, the chairman of Huckabee's 2008 presidential campaign. "He's substantive and knows domestic policy, and his personality wouldn't overshadow Romney's."

For now, it isn't clear whether Huckabee is going to be vetted, or that he's anywhere near Romney's short list. But he is, at the very least, being discussed. As one Romney ally puts it, tapping Huckabee would energize tea-party conservatives, evangelicals, and related voters who soured on Romney during the GOP primaries. He's also not a sweat-inducing pick, since he was vetted by the Beltway press during his presidential run four years ago.

A second top Romney source is less enthusiastic about Huckabee's conservative appeal but acknowledges that the former governor is probably on the "larger list of about 40 names" that's being debated within Romney's inner circle. "People have made that suggestion," the source said, during conversations with Matt Rhoades, the campaign manager, and tight-lipped Romney confidants such as Scott Romney, the candidate's older brother, and Ann, Romney's wife.
Notwithstanding the fact that he's spent the last four years or so hosting a show on Fox and, most recently, a mid-day talk radio show that competes with Rush Limbaugh in several major media markets, there seems to be little doubt that Huckabee has the right political resume to be Vice-President. Before running for President, he served ten years as Governor of Arkansas and three years as Lt Governor before succeeding to that office when Democratic Governor Jim Guy Tucker, who had succeeded Bill Clinton, was convicted of fraud.  Perhaps more importantly for Romney, though, Huckabee has street cred with the one segment of the GOP base that was most doubtful about Romney during the long nomination fight:
The growing buzz about Huckabee within segments of Romney World delights social-conservative leaders and Huckabee allies, who have long hoped that Romney would reach out to the GOP's evangelical voters with the veep selection. "If he's not on the short list, somebody ought to put him there," says Hogan Gidley, a former adviser to Huckabee. "He'd bring excitement to a ticket that's lacking that, to some degree, right now. Beyond that, he'd bring a huge grassroots organization, and, to put it simply, the South."

Veteran conservative activist Ralph Reed agrees. "Huckabee would be an outstanding and inspired choice," he says. "He has tremendous support among evangelicals and conservatives, and he knows how to frame issues in a way that makes it clear he has core convictions and he does it in a winsome way."

"Whatever differences Romney and Huckabee had during the 2008 campaign, and I don't think they were significant, they have put that behind them," Reed adds. "Governor Huckabee and Governor Romney, from what I can tell, have a good relationship, and each of them respects the work and views of the other."

Romney campaign aides say Huckabee and Romney have healed any lingering wounds throughout the past year, mostly during the public forums hosted by Huckabee during the primary campaign, and behind the scenes before television tapings. Huckabee, they say, may not have received a lot of attention as a Romney supporter, but he has been supportive during key moments in the campaign, such as when Democrats attacked Romney as a flip-flopper on abortion. Huckabee, speaking on Fox News, favorably compared Romney's conversion to Ronald Reagan's.
Of course there is one segment of the GOP base that isn't quite as enthusiastic about Huckabee. There isn't much love for Mike Huckabee among the fiscally conservative wing of the party, largely based upon his record as Arkansas Governor where spending increases and tax hikes were a common part of his tenure. Additionally, many of the ideas that he advocated during the 2008 campaign, such as the FAIR Tax aren't exactly popular with the libertarian wing of the party, as Jason Pye points out:
The idea that Huckabee is a small government conservative is nothing short of absurd. He has supported cap-and-trade, a federal smoking ban, tax hikes (more than Bill Clinton) and increasing spending on social programs.

Jonah Goldberg said it best about Huckabee:

When it comes to economic issues, [Mike Huckabee] is hard to distinguish from all  sort of different brands of liberals. He is hostile to free trade. He is very friendly to raising taxes. He believes in regulation wherever necessary. He thinks abortion must remain a federal national issue, can't send it back to the states. And that's what I mean by "right-wing progressive." He wants to use government towards conservative ends. He says it's a biblical duty to fight global warming. The problem with  someone like Huckabee is that he much like, in my mind, a liberal sees no dogmatic constitutional limits on the "do-goodery" of the federal  government. Whatever he thinks is the right thing for the federal government to do, if he thinks there's a good thing that can be done by the federal government, he wants the federal government to do it whether  it's constitutional or in accordance with principles of limited  government. And maybe what he wants to isn't what a cultural liberal would want to do but he still wants to use the government the same way.  It's big government conservatism. And that, I think, is the real threat  these days to conservatism.

Goldberg would later note that, despite his foreign policy disagreements with Ron Paul, that Huckabee was a scarier candidate, one that "represents compassionate conservatism on steroids.
When it comes to fiscal issues, then, Romney and Huckabee aren't all that different and that's the problem.
For the most part, though, I would think that a Huckabee pick would go over very well with most Republicans, including the supposed fiscal conservatives in the TEA Party, who increasingly seem more interested in talking about social issues anyway. Another advantage that Huckabee could bring to the ticket would be an ability to relate to middle-class and blue collar voters much better than Romney does.
At the same time, though, I'm not sure that Huckbee would be a smart pick for Romney at all. Beyond serving to unite the base, which is really something that Romney needs to do himself and not rely on a running mate for, there are plenty of downsides to putting a guy like Huckabee on the ticket. For one thing, there's the whole history of comments that Huckabee made about Romney during the 2008 campaign that will be brought back up again. For another, there's plenty of stuff in Huckabee's own record as Governor that could be brought up again, not to mention things he's been saying on the air and all those pictures of him playing bass while Ted Nugent sings. Finally, picking a candidate so closely associated with social conservatism, whether it's Huckabee or Santorum, would potentially end up being a distraction for the entire race. The last thing the GOP wants to do is spend the next six months talking about social issues. Putting Mike Huckabee on the ticket would guarantee that they would.
This is a trial balloon that should be shot down immediately.