Mike Huckabee "Open" To Running For President In 2016
Is Mike Huckabee about to re-enter politics in a big way?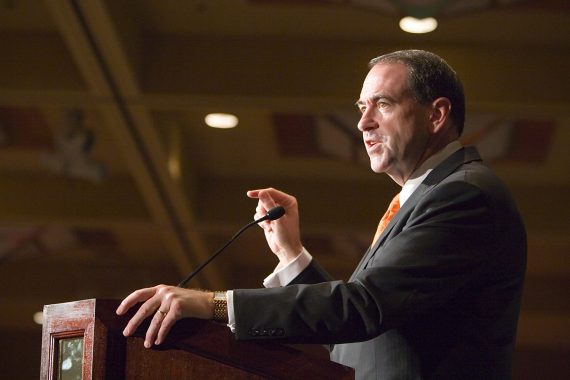 When last we heard from Mike Huckabee, he was stirring speculation in the Spring of 2011 that he might enter the 2012 race for the Republican nomination only to ultimately decide against it in a decision announced during a much-hyped appearance on his Saturday evening Fox News Channel show. Subsequently, the former Arkansas Governor tried to turn himself into something of a kingmaker in the Republican race and hosted a Presidential forum featuring most of the Republican candidates who were still running at the time just about a month before the Iowa Caucuses. Beyond that, though, Huckabee had mostly faded from the political scene and became the host of a three-hour daily talk radio show that many saw as a potential competitor to Rush Limbaugh and Sean Hannity. As it turned out, though, the radio show never seemed to get off the ground and, two weeks ago, it was announced that the show would end on December 12th. With that career behind him, Huckabee is suggesting that he just might be interested in running for President in 2016:
LITTLE ROCK, Ark. — Former Gov. Mike Huckabee of Arkansas has not been among the Republicans frequently named as a potential 2016 presidential candidate, but he would like that to change.

"I'm keeping the door open," Mr. Huckabee said in an interview here Thursday night about the possibility of seeking his party's nomination again. "I think right now the focus needs to be on 2014, but I'm mindful of the fact that there's a real opportunity for me."

Mr. Huckabee, a Christian conservative who made a splash by winning the 2008 Iowa caucuses before seeing his cash-short bid overwhelmed in subsequent states, said he would not run this time unless he could finance a durable campaign.

"If I talk to people and they say, 'If you run, we're in and we're in a big way,' that's going be helpful," he said. "If I don't hear that, you know what? This will be a real easy decision for me to make because I've jumped in a pool without water before and it's a hard hit at the bottom."

Since his defeat in 2008, Mr. Huckabee, a pastor-turned governor, has made a living off his own eponymous show on Fox News, a talk radio program he just gave up and a steady schedule of paid speeches all over the country. He said he did not run for president in 2012 because he did not think President Barack Obama could be defeated, but he also acknowledged he has enjoyed earning a measure of financial comfort and celebrity through his show.

It is those two factors, along with the rise of super PACs that let a single wealthy individual sustain a candidate lacking a major financial network, that he says are making him look closely at a second presidential run.

But he also suggested that one of the reasons he granted an interview about his political future after addressing a gathering of pastors is that he is still bothered about how his first presidential run ended – and he wants the respect of somebody who performed better than more vaunted candidates and one who remains popular with many conservatives.

Discussing the potential Republican field in 2016, Mr. Huckabee said it would be "tough" for Gov. Chris Christie of New Jersey to win such conservative redoubts as Iowa and South Carolina, two early nominating states.

"Let me show you some polling," Mr. Huckabee said, brandishing a two-page memo about a survey his longtime pollster took earlier this month showing him leading the Republican field in both Iowa and South Carolina. He boasted that such good numbers came at a time when "nobody has even talked about me being named" as a candidate.

Mr. Huckabee dismissed the notion that pride was a factor in his decision to float a possible campaign.

"Anybody who would run for any reason other than to win is an idiot," he said. But he quickly warmed to a question about not getting credit for his skepticism about the health of the economy as he campaigned in the months before the 2008 stock market crash and financial meltdown.

"A lot of things I said that I was sneered at about turned out to be prophetic," he said about the criticism he took from fellow Republicans over his focus on the working class during the 2008 campaign. "A year later I looked like a genius but nobody ever said, 'Huckabee was right,'" he said.

Were he to run in 2016, he believes that his brand of populism would be among his best assets and perhaps a good fit for the Republican electorate if the recovery continues to be fitful for some.

"If Republicans want to win, they've got to go get a portion of the population they've missed the last two election cycles, particularly working-class people and minorities who have not thought there was a message for them," he said, touting his ability with such constituencies. But Mr. Huckabee, a social conservative who has drawn fire from some economic conservatives over the years, also suggested his decision would also be based on whether Republicans continue demanding strict adherence to conservative orthodoxy.
To be completely honest, I haven't seen much public polling that includes Mike Huckabee in the mix of Presidential candidates for 2016 but that's largely because until now there hasn't been much serious speculation that he would be a contender of any kind in 2016. After his decision not to run in 2012, he seemed to be fairly happy doing his weekly show on Fox, his daily radio show, and the various speaking engagements that one hears about him showing up at around the country most of which seem to be more religious than political in nature. Additionally, the fact that he hasn't been a major player in politics since dropping out of the 2012 race after only a month of primaries made it feel as if the GOP had sort of passed him by. To a large degree, for example, his religious constituency within the GOP ended up being claimed by Rick Santorum in 2012 and was just as unsuccessful in making Santorum a major contender for the nomination as it was in promoting Huckabee. The idea of Huckabee reentering the political world nearly eight years after he left the scene, then, would seem to be pretty unlikely.
Despite all of this, its worth remembering where Huckabee stood prior to his decision not to run for office in 2011. While Mitt Romney was quietly putting together the campaign organization that would win him the nomination, polling in early 2011 was showing that it was Mike Huckabee that was the favorite of a solid plurality of Republican voters (see here, here, and here.) Had Huckabee gotten into the race back then, it was expected, quite rationally, that he would have been the major opponent for Romney heading into 2012, and that he likely would have been a far stronger one than any of the plethora of also-rans that tried and failed to take out the guy at the top of the GOP race from the summer of 2011 through the spring of 2012. Would Huckabee have beaten Romney? Given the money behind Romney, that would have been quite difficult, but Huckabee likely would have been to unite most of the conservative opposition to Romney in a way that Bachmann, Perry, Cain, Gingrich, and Santorum were not able to do. More interestingly, after such a race Huckabee likely would have ended up at the top of any list of potential Vice-Presidential running mates that Romney would have been considering in the summer of 2012.
If the Mike Huckabee of 2013 as strong a potential candidate as the Huckabee of 2011 was? That's hard to say. As I've said, much time has passed since he was a prominent player in the GOP and a frequent presence on television so its hard to say how much of his former influence and popularity remain. Additionally, the GOP has changed significantly since he ran for President in 2008 and its unclear that he'd be able to attract the kind of voters that a Rand Paul might appeal to, or that his fiscal record as Governor of Arkansas would pass muster with the Tea Party wing of the party.  In many respects, it's quite possible that the Republican Party has moved on past Mike Huckabee and those o his kind. And, of course, there's the distinct possibility that Huckabee is stirring the Presidential pot here to increase his media visibility. Nonetheless, Huckabee does seem to be expressing some interest in having a voice in who the next nominee is and it will be interesting to see how his fellow Republicans react to that.
able