2012 Presidential Election Predictions
The OTB gang give their best guess at the outcome of the 2012 presidential contest.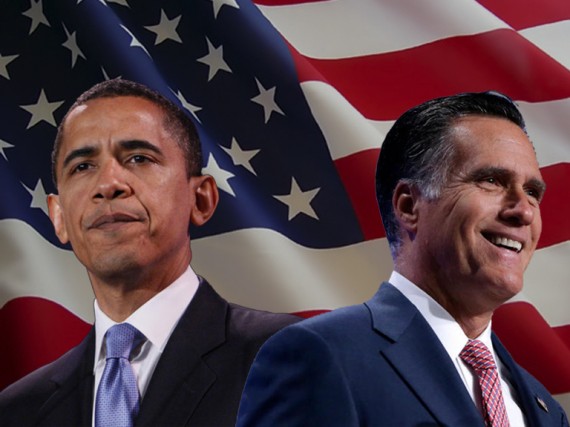 James Joyner (Obama 290, Romney 248):
Michael Barone issues a bold prediction: "Romney beats Obama, handily." A lot of Republican pundits are saying that, of course, but none whose opinion I hold in anywhere near the same regard. While Barone doesn't pretend to be an objective analyst—he's a Republican partisan and makes no bones about it—he's no Dick Morris. While his prediction is no doubt colored by his preferences, he's no hack. So, what's his thinking?
Fundamentals usually prevail in American elections. That's bad news for Barack Obama. True, Americans want to think well of their presidents and many think it would be bad if Americans were perceived as rejecting the first black president.

But it's also true that most voters oppose Obama's major policies and consider unsatisfactory the very sluggish economic recovery — Friday's jobs report showed an unemployment uptick.

Also, both national and target state polls show that independents, voters who don't identify themselves as Democrats or Republicans, break for Romney.
As such, he thinks almost all of the swing states will ultimately break for the challenger: Indiana, North Carolina, Florida, Ohio, Virginia, Colorado, Iowa, New Hampshire, Pennsylvania, and Wisconsin.   Only Minnesota , Nevada, Oregon, and Michigan  stay in Obama's column, if Barone is right. That would be a whopping 315 to 223 win for Romney. Barone acknowledges, "That sounds high for Romney." But, he points out, Romney "could drop Pennsylvania and Wisconsin and still win the election. Fundamentals."
On the other side of the ledger, we have Nate Silver, whose analysis as of Saturday morning has the race at 305 to 233 in the other direction. He has no narrative; he offers only math.
[T]he argument we're making is exceedingly simple. Here it is:

Obama's ahead in Ohio.

A somewhat-more-complicated version:

Mr. Obama is leading in the polls of Ohio and other states that would suffice for him to win 270 electoral votes, and by a margin that has historically translated into victory a fairly high percentage of the time.
Alas, while my heart (or, at least, my vote) is with Barone on this one, my head's with Silver. As unlikely as it may seem for an incumbent president to get re-elected when the economy is in such bad shape, public confidence in the future is so low, and the public has more confidence in the challenger than the incumbent to fix the economy, all of the reputable polling shows that's what's likely to happen. So, while there's a case to be made for a wave election that reverses all of the gains Obama made in 2008 and takes us back to 2004, there's just no evidence for it.
Yes, Mitt Romney enjoyed a huge surge after the first debate. But that just turned the race from a likely Obama landslide into one where Romney was likely to carry the swing states that are most historically Republican. It's even conceivable—if not particularly likely—that Romney will eke out a popular vote win but nonetheless lose the election. The bottom line, though, is that it's almost impossible for Romney to get to 270 without Ohio and I have zero reason to think that he's going to take Ohio.
Here's what the RealClearPolitics average looks like at the state level:
The only states that are particularly close—remember, this is a poll of polls, so the 3 point "margin of error" doesn't apply here—are Florida, Virginia, New Hampshire, Iowa, and Colorado.  At 2.6 points, it's possible Obama could lose Ohio; there's no reason to bet that way, though.
My home state of Virginia is the closest, with Romney holding a whisker thin 0.3 point lead. Given that the state has voted Republican in every presidential election in forever except for the 2008 perfect storm, I'm going to give it to Romney. [UPDATE (11/5): Virginia Now Leans Obama]
Similarly, I think Obama's 1.8 point lead in New Hampshire likely to hold up given that it almost always goes Democratic.
While North Carolina remains a technical toss-up, I've never thought Obama would take it again. I'm giving it to Romney.
I've always thought of Iowa as a solid Red state. But it's gone Democratic two of the last three presidential cycles and Bush just barely won it in 2004. Obama's 2 point lead holds.
Colorado looks to be the safest bet for a Romney pickup of a state leaning toward Obama. The president's lead is a measly one point and Bush took it twice, comfortably. But I'm betting the other way. Colorado just doesn't fit in with a Republican Party that's dominated by the evangelical South; it's a libertarian state but of the Oregon sort, not the Arizona sort.
If I'm right, then, the final map will look like this (I initially gave Romney a Maine elector on a hunch; but there's no polling data to support that and Maine has never actually split):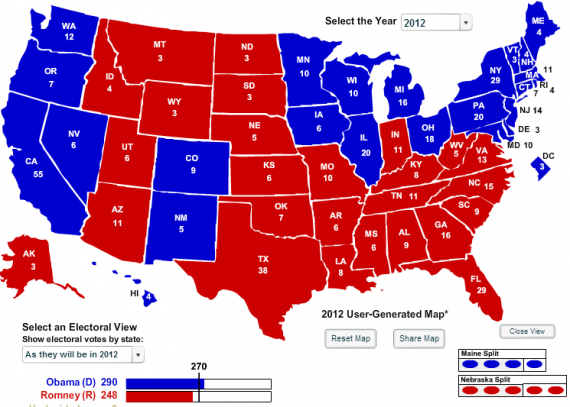 This gives Obama a pretty comfortable 20 Elector win. If Romney somehow won Ohio and the race otherwise turned out this way, Obama would still win 272 to 266. If, on the other hand, the race went exactly as I predicted but Virginia stayed in Obama's column (much more likely, incidentally, than Romney taking Ohio) Obama would win 303 to 235.
Doug Mataconis (Obama 303, Romney 235):
I agree with most of the picks that James has made here, so I'm  not going to go into too much detail discussing the states we agree about. I agree that Obama will likely win Ohio, Colorado, Nevada, New Hampshire, and Iowa based both on the polls themselves and on the fact that there are peculiarities in each of these states that make things a tough go for Romney to say the least. In Ohio, it's the auto bailout and the fact that the Obama campaign and the supporting SuperPACs spent the summer running anti-Romney, anti-Bain ads that clearly have had an impact on Governor Romney's likability with Ohio voters. In Nevada, it's the Latino vote and the fact that Democrats seem to have a strong presence in Clark County, which accounts for the largest part of the state's population. In Iowa, it's the Democratic edge in early voting. The one state that surprises me on this list is New Hampshire. I had expected Romney to do better there based on his ties to the state but that doesn't seem to be helping, All of these problems add up to the same extremely narrow path to victory that I have been writing about here since the late Spring. Even though he's surged in the national polls, Romney has not been able to break through in the state level polling and, unless you believe all those polls are wrong, they don't paint a pretty picture for Romney.
The one state we disagree on is the state we both live in, Virginia. The Old Dominion is so close at this point that you could essentially flip a coin and be just as likely to get the correct result, but, for me, this still feels like a state more likely to go for Barack Obama on Tuesday than Mitt Romney. Notwithstanding the Republican surge in the post-2008 statewide and Congressional elections, it seems clear to me that the President still maintains a strong level of support in the population centers of the state and, assuming his campaign can get those people to the poll, I think they'll push him over the top. Obama For America has been organizing here for the better part of a year, and they have more field offices than Romney does. I think they'll be able to pull it off, but it's going to be a lot closer than 20008.
So, here's my Electoral College Map: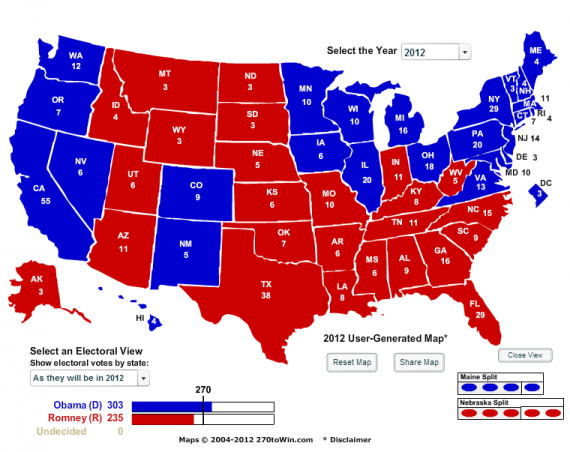 That's a final Electoral College margin of 303-235.
Steven Taylor (Obama 290, Romney 248):
I am afraid I have to be boring and post the same map as James did above: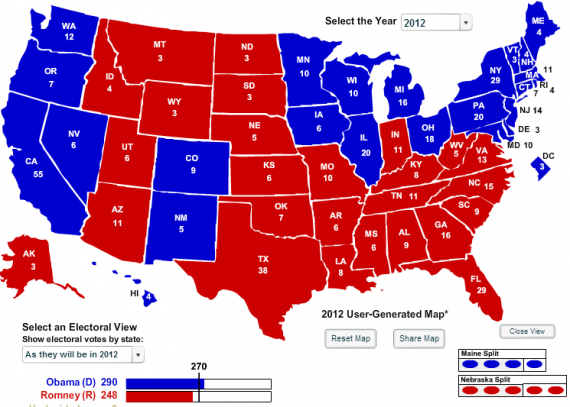 To add a little spice, however, I am going to have to say that while I used to consider Michael Barone a serious analyst, especially given his work with the Almanac of American Politics, I have to say that I think he has swerved into hacky territory in recent years.    He strikes me as a writer who has been captured by the fact that he writes and comments for clearly partisan outlets and he knows where his bread is buttered.  Maybe, too, if one is surrounded by folks with a particular point of view that one can't help but to start to see the world through that lens.  But I digress…
Back to the map:  initially I was going to give Colorado to Romney but in re-looking at the polls, they have been far more Obama-favoring than Romney-favoring, even if the favoring has been via a small margin.  The other states I have some uncertainty about are New Hampshire (but I think the steady polling trend coupled with history keep the state blue) and Virginia.  I think that there is a decent chance Obama wins Virginia, but since I have to pick one or the other, I think Romney has the better odds.
All of the swing state predictions are, of course, based on probabilities.  Many partisans and/or just the generally hopeful like to see small margins in polls and then point to MOE and call such races even.  While it is true that close races may be incorrectly giving the lead to a particular candidate, I would note that when a given candidate has a lead in a poll, even if it is within the MOE, the probability is that the candidate does, in fact, have the lead.  As Carl Bialik noted in the WSJ back in 2007:
when a candidate is in the lead in a properly conducted poll, there is a greater than 50% chance that the candidate leads in the broader population. How much greater than 50% depends on the size of the lead and the size of the sampling margin of error.
Further, when poll after poll shows a small lead for a given candidate, this further increases the odds that that lead is real (indeed, this is part of the point of Nate Silver's models and per-state predictions).  It is unlikely that, for example, Ohio is going to go Romney because while many polls are close, if not in the MOE, Romney has lead in only a handful of polls over time, and usually only in polls that are known to be biased in the GOP direction (e.g., Rasmussen and Gravis Marketing).   So, not only are the probabilities such that Obama is truly ahead in these polls, but that these results have been replicated in poll after poll increases that probability.  As the cliche goes, the only poll that matters is the one taken on election day, but it does seem that the probabilities in key states, as well as the number of states in question, mean that Obama is the favorite to win the election.
In terms of the popular vote, I am going predict Obama 50%, Romney 49% and Johnson will get less than 1%.
Dodd (Romney 282, Obama 256):
I will be the contrarian. While straining to avoid wishcasting, my projection is based on a simple bit of analysis: The two competing views of the makeup of the electorate that effectively cancel each other out to make the RCP Average a virtual tie cannot both be right. For the state polls to be right (especially in Ohio), Obama must generate a Democratic turnout advantage that meets or exceeds 2008.
That is extremely implausible. Independents have swung significantly to Romney, by double digits in some states. Romney voter enthusiasm is clearly higher than Obama's coalition. And Romney is doing a little bit better that Obama on crossover votes. Either Obama is sitting on an historic turnout advantage that's somehow hidden from every means of detecting it other than the sample weights of small sample size polls with incredibly loose Likely Voter screens or he's not.
As such, I see Romney taking this thing by a small margin. It's within the realm of possibility for Romney to win one more "battleground" state but I can't figure out which one it would be (I don't see him taking Pennsylvania–though if he does, it will be an early night). Were I forced to guess, I'd say Wisconsin is the next to flip given the last couple of years of its politics. I indulged the hunch and gave Romney the 1 EV in Maine that James backed away from but I won't be surprised if that doesn't actually happen.
Popular Vote (irrelevant though it is and should be): Romney 51-Obama 48.5.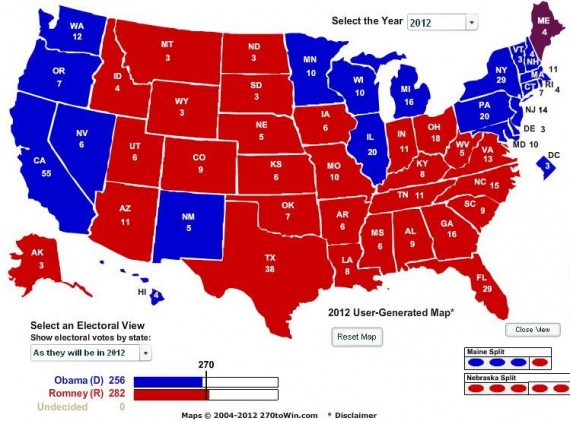 Dave Schuler (Obama 280, Romney 258):
Of the toss-up states Nevada, Colorado, Wisconsin, Michigan, Ohio, and Pennsylvania will be carried by Obama; Iowa, North Carolina, Virginia, New Hampshire, and Florida will be carried by Romney.
In the popular vote anything can happen. Romney might have a slight majority; Obama might have a slight majority. I seriously doubt that Obama will exceed his 2008 majority.
Obama will take commanding percentages of black and Hispanic voters and a majority of women but I suspect that Democrats will be disappointed with the percentage of eligible black and Hispanic voters who turn out to vote. A larger percentage of Hispanic voters actually turnout out in 2010 than turned out in 2008. I do not expect that to recur this time around but I think it's the demographically most interesting aspect of the 2012 election. Romney will carry a majority of white men and, possibly, a majority of white women.
There's one aspect of this election of which I believe we should remain aware. Most of us including myself who predict an Obama victory are also predicting a number of highly unusual events in American politics. We are predicting that a sitting president is re-elected with an unemployment rate above 7% and not trending downwards and we are predicting that a sitting president will be re-elected with fewer electoral votes than he first secured to be elected. That strongly suggests that this election will be one for the record books whatever the outcome.
________________
Others:
Dan Drezner: Obama 294, Romney 244 [map]
Radley Balko: Obama 290, Romney 248
Jamelle Bouie: Obama 303, Romney 235
Donald Sensing: Romney 274, Obama 264 (low); Romney 322, Obama 216 (high)
Bernard Finel: Obama 297, Romney 241 [map]
Daniel Larison: Obama 281, Romney 257
Dan Nexon: Obama 303, Romney 235
Ryan Lizza: Obama 303, Romney 235
Daniel McCarthy: Obama 294, Romney 244 [map]
Stephen Green: Obama 270, Romney 268
Bob Krumm: Romney 295, Obama 243