Romney Falling Behind In New National Polls
The most recent round of national polling seems to show that the negative attacks on Romney are having an impact.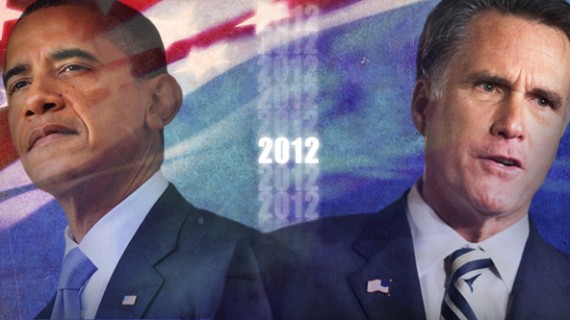 A new round of national polling is raising the question of whether or not President Obama is starting to open up a significant lead in the Presidential race as we sit here with just over two weeks before the political conventions start. While it is still "only August," with the Olympics winding down and the nation likely to start turning more attention to the 2012 race, these numbers will likely raise some concern among Romney supporters, because they appear to be showing that the summer-long strategy by the Obama campaign to define Mitt Romney, and Romney's concurrent failure to define himself positively as of yet, are having a real impact.
First up, there's an new CNN/Opinion Research Center poll that has Obama leading Romney by seven points:
Washington (CNN) - Mitt Romney's unfavorable rating is up, most Americans think the Republican presidential challenger favors the rich, and it appears the number of people who believe that the economy will not get better if Romney is elected has edged up slightly, according to a new national poll.

But a CNN/ORC International survey released Thursday also indicates that Romney's supporters are increasingly getting behind the presumptive GOP nominee.

It all adds up to a seven point advantage for President Barack Obama over the former Massachusetts governor, with 52% of registered voters questioned in the survey saying that they'd vote to re-elect the president and 45% backing Romney.

"Among independent voters, the poll indicates President Obama has a 53%-42% lead," CNN Polling Director Keating Holland said. "The president holds a nine point advantage among women voters and a smaller six point edge among men."

The good news for Romney: Four months after he wrapped up the race for the GOP nomination, 56% of Romney voters say they strongly support him, up from 47% in May. Sixty-one percent of Obama voters say they strongly support the president.

(…)

While Romney's favorable rating has remained steady (47% now compared to 48% in July), his unfavorable rating has jumped from 42% last month to 48% now. The president's 56%-42% favorable-unfavorable rating now is little changed from July.

Among independents, the poll indicates Romney's image has taken a beating. In May, only 40% of independents had an unfavorable view of Romney. Now, 52% of independents have a negative view of him.

Other findings: Sixty-four percent of all Americans, and 68% of independents, think Romney favors the rich over the middle class. And 63% of the public thinks Romney should release more tax returns than he has already made public, a figure which rises to 67% among independents.

"These are all signs that a summer of negative campaigning on the part of the Democrats seems to be taking its toll on the presumptive GOP nominee," says Holland.
Indeed they are. The extent of the damage that has been done to Romney this summer can be seen in the area where he has pretty much always excelled over Obama, the idea that he would be better to handle the economy because of his business experience. In nearly all previous polling Romney got high marks on that question, but there are signs that he's losing ground on what really is his signature advantage over Obama. In this new poll, 45% of American say that they believed the economy would get better if Romney were elected. That's down from 50% three months ago and, more importantly, it's two points below Obama's score on the same question. If Romney is losing ground on the entire basis for his campaign, that's a sign of potentially serious trouble going forward.
Following on the heels of the CNN poll, there's a new Fox News/Opinion Dynamics poll that has Obama up eleven points over Romney, and Romney's numbers slipping:

Mitt Romney has had a tough couple of weeks on the campaign trail — and it shows in the latest Fox News poll. After a barrage of campaign ads, negative news coverage of his overseas trip and ongoing talk about his tax returns, Romney's favorable rating and standing in the trial ballot have declined. As a result, President Obama has opened his biggest lead since Romney became the presumptive Republican nominee.

The president would take 49 percent of the vote compared to Romney's 40 percent in a head-to-head matchup if the election were held today, the poll found. Last month, Obama had a four percentage-point edge of 45 percent to 41 percent. This marks the second time this year the president has had a lead outside the poll's margin of sampling error.

Obama's advantage comes largely from increased support among independents, who now pick him over Romney by 11 percentage points. Some 30 percent of independents are undecided. Last month, Obama had a four-point edge among independents, while Romney had the advantage from April through early June.

There was also an uptick in support for Obama among women, blacks and Democrats.
As with the CNN poll, and numbers I noted earlier this week from ABC and The Washington Post, the Fox poll also shows Romney losing ground on favorability, an indication that two months of negative campaigning without any real response has been working:
Romney's favorable rating dropped six percentage points since last month and now sits at 46 percent, down from 52 percent in mid-July. At the same time his unfavorable rating went up five points. Romney's favorable rating has held steady among his party faithful, but it's down eight percentage points among independents and seven points among Democrats.

Overall 54 percent of voters have a positive view of Obama, matching his highest favorable rating in more than a year. Last month, it was 52 percent. Obama's current rating is nearly as high as four years ago, when 59 percent viewed him positively.
Additionally, Romney's polling advantage over Obama on economic issues has slipped to the point where it is now within the margin of error.
These aren't the only polls that show Obama seeming to open up a lead in the last several week. A new Reuters/Ipsos poll has Obama leading Romney by seven points, although unfortunately this poll does not seem to have polled on favorability. The Pew Research Center, meanwhile, has Obama leading Romney by ten points, and shows Romney's unfavorable rating at 53% while his favorable number is only at 37%. As Pew points out, Romney has the lowest pre-Convention favorable rating of any Presidential candidate going back to 1988 (and I'd bet you could go back to 1984 and 1980 and you'd find Romney's score was still the lowest.)  Going back a little further, the NBC/Wall Street Journal [PDF] conducted in mid-July had Obama up six point on Romney with Romney upside down on his favorable/unfavorable numbers like we've seen in the other polls. The polls that aren't in line with these numbers are the Democracy Corps poll [PDF] and the Gallup Daily Tracking poll, which both have Obama up but within the margin of error, and the Rassmussen Tracking poll which has Romney up by 4.
That leaves the RealClear Politics average at +4.4 in Obama's favor, and with a chart (going back to January 1st) that shows a trend that should worry the guys in Boston: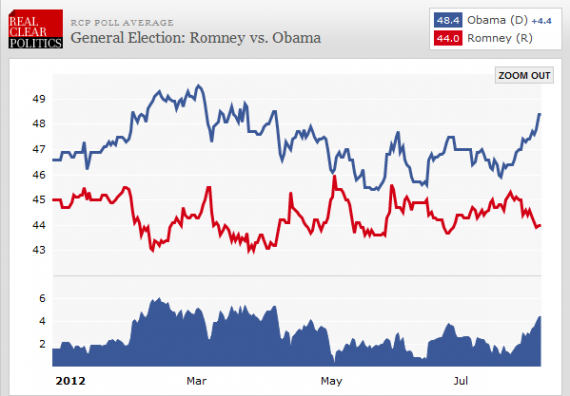 While all polls are just a snapshot and it's certainly possible that, between the VP pick and the Republican Convention, Romney will be able to turn these numbers around before campaigning begins in earnest after Labor Day, there's no denying that the trend for the past month or so has not been in Romney's favor. Given the state of the economy, and the fact that pretty much all of these polls consistently show that voters remain pessimistic about the state of the nation and the direction of the economy, one would think that Romney should be leading Obama at this point. The only explanation for why he isn't is the fact that Romney's negative favorability numbers are dragging him down even the midst of a struggling economy that should be working to his advantage. As I noted last week, it has happened mostly because Romney has let his opponent define him for the past month or more and has undertaken little effort to define himself. The one event that was supposed to have been a net plus for him, his foreign trip, turned out to generate coverage mostly for the minor gaffes he or his campaign aides committed than anything else. Now, as we head into what should be the two biggest political weeks of the Romney campaign, the question is whether they're going to be able to redefine the candidate in a positive enough light to give him the kind of momentum he needs to make a credible push for victory and at least keep the race close until the debates start in October.
The other big problem Romney has is that he's falling behind Obama with independents, as we saw in the polls noted above. That's a crucial voting bloc in pretty much every swing state, and we've already started to see signs that Romney is, if not falling behind at least failing to make up ground in most of the swing states that have been polled recently. If that continues, that's a problem.
NBC's First Read suggests that Romney's current polling problems may cause him to change the calculations going into the selection of a running mate:
All this raises the stakes for Romney's VP pick and convention. We've said August is important for Romney to make a move,and that's even truer now. He enters what could be the final week of VP speculation. We're in any-day mode with his running mate selection. And he's at a point where the running-mate selection, which will change the subject from whatever's being talked about, is going to be made when Romney's behind, making it more defining than perhaps he ever wanted it to be. The conventional wisdom had been that Romney was going to be picking a running mate in a coin-flip race. Well that's not the case now. How does that change his mind? Does it help Paul Ryan? Does Romney go outside the short list and go somewhere else (Rubio, Christie?). The bottom line is in just three weeks, he was going to be picking his running mate from a position of strength (and perhaps that favored a guy like Tim Pawlenty, meaning he could pick a partner and a friend). Now, he's picking one from a position of weakness.
It all looks quite gloomy for Romney, but Nate Silver suggests that the campaign should not necessarily freak out over these results:
In the late stages of the campaign — the final six weeks or so before the election — it's worthwhile to be reasonably (but not excessively) aggressive. More and more voters will be paying attention to the campaign, and making up their minds once and for all about whom they're going to vote for. Polling gets more accurate as you get closer to the election, but the trend is not linear: it gets a little bit more accurate throughout the summer months, but then a lot more accurate within these final six weeks.

Right now, however, it's better to be quite conservative. A poll released on Aug. 9 is just not going to be all that much more informative than one released on July 9, especially if there haven't been major intervening news events during the period. The trendlines you see at some other Web sites are probably fluctuating upward and downward much more than they should.

Loess regression is a fairly "smart" method, and even a conservative application of it could still potentially perceive a shift in the polls in the summer. Certainly, if the national tracking polls had also shown a shift toward Mr. Obama, we would be seeing some fireworks in the model right now.

Even then, however, national polls are just one of the things you should be looking at to make an election forecast. The other critical factors are state polls and the economic numbers. Our model hedges against the national polls by combining the state polls with them, and then also, hedges against the polls in general by combining them with our economic index. Of these three things, the national polls probably have the least influence on the forecast at this stage of the campaign.

To be clear, the model has shown a favorable trend for Mr. Obama lately. His chances of winning the Electoral College rose to 73.3 percent on Wednesday, a new high. His projected margin of victory over Mr. Romney in the national popular vote, 2.8 percentage points, is also a new high.

But the shift is more because the consensus of evidence has been slightlyfavorable to Mr. Obama than any one piece of evidence pointing toward a major inflection point in the race.
Silver has a point, of course. We are still relatively early in the race. Two of the biggest potential game changers, the political conventions, are weeks away and, like 2008, they will be held back-to-back after which the candidates will go straight into post Labor Day campaigning. The debates are two months away. Between all of that,  there will be plenty of things that can potentially change the shape of this race on a dime like the collapse of Lehman Brothers changed the nature of the 2008 race in mid-September, making an Obama victory inevitable. There are economic statistic yet to come out, and every indication that they will continue to show the same at-best stagnant economy we've seen since April. Gas prices are starting to rise thanks both to rising oil prices and a refinery fire in California. Food prices are rising thanks to a drought that is reducing the supply of usable corn and other food staples. Any one, or all, of these could change the nature of the race inside of a few days.
Nonetheless, it has been a troubling summer for the Romney campaign, and they've got some work to do if they're going to get back in fighting shape. The VP pick is going to have to end up being essentially flawless, there's no room this time for a "Game Changer" pick like Sarah Palin (although Romney doesn't strike me as someone who would be the kind of risk taker McCain was four years ago). That's why I still think we're likely to see someone who's been tested and seasoned like Tim Pawlenty or Rob Portman, with Portman more likely because of Ohio. Despite all the hype we're hearing this week, I don't think the Paul Ryan talk is going to go anywhere for the reasons I discussed yesterday. If Romney does take a risk, it's going to be with someone like Bobby Jindal who has been in Congress, an Assistant Secretary in Cabinet Departments at the Federal and State level, the President of the University of Louisiana, and Governor since 2008.  After the VP pick, Romney needs a flawless convention that packages his candidacy and sets the tone for the next three months, and it too needs to basically be flawless. In that last regard, at least it appears as though they'll be keeping people like Michele Bachmann, Herman Cain, Donald Trump, Ron Paul, and Sarah Palin off the convention dais (although I think it's still possible Palin will end up speaking.) Basically they need to do something to combat those negative favorability numbers because, if they don't, then it's going to be a very tough time between September and November 6th.