One Year Later, Trump's Job Approval At Historic Lows
One year after his Inauguration, Donald Trump is the most unpopular new President since the invention of modern polling. However, his numbers are generally the same that they've been for some time now.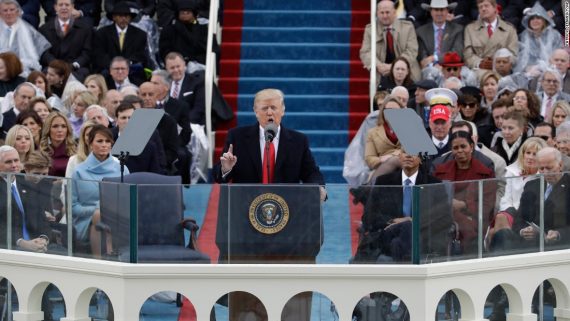 With the first anniversary of Donald Trump's Inauguration just a day away, a series of new polls shows that he remains the most unpopular incoming President in the history of modern polling:
Two new polls released Thursday show President Donald Trump's approval rating at 37% nearly one year into his presidency.

In a CBS News poll, Trump stands at 37% approval to 58% disapproval, while an NPR/PBS NewsHour/Marist poll finds him at 37% approval with 53% disapproval and 10% unsure.

According to the NPR/PBS/Marist poll, 53% of Americans see Trump's first year as a failure, and 61% believed he is doing more to divide the country than unite it.

Trump receives the most praise for his handling of ISIS and the economy.

In the NPR/PBS/Marist poll, 48% of Americans approve how the Trump administration has handled ISIS, 44% say the economy has improved since Trump took office and 18% say it has gotten worse.

The CBS poll also finds 67% saying the economy is in good shape, with 71% of individuals within that group also saying Trump's policies are at least partially responsible for that situation.

Aside from the economy, however, the CBS poll finds mostly negative reviews of Trump's job so far: 53% overall say he's been a "poor President," more say he's weakened the US position in the world than strengthened it (49% to 32%), and 55% say that under Trump, the country has been "mostly losing" at things it tries to do.
The results are similar in a poll conducted by Harvard University and Harris:
President Trump's job approval rating is stuck near its low point in a new survey.

The latest Harvard CAPS/Harris Poll finds that 42 percent of voters approve of the job Trump is doing, while 58 percent say they disapprove.

That's up one point over the same poll in December, when Trump logged his second straight month at 41 percent, the low point for his presidency in the Harvard CAPS/Harris Poll

The polling firm Gallup has reported that Trump ended his first year in office with the lowest average approval rating for a first-term president in history, at 39 percent.

Among polls conducted in January, Trump's job approval rating has ranged from a low of 35 in an IBD-TIPP survey to a high of 45 percent in a survey conducted by the right-leaning outlet Rasmussen.

The Harvard CAPS/Harris Poll found that 83 percent of Republicans approve of the job Trump is doing, but he is dragged down by independents, at 41 percent, and Democrats, at 10 percent.

The president's favorability rating is lower than his job approval rating, at 39 percent positive and 58 negative.

A majority approve of Trump's performance on jobs, the economy and terrorism. But the president is underwater on immigration, foreign affairs and administering the government.

"Trump is doing remarkably well as a steward of jobs and the economy but that has only slightly lifted his overall approval numbers, given all of the verbal battles with the media and the Democrats," Harvard CAPS/Harris Poll co-director Mark Penn said.

"No question that the poll shows a lot of support for his policies and performance but his use of Twitter and personal style of running the government is still seen as holding him back."

Sixty percent of those surveyed said they disapprove of Trump's handling of North Korea.
Finally, a new NBC News/Wall Street Journal poll finds Trump with some of the lowest numbers he's ever gotten in that survey:
Just 39 percent of Americans approve of the job President Donald Trump is doing in office, a new NBC News/Wall Street Journal poll released Friday shows, the latest in a string of surveys showing Trump with historically low poll numbers one year into his first term.

Trump's 39 percent approval rating is the lowest such number the poll has found for any modern president after one year in office, NBC News reported. The president's approval rating dipped 2 points, from 41 percent, relative to last month's NBC/Wall Street Journal poll.

After successfully shepherding a package of tax cuts and reforms into law last month, Trump's administration has been mired in controversy for much of January thus far. He reportedly referred to certain Caribbean and African nations with a vulgar term during bipartisan negotiations over immigration policy and the government, controlled by Republicans in both houses of Congress and the White House, is on the verge of a possible shutdown if funding legislation is not passed Friday.

Fifty-seven percent of respondents said they disapprove of the president's job performance, including 51 percent who said they "strongly disapprove." Seventy-eight percent of Republicans said they approve of Trump's job performance, but the president failed to clear 50 percent with any other demographic group. Forty-six percent of white respondents and 45 percent of male respondents said they approved of his handling of the presidency, while just 33 percent of women, 26 percent of Hispanics and 8 percent of African-Americans said the same.

Asked about the president's accomplishments during his first year in office, 20 percent said the state of the economy and low unemployment were Trump's greatest successes, followed by "putting America first," which was the choice of 13 percent of respondents. Ten percent each said the president's recently signed tax legislation and military successes against Islamic State militants.

Thirty-seven percent said none of the listed accomplishments elicited positive feelings about Trump.
Looking at the polling averages, we see pretty much the same story. In the RealClearPolitics average, Trump's job approval stands at 39.8% approve and 55.4% disapprove. On the economy, meanwhile, his numbers stand at 49.6% approve and 45.2% disapprove, a marked difference from his job approval generally that is most likely due to the fact that the economy over the past year has remained strong although not significantly different from how it was performing in the final years of Barack Obama's Presidency. Trump doesn't do so well when it comes to foreign policy, though, with the public grading him at 39.5% approve and 55.5% disapprove. In the Pollster average, Trump stands at 41.5% approve and 54.5% disapprove. In a partisan breakdown, Pollster continues to show that an overwhelming majority of Democrats disapprove of the President and an overwhelming majority of Republicans disapprove. Among, self-described Independents, meanwhile, Trump's numbers are worse than they are among the population as a whole, with 36.6% approving of the job he's done and 55.2% disapproving. Finally, FiveThirtyEight's job approval index puts Trump's numbers at 39.6% approve and 55.1% disapprove.
As the chart from RealClearPolitics shows, the trend has been relatively consistent for Trump since the beginning of his Presidency, with a majority disapproving of his performance but Trump still maintaining a floor that ranges from about 37% to 40%: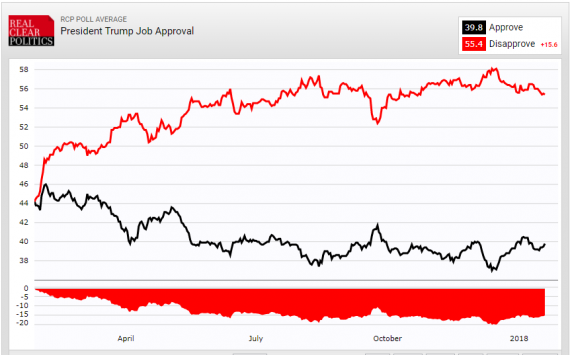 Harry Enten at FiveThirtyEight looks at Trump's numbers compared to past Presidents:
Based on approval ratings one year into a first term, Trump is the most unpopular president since at least Harry Truman (as far back as we have data).

Trump's approval rating is 22 percentage points lower than the average modern president's. Meanwhile, his net approval rating (approval rating minus disapproval rating), -15 percentage points, makes him the only president in negative territory one year through his first term. Trump's closest precedent is Gerald Ford, who had a net approval rating of just +5 points one year in.

Of course, Trump's historical unpopularity has been true for a while. His approval rating started in the mid-40s (still his high-water mark), dropped as low as the mid-30s, and has rebounded to somewhere in between. He's abnormally unpopular for a first-year president, but the movement in his approval rating has been pretty normal. Back in July (about six months into his presidency), Trump was an unpopular president whose approval rating had experienced an average drop from the term's beginning to its halfway mark. That's still true: Trump is an unpopular president whose approval rating has moved a roughly average amount from the halfway mark of his term to now.

Excluding Trump, the average president since Truman saw his approval rating rise by less than a point from halfway into his first year through the end of it.
Backing up his conclusions, Enten provides this chart comparing Trump's performance in the polls in his first year with every President dating back to Harry Truman: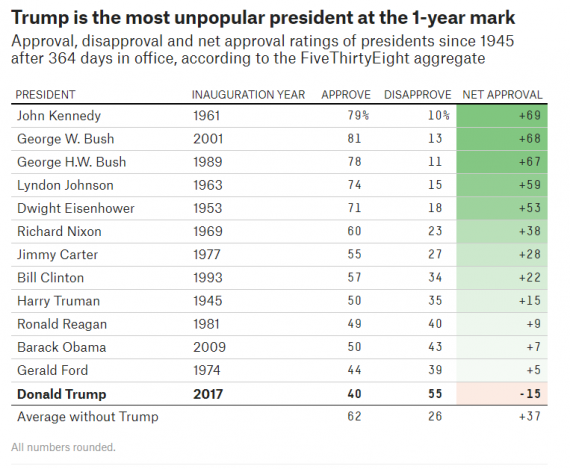 At the same time, it's worth noting that Trump's numbers have not changed significantly over the past six months, which puts him in about the middle of the back compared to President's going back to Truman: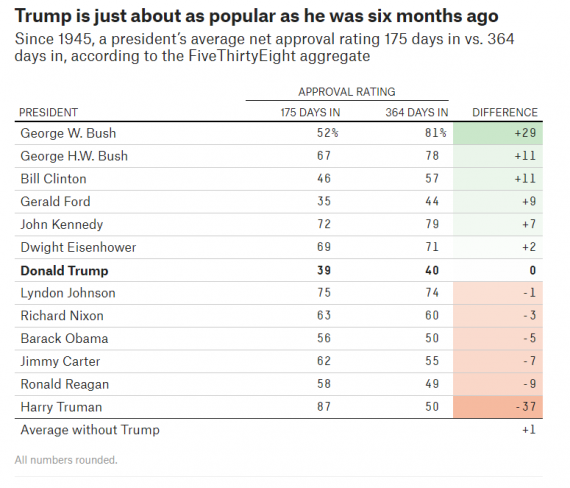 As Enten notes, one could wonder why it isn't the case that Trump's numbers aren't worse than they are today given the fact that there has been so much controversy and so many problems with his Administration in general and the fortunes of his agenda, whatever that might be, on Capitol Hill in particular. Part of the reason for that, I think, can be found in the fact I noted above that Trump's numbers have generally speaking stayed within roughly the same range for the past year. This suggests that while there are a lot of people who disapprove of the President, there's a substantial plurality who support him and seem unlikely to waiver from that position for the time being. Additionally, as I note above the vast majority of self-identified Republicans support Trump and think he's doing a good job. This number is likely helping to maintain the floor in the job approval that Trump has enjoyed over the past year, and that floor will remain as long as this partisan position continues to be the case. For his part, Enten raises these points:
For one, there are factors exerting upward pressures on Trump's rating — important ones. The economy, for example, is doing quite well by most measures. In fact, it's notable that Trump is as unpopular in this economic environment.
Secondly, presidents' approval ratings tend to revert toward 50 percent over the long term. Given that Trump started his term with an approval rating that was below 50 percent, there might be a natural force pulling his rating up. The two presidents who had approval ratings below 50 percent halfway through their first year in office (Ford and Bill Clinton) each saw at least 9-point increases by the end of that year. Meanwhile, the presidents who had an approval rating of 50 percent or higher halfway through their first year in office suffered, on average, a 1 point decline. Those with an approval rating of 60 percent or higher halfway through their first year in office suffered, on average, a decline of 4 points.

No matter how you look at it, the verdict one year into Trump's tenure remains the same as it was halfway in: He is an unusually unpopular president who is doing worse than you'd expect based on the presidencies that preceded his.

The big question is whether the recent climb in Trump's approval rating will continue. Maybe his popularity will start tracking more closely with where the strong economy suggests it should be. Or maybe the recent upswing for Trump and Republicans is merely a blip and his approval rating will drop back into the mid-30s. The midterms — and control of Congress — could be riding on the answer.
As things stand, it does not appear that the overall trend for the President will change anytime soon. Absent something extreme, it seems unlikely that he will either suddenly become more popular than he already is or that he will somehow lose the support of his base. Unless and until that happens, though, we're likely to stay within the range we've seen for most of the year for the time being.