Trump Hits Another Job Approval Low As Presidency Marks 75th Day In Office
Two new polls show Donald Trump hitting new lows in the polls as we get closer to his 100th day in office.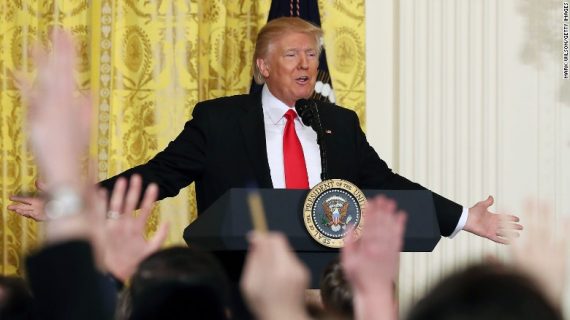 A new poll shows Donald Trump's job approval hitting another new low as his Administration marks its seventy-fifth day in office:
President Trump's approval rating has tumbled 11 points since March, according to a new poll released Monday.

Thirty-four percent of Americans approve of Trump's job performance in the latest Investor's Business Daily (IBD)/TechnoMetrica Institute of Policy and Politics (TIPP) survey.

Fifty-six percent disprove of Trump's showing instead, and Monday's results mark an 11-point drop in Trump's approval rating since the president's 45 percent last month in the same poll.

"As his ambitious agenda encounters some obstacles in Congress, President Trump's approval ratings have declined," said Raghavan Mayur, president of TechnoMetrica and director of the IBD/TIPP poll.

"For instance, the inability of Congress to pass the proposed healthcare bill has weighed down Americans' approval of Trump's overall performance as president," he added, citing last month's defeat of the GOP's American Health Care Act (AHCA).

Monday's results found that 49 percent say Trump's leadership is weak, contrasted by 35 percent who believe it is strong.

Thirty-nine percent are satisfied with America's direction under Trump, an 11-point decrease from 50 percent in IBD/TIPP's February survey.

Twenty-five percent said the AHCA would have improved the U.S. healthcare system, with 50 percent saying ObamaCare is sustainable if left alone and 48 percent believing it is not.
A new Quinnipiac poll shows even worse numbers for the Trump Presidency:
American voters give President Donald Trump a negative 35 – 57 percent job approval, with negative approval among men and white voters, leaving him below former President Barack Obama's worst approval rating, a negative 38 – 57 percent in 2013, according to a Quinnipiac University national poll released today.

Today's job approval rating compares to a negative 37 – 56 percent approval rating in a March 22 survey by the independent Quinnipiac (KWIN-uh-pe-ack) University.

President Trump is behind among key elements of his base:

Men disapprove 51 – 39 percent;
Republicans approve 79 – 14 percent;
White voters disapprove 48 – 43 percent.

Disapproval is 63 – 31 percent among women, 91 – 6 percent among Democrats, 57 – 32 percent among independent voters and 77 – 16 percent among non-white voters.

American voters' opinions of some of Trump's personal qualities are mostly negative:

61 – 34 percent that he is not honest;
55 – 40 percent that he does not have good leadership skills;
57 – 39 percent that he does not care about average Americans;
66 – 29 percent that he is not level-headed;
64 – 33 percent that he is a strong person;
60 – 35 percent that he is intelligent;
61 – 34 percent that he does not share their values.

"President Donald Trump continues to struggle, even among his most loyal supporters. Many of them would be hard pressed to see even a sliver of a silver lining in this troubling downward spiral," said Tim Malloy, assistant director of the Quinnipiac University Poll.

"President George W. Bush, who hit a negative 28 – 67 percent on May 14, 2008, had less support, but it took eight years, two unpopular wars and a staggering economy to get there."

American voters say 55 – 39 percent that President Trump is keeping his campaign promises.

But 52 percent of voters say they are embarrassed to have Trump as president, while 27 percent are proud and 19 percent don't feel either emotion.
Looking deeper into the poll, voters also disapprove of the way the President is handling specific issues, with 61% disapproving of his handling of environmental issues while just 29% approve. On the economy, where Trump's numbers have been generally positive in the past, 48% of Americans disapprove of his handling of the economy while just 41% approve. On foreign policy, just one-third of Americans approve of Trump's job performance in dealing with America's overseas issues while 58% disapprove, On terrorism, 49% disapprove of Trump's job approval while 42% approve. On health care where Trump is the poll finds 64% disapproving of his job performance while 28% give him a positive rating. Finally, on what some would say is Trump's signature issue from the time he entered the campaign going forward, 57% disapprove while just 39% approve. It is only in health care where Trump is getting positive reviews, with 64% approving of his job performance while 28% give him a negative rating.
As it stands, Trump's job approval numbers are the worst that we've seen for a new President since modern polling began after World War II, and it only seems to be getting worse. The trend began shortly after Trump took office on January 20th when, as I noted, his approval ratings after just ten days in office were decidedly negative even after taking into account the fact that he lost the popular vote. At the time, I argued that it was far too early to tell if this was just a reflection of a closely fought election or something bigger. Part of that answer came less than a week later when Trump officially hit a record low in job approval for incoming Presidents, and it only got worse by the time we got to the end of February. A month later, the numbers were looking even worse and that was before the Trump Administration and Congressional Republicans tried and failed to pass a bill aimed at repealing and replacing the Affordable Care Act.
Looking at the polling averages, the depths to which Trump has fallen are even more apparent, except when it comes to one particular group. At RealClearPolitics, Trump's average stands at  39.8% approve and 53,3% disapprove, meaning that he has crossed the under-40 threshold that typically marks the point at which an Administration and his party should really start panicking over their political future. At Pollster, his numbers stand at 40.3% approve and 55.6% disapprove, but it's when we look at the breakdown by party identification that we start to see why Republican politicians have yet to distance themselves from the White House. Among Democrats, of course, Trump's numbers are predictably bad, with 85.2% disapproving of the job the President is doing and just 11,4% approving. Among Independents, the split is about the same as the population as a whole, with 36.4% approving of the President and 54,9%  disapproving. Among Republicans, though, Trump seems to be doing no wrong, with 82.1% approving and just 12,9% of Republicans disapproving.
The RealClearPolitics chart shows just how precipitous the trend has become for Trump:
Given what we've seen from Washington, it's unlikely that we'll see the Trump Administration change behavior any time soon. If anything, we can expect nothing more than a continuation of the same behavior that we've seen over the past two and a half months, meaning that Trump's number are likely to continue to fall or at least stay negative for the foreseeable future. What that means going forward, though, is unclear. With Republicans controlling Congress, it's really up to them to decide how far Trump is able to get and so far they're doing very little to stop him. A big part of the reason for that can be seen in the poll numbers I posted above. While Trump is unpopular almost completely across the board, he remains very popular among Republicans. This means that Republicans who stand up against him risk a primary challenge next year. Because of that, you're seeing even the kind of conservatives who would ordinarily oppose a guy like Trump remaining largely quiet. The only way they're likely to turn around is if and when Trump's approval among Republican votes start to turn negative, or at least until his numbers among Independents become even more negative than they already are. Until that happens, you can expect Congress to line up behind Trump fairly reliably. Whether that's in their long-term interest, of course, is another question.
Note: This post was updated to fix errors regarding the findings of the Quinnipiac Poll with respect to the environment and health care.