Trump Job Approval Improves Slightly, But It's Still Historically Low
President Trump's job approval numbers remain historically low.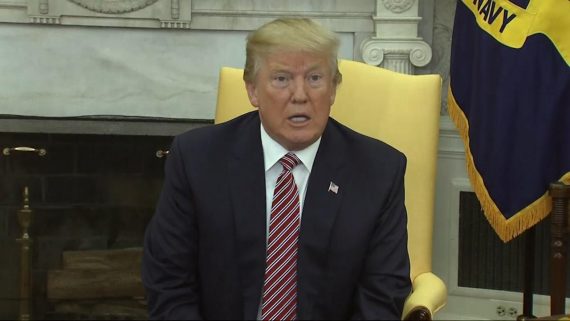 Two new polls released this weekend show that President Trump's job approval numbers have improved somewhat from their most recent lows, but the numbers are being spun in slightly different directions.
The first poll, from ABC News and The Washington Post, shows Trump's job approval number has improved somewhat from where it was the last time the poll was taken, but hardly shows a vast improvement:
Trump's approval rating stands at 40 percent in a new Washington Post-ABC News poll, slightly more than his 36 percent approval rating when last measured in January. It's also the highest he's enjoyed in Post-ABC polling since his first 100 days in office.

Over half, 56 percent, disapprove of Trump.

Americans have sharply diverging views of Trump's handling of the economy and of the president as a person: 46 percent approve of Trump's handling of the economy while 48 percent disapprove, which has not significantly changed from last fall.

By contrast, 61 percent say they have an unfavorable view of Trump "as a person," with almost half saying they are "strongly unfavorable." Just under a third, 32 percent, view Trump favorably on a personal level.

(…)

Overall, Trump has gained ground in approval among several demographic groups that were important in his 2016 campaign. For one, 59 percent of Americans living in rural areas now approve of his job performance, up 17 points from January and a smaller seven points from last November. Among white rural Americans specifically, his approval is even higher: 65 percent approve, up from 50 percent in January.

Trump garners above-water approval among whites, 53 percent of whom approve of the president, up seven points from January. He does even better among whites without college degrees (60 percent, up seven points) and white men without college degrees (70 percent, up six points). Almost three-quarters of conservatives approve of the president in the latest poll, 74 percent, up nine points from January.

Trump continues to face overwhelming disapproval from an array of other groups, including 79 percent of racial and ethnic minorities, 67 percent of adults under age 30, and 64 percent of women. Nearly 9 in 10 Democrats and more than 8 in 10 liberals also disapprove of Trump.

The question of favorability as a person was also asked of Presidents George W. Bush and Bill Clinton during their presidencies. Bush fared best, with more than 6 in 10 reporting favorable personal impressions of him during his first year in office. Clinton's personal image was far worse when first tested in a 1998 Post-ABC poll amid the Monica Lewinsky scandal; 54 percent said they had an unfavorable view of the president. Negative personal ratings for Clinton peaked at 67 percent in 1999, higher than Trump's current 61 percent mark, though his image recovered somewhat after leaving office.
By contrast, a new poll from NBC News and The Wall Street Journal finds that the President's approval rating has declined since the last time the poll was taken and that Trump's numbers among several key demographic groups continue lean negative:
The NBC/WSJ poll also finds Trump's job-approval rating among all adults at 39 percent — down four points from last month. Fifty-seven percent say they disapprove of the president's job performance

Looking inside those numbers, Trump's job rating stands at 79 percent among Republicans (down from 84 percent last month), 46 percent among whites (down 4 points), 45 percent among men (down 5 points), 38 percent among independents (down 7 points), 36 percent among those ages 18-34 (up 5 points), 34 percent among women (down 1 point) and 7 percent among Democrats (down 3 points).

There's also a significant difference in intensity: 44 percent of Americans say they "strongly disapprove" of Trump's job, versus 22 percent who "strongly approve, which is essentially unchanged from March.

"2018 is shaping up as a referendum on President Donald Trump," said Hart, the Democratic pollster.

Indeed, 40 percent of voters in the poll said their 2018 vote in November would be a message that more Democrats are needed to check and balance Trump and congressional Republicans. That's compared with 28 percent who said their vote would be a message that more Republicans are needed to help Trump and the GOP pass their agenda.

Twenty-nine percent of voters said their 2018 vote would be a different message than the other two options.

Meanwhile, a plurality of Americans — 37 percent — say that the indictments and guilty pleas arising from special counsel Robert Mueller's Russia investigation suggest potential wrongdoing by Trump himself.

Twenty-five percent of respondents say the guilty pleas and indictments suggest wrongdoing by just those individuals.

And 36 percent — including four-in-10 Republicans and nearly half of independents — don't know enough to say either way, suggesting that a large portion of the country hasn't made up its mind on the Russia investigation.
As a preliminary matter, it's worth noting a few of the differences between the two polls. The most prominent of those is the fact that the "most recent" ABC/Washington Post poll prior to this one was taken back in January while the most recent NBC/Wall Street Journal poll was taken in March and just a bit over a month after the poll that was released today. This is important because the spin on the Washington Post poll that it is an increase over where the poll was the last time it was taken leaves out the fact that there is a nearly three month gap between the two polls that arguably failed to capture much of the variation that has taken place in Trump's approval numbers since the start of the year. Additionally, there are at least some differences in the samples that these two polls use that likely account for some of the differences. Finally, of course, there's the fact that, in the end, there really isn't a statistically significant difference between a 39% approval rating and a 40% approval rating and, in any case, both of them are historically low for nearly every President since World War II at comparable points in their Presidencies.
Looking at the polling averages, we find that the numbers haven't really changed significantly from where they were the last time we looked. The RealClearPolitics average, for example, puts the President's job approval number at 42.5% and his disapproval at 54.1%. This number includes both the ABC/WaPo and NBC/WSJ polls as well as polling from The Economist, Reuters, Quinnipiac, and Gallup, all of which put the President's approval in a range from 39% to 42% and his disapproval between 52% and 58%. The two apparent outliers included in the current RCP average come from Rasmussen and Harris, which put the President's job approval at 50% and 44% respectively. Turning briefly to specific policy areas, Trump's numbers are actually positive when voters are asked about the President's job performance related to the economy, with an average of 48.3% approving of the job he's going and 45.5% disapproving. On foreign policy, though, Trump stands at 40.2% approval and 54.0% disapproval. As the chart of his overall approval/disapproval number shows, though, the overall trend has been rather stable: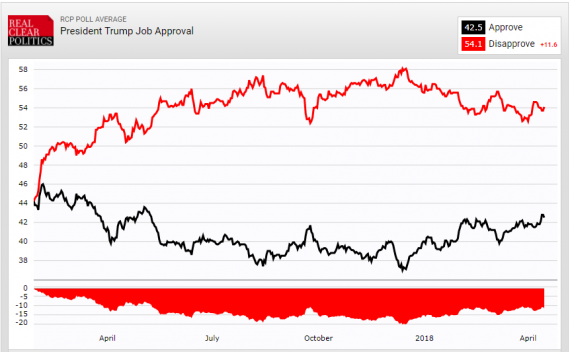 In the Pollster average, Trump's numbers look roughly the same with his job approval at 42.5% and his disapproval at 52.6%. Looking deeper into those numbers, we continue to find that an overwhelming number of Democrats disapprove of the President's job performance while an overwhelming number of Republicans approve. Among Independents, meanwhile, the President continues to perform worse than he does among the population as a whole, with just 35.2% approving of his job performance while 57.5% disapprove. This last number suggest possible trouble ahead for the President that is being masked by the fact that his approval among Republican voters is so overwhelmingly high. Finally, the FiveThirtyEight average, which is weighted based on several factors including pollster rankings, Trump's approval stands at 40.6% and his disapproval stands at 53.8%.
As I've said before, President Trump's job approval numbers remain at levels that are historically low for a newly elected President at this point in his Presidency. While many President's have seen their numbers decline as they enter their second year in office, none in recent memory have had numbers this low. More importantly, none have seen their numbers this consistently low from virtually the first day that they took office. While this doesn't necessarily tell us where things might be a year or more from now, it certainly doesn't portend well for a President that has faced difficulties from the start and who doesn't seem to be doing a very good job of winning friends or influencing people.
Notwithstanding all of that, the President's predicament isn't necessarily as bad as the numbers would seem to indicate. From the start of his Presidency, the President's poll numbers have largely fluctuated between the low 40s and the high 30s. This isn't entirely inconsistent with where he ended up in the popular vote in the 2016 election, where he ended up garnering 45.89% of the vote compared to 48.02% for Hillary Clinton. With those numbers in mind, a job approval number near 40% seems to be a fairly strong indication that the President continues to maintain the support of most of the people who voted for him, and while that may not be enough to garner a majority of the vote it could be enough to maintain a plurality that makes it hard to argue that he's really losing support to a significant degree. As long as that's the case, it's unlikely that we're going to see him change course or change his rhetoric. Trump's base is staying loyal to him and as long as that's the case he's not going to change.