Bad News For GOP As Trump Job Approval Dips To New Lows Ahead Of Midterms
With less than two months to go before the midterm elections, President Trump's job approval numbers are hitting new lows.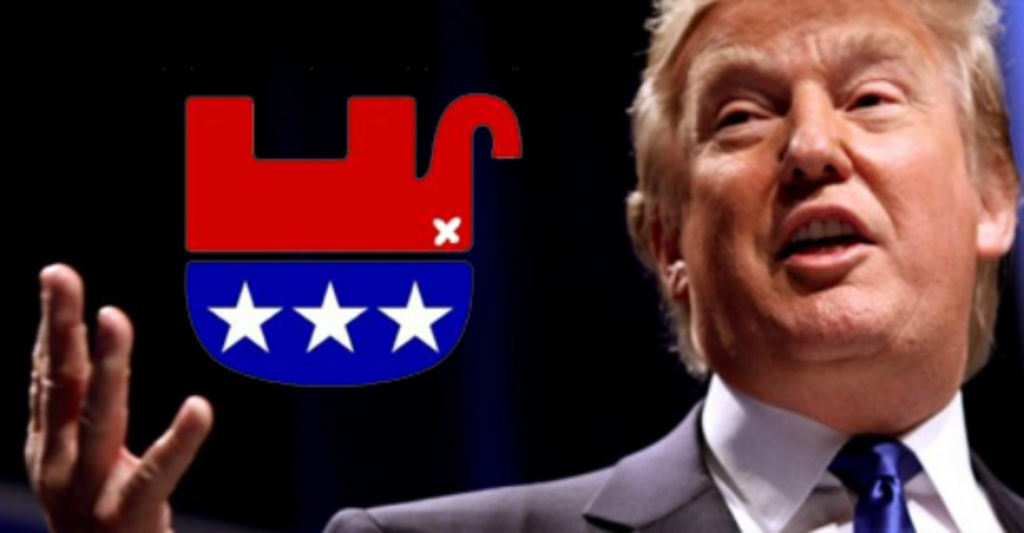 Two new polls taken just over a week after our last look at the President's job approval numbers show that Americans disapproval of President Trump's job performance appears to be declining even further as we get closer to the midterm elections, and that's not good news for Republicans.
First up, the latest CNN/SSRS poll finds Trump reaching new lows in job approval:
President Donald Trump's approval rating has fallen 6 points in the last month and stands at a new low among political independents, according to a new CNN Poll conducted by SSRS.

Overall, just 36% approve of the way the President is handling his job, down from 42% in August. Among independents, the drop has been sharper, from 47% approval last month to 31% now. That's 4 points below his previous 2018 low of 35% approval among political independents in CNN polling, and 1 point below his previous all-time low among independents in CNN polling, reached in November 2017.

Trump's numbers have slipped amid the release of an op-ed in The New York Times and reports about the Bob Woodward book that will be released Tuesday. Both paint a picture of a White House in chaos, with staffers actively thwarting the President's agenda. A majority of Americans say the writer of the op-ed, an unnamed senior administration official, ought to publicly identify themselves (58% say so), and 55% think it is inappropriate for an administration official to work against the agenda of the president for whom he or she works.

There are sharp partisan splits on both questions, with about 8 in 10 Republicans calling it inappropriate for a White House official to act against the president. About half of independents and about a third of Democrats say such behavior is inappropriate. Similarly, 85% of Republicans, 55% of independents and 43% of Democrats say the writer of the op-ed ought to identify themselves.

A scant 13% of Americans think most administration officials are working against Trump in the ways described in the op-ed, while 59% say that at least some are acting that way. Just 17% say it's not happening at all, as the White House has claimed in response to the op-ed (that figure rises to 27% among Republicans).

The President's favorability rating — a measure of whether people like him, rather than approve of his job performance — has also taken a hit in this poll, with 61% saying they have unfavorable views of Trump, up from 55% in June. That unfavorable number is the worst since he won the presidency, and it matches the worst level seen during the 2016 presidential campaign.

Trump has also lost ground on several personal attributes, most notably perceptions of his honesty: Just 32% say they see the President as honest and trustworthy, the worst read in CNN polling. About a third, 32%, say he's someone they are proud to have as President, down 6 points since March and the lowest since Trump took office. Only 36% say he "cares about people like you," another new low. Just 30% say he'll unite the country and not divide it, matching his previous low on that measure from November 2017. Four in 10 say the President can bring the kind of change the country needs, down 5 points from March and matching a November 2017 low. And 60% say the President does not respect the rule of law, not significantly changed since March.

As on the President's approval rating, the shifts in Trump's favorability rating and attributes are driven largely by movement among independents. The share saying they have an unfavorable view of the President is up 10 points since June (from 55% to 65%), and there have been 10-point declines since March among independents in the share who say Trump is someone they are proud to have as President (from 36% to 26%), who cares about people like them (from 42% to 32%) and who can bring needed change (from 46% to 36%).
The numbers from the latest Quinnipiac poll are similar:
President Trump's ratings on character traits such as honesty and intelligence from voters have declined to their lowest since November 2016, according to a new Quinnipiac University poll released Monday.

Trump got "his lowest grade for honesty since he was elected," and also received the lowest rating since November 2016 on a question about the president's intelligence, according to the poll.

The poll was conducted after an anonymous op-ed from a senior administration official and a book from journalist Bob Woodward revealed a White House in turmoil.

The poll showed 51 percent of voters responding "yes" when asked "Would you say that Donald Trump is intelligent, or not?," while 42 percent answered "no."

That was Trump's lowest rating for this question since Quinnipiac started asking it after the 2016 election, and was down from 57 percent in July. In November 2016, 74 percent of respondents answered "yes" to the question.

The poll also showed that 32 percent of those surveyed answered "yes" to the question, "Would you say that Donald Trump is honest, or not?", the lowest since November 2016, and down from 38 percent in July.

The Quinnipiac poll also surveyed voters about their views on other traits such as whether President Trump is "level-headed" and "strong."
In addition to the numbers on honesty and other personal qualities, the Quinnipiac poll also shows that 38% of respondents approve of the President's job performance while 54% disapprove.  The poll also finds that Trump is far behind on a large number of character traits:
57% say that Trump does not have good leadership skills, while 38% say that he does;
55% say that the President does not care about average Americans, while 41% say that he does
65% that he is not level-headed, while just 30% say that he is;
60% say that the President does not share the voters' values, while 33% say that he does
55% say that Trump is not fit to serve as President, while 41% that he is; and,
48% say that he is mentally stable, while an alarmingly high 42% believe that he is not
This is comparable to some of the character trait numbers from the CNN poll, where 43% of respondents say that the President is less honest than most other politicians, 41% say he is more corrupt, 47% say he is less intelligent, and 47% say he is less in touch. Across the board, then the President is largely viewed as not performing in his job, unlikeable, untrustworthy, and only barely mentally fit. These are, to put it mildly, disastrous numbers for the President and the Republican Party in November.
Other polling taken over the past week or so find a similar decline in Presidential job approval:
looking at the poll averages, the numbers are about what you'd expect. RealClearPolitics, for example, puts the President's approval at 41.0% and his disapproval at 53.5%, for an average deficit of -12.5 points. In the Pollster average, Trump's job approval at 42.2% and his disapproval at 53,3% for a deficit of 11,1 points. Among Democrats, obviously, the President's disapproval is near 90%, while his job approval stands at a similarly high number among Republicans. Among Independents, meanwhile, the President's numbers are worse than they are among the public as a whole, with 56.8% disapproving of his job performance while 35.7% approve for a deficit of -21,1 points. Finally, the FiveThirtyEight poll average, which is weighted for poll accuracy and reliability, puts Trump's disapproval at 53.7% and his approval at 39.9% for a deficit of 13.8 points. All of these numbers are worse for Trump than they have been in recent months, a sign that he could be headed into a downward spiral as the midterm elections approach something we can also see the RealClearPolitics chart with respect to the upward trend in the President's disapproval numbers: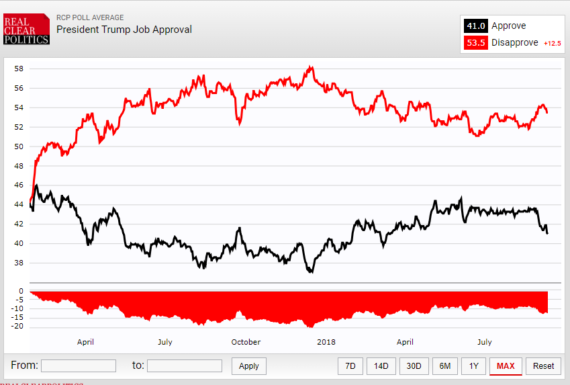 The fact that the President's disapproval numbers appear to be on the upswing is certainly something that should worry Republicans given the fact that we are almost within two months of the midterm elections. The fact that these numbers are rising at the same time that his approval numbers remain at levels that are historically low for a newly elected President at this point in their Presidency does not bode well for the incumbent party at the polls this year. This is especially true given the fact that other polling indicates that the Democrats may be opening up a gap in the race for control of the House of Representatives that could be indicative of the "blue wave" that Republicans fear.
In a piece that was written before these new polls were released, CNN's Harry Enten noted the danger these low approval numbers hold for the President and the Republican Party:
So far, the President's approval rating has stayed high enough that Republicans still have a chance at maintaining control of the House. Most polls over the last few months have had Trump's approval rating in the low 40s and a Democratic lead on the generic congressional ballot of around 7 to 8 points. This has translated into a potential Democratic pickup of 30 to 35 seats. Although that's more than the 23 net gain Democrats need to pick up the House, it's close enough to 23 that it's well within the margin of error for Republicans to hold on to the House, given the current polling.

If Trump's approval rating drops into the 30s, the bottom may fall out for House Republicans. Since 1946, a point decline in a president's approval rating is worth about 0.25 to 0.33 point in the national House vote. That is, a drop in Trump's approval rating from 42% (CNN's latest poll) to 36% (the ABC News/Washington Post poll) could increase the Democratic advantage by 2 percentage points.

That may not seem like a lot, but a look at the House map suggests it could be a very big deal. If you were to shift that national environment 2 points toward the Democrats, it might result in Democrats picking up, on average, around 45 seats or more in the House.

To put that 45-seat gain in perspective, it would be the largest for the Democrats since Watergate.

This estimate, though, may not be friendly enough to Democrats. Historically, the relationship between how voters feel about the president and how they vote for Congress isn't as strong as it is today. Given what the last CNN poll showed (just a 2-point difference between voters' net approval rating of the President and the Democratic advantage on the generic ballot), a 36% approval rating could translate into a Democratic popular-vote win of well above 10 points. The latest ABC News/Washington Post poll showed a Democratic advantage of 14 points on the generic congressional ballot, for example. This would be good enough for a Democratic gain of 50 seats or more. Democrats last gained this many seats in an election in 1948.

Indeed, we already saw how such a low Trump approval rating could affect an election earlier this cycle. His approval rating was around 36% to 37% nationally, when Democrat Doug Jones won the special Senate election in ruby red Alabama. Yes, Republican Roy Moore was a bad candidate, but the President managed just a 48% approval rating in the exit poll of that race. In other words, he was of little help to Moore in a very Republican state.

For Republicans to have a realistic (i.e. within the margin of error) shot of maintaining control of the House in 2018, Trump's approval rating must remain at least in the low 40s nationally.

For them to have a 50% chance of holding on to power in the House, Trump's approval rating will likely need to rise into the mid-40s.

Right now, Trump and his fellow Republicans are, if anything, going the other (i.e. wrong) way.
These polls come just a week after a rash of new Generic Congressional Ballot polls showed Democrats widening their lead over Republicans, yet another sign that momentum appears to be building in favor of Democrats as Election Day, and the beginning of early and absentee voting in many states, get closer. If these trends continue, then November 6th is going to be a very bad day for Republicans.