After 200 Days In Office, Trump's Job Approval Continues To Slump
After 200 days, President Trump's job approval numbers are hitting new lows.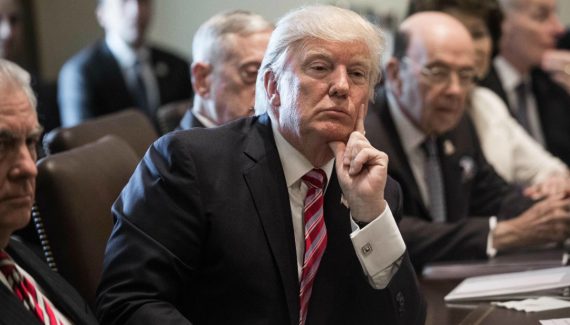 Yesterday marked Donald Trump's 200th day in office, and several new polls show the President's job approval numbers continuing to decline.
First up, a new poll from CNN puts the President's job approval numbers at the lowest they've ever been in that poll, with many respondents saying that they can't trust what they hear from the White House:
Six months into his presidency, Donald Trump's overall approval rating stands at its lowest point in CNN polling, while three-quarters of Americans say they can't trust most of what they hear from the White House.

Overall, 38% say they approve of Trump's handling of the presidency, according to a new CNN poll conducted by SSRS, with 56% saying they disapprove. Just one other newly-elected president has held an approval rating below 50% at this point in his presidency since modern polling began: Bill Clinton, whose approval rating stood at 44% at this point in 1993.

Enthusiasm breaks against Trump by a 2-to-1 margin. Nearly half in the new poll say they strongly disapprove of Trump's handling of the job (47%), while just a quarter say they feel strongly positive about Trump's performance (24%).

Those numbers have soured in recent months, particularly among Trump's core supporters. Among Republicans, strong approval has dropped from 73% in February to 59% now. Among whites who do not have college degrees, a core component of Trump's base, just 35% strongly approve, down 12 points since February. At the same time, strong disapproval among Democrats has held steady around 80%.

On top issues, Trump's approval ratings largely tilt negative. And perceptions of the President as someone who will bring change are fading. Just 43% say Trump can "bring the kind of change the country needs," down from 48% in April, and the share who say he "can manage the government effectively" now stands at 39%, down from 44% in April.

The poll finds widespread doubts about the veracity of information coming from the White House. Only a quarter of Americans (24%) say they trust all or most of what they hear in official communications from the White House, while more (30%) say they trust "nothing at all" that they hear from the President's office. (Even among Republicans, only about half say they can trust most of what they hear from the White House.)

Trump's acumen as a manager and ability to bring change were the brightest spots for the President in polling conducted before he took office. But cracks in Trump's base of support are evident in the results on those questions now.

Among Republicans and independents who lean Republican, the share saying Trump can manage the government effectively has dipped 10 points since April's CNN/ORC poll. Among whites without a college degree, just 50% see Trump as an effective manager. Those non-college whites are also less likely to see Trump as a change agent, 58% say so now, down from 64% in April.

Still, these tepid ratings come even as most Americans feel things in the country are going well (53% say so), a number that's held roughly steady since April.

That positive feeling hasn't boosted Trump's ratings on the issues, however. He gets a mixed 48% approve to 47% disapprove rating on national security, and Americans are also divided on his handling of the economy (47% disapprove to 45% approve). On just about every other issue tested, majorities disapprove of Trump's work, including on health care policy (62%), foreign affairs (61%), immigration (55%) and helping the middle class (54%). Nearly half (48%) disapprove of his handling of taxes while just 34% approve.

Looking back over the first 200 days of Trump's time in office, just 36% say they consider it a success, and 59% consider it a failure. Both Barack Obama and George W. Bush were viewed as successful at this stage of their presidency by most Americans (56% for Bush, 51% for Obama).

Further, 62% overall say that Trump's statements and actions since taking office have made them less confident in his ability to be president. Half of whites without college degrees share that view.

The day-to-day operations of the executive branch appear to be chipping away at confidence in Trump and his management style. Most Americans (59%) say Trump hasn't paid enough attention to the country's most important problems. About the same number say his management style and the high rate of turnover in the West Wing hurts the administration's ability to be effective (58%). Slightly more say Trump has done a poor job assembling a team of top advisers to work in the White House (62%, up from 56% saying so in April).
In addition to the CNN poll, a new poll from CBS News shows Trump's job approval numbers roughly unchanged from the same low number, although he does better in the eyes of the public when it comes to some specific issues. Overall, the poll shows that 36% of respondents approve of the job the President is doing, while 58% disapprove. This is roughly comparable to where the President stood in the last CBS poll in June, which showed 36% approval and  57% disapproval. On specific issues, the CBS News poll shows 46% of respondents approving of the job the President is doing while 45% disapprove. This is likely a reflection of the fact that the public as a whole is currently quite optimistic about the state of the economy itself. In that regard, 69% of respondents said they have a positive view of the economy while 30% have a negative view. That's a measurable improvement from where things stood earlier this year and, as noted, roughly comparable to where public views on the economy stood in July of 2001 when the economy was just beginning to recover from the modest recession experienced at the end of the Clinton Administration. Trump's standing on other issues, though, is far less positive. On trade, which was a recurring theme of Trump's 2016 campaign, only 38% of respondents approve of the job the President is doing while 45% disapprove. Another recurring theme of Trump's campaign was, of course, immigration and the poll shows the public also largely disapproving of the job the President is doing, with just 37% approving of the job the President is going while 57% disapprove. Finally, on health care, the one issue that Trump has arguably invested the most time trying to lobby Congress since taking office, the poll shows just 32% approve of how the President is handling the issue, while 59% disapprove.
A third national poll from Investors Business Daily and TIPP has Trump's nationwide numbers in even worse shape:
President Trump's approval rating dropped 5 percentage points in August to a new low of 32%, according to the latest IBD/TIPP Poll, with 59% saying they disapprove of the job he's doing as president.

Trump lost significant support across the board, but saw big declines among areas of core support, including Republicans, Midwesterners, middle-income families, white men and the high-school educated. The results come in the wake of the Senate's failure to repeal ObamaCare, upheavals in the White House staff, the ongoing investigation into Russian meddling in the election, and the daily beatings administered by the mainstream press.

Among Republicans, for example, Trump's approval rating fell from 83% in July to 71% in August. Trump's already low approval ratings remained relatively unchanged among Democrats (4%) and independents (30%).

In terms of income, Trump lost the most support from those with household incomes between $30,000 and $50,000. Among this group, Trump's approval rating dropped from 40% in July to 27% in August.

Trump's support among white men — the one demographic group who approved of Trump — dropped from 51% in July to 44% in August. The nearby chart shows other groups with big drops in August.

(…)

Worse for Trump, fully 47% of the public now think that talk of impeaching the president is appropriate today, with 50% saying it's premature.

When IBD/TIPP asked this question in June, only 32% thought it was appropriate to talk about impeaching the president, with 65% saying such talk was premature.
There's also an interesting poll out from New Hampshire, the state that hosts the first primary in Presidential years, and also the first state that Trump won in his pursuit of the Republican nomination last year:
Ohio Gov. John Kasich leads President Trump in a hypothetical New Hampshire Republican presidential primary matchup, according to a new poll.

An American Research Group poll found that if the New Hampshire Republican presidential primary were held today, Kasich would get 52 percent support, compared to Trump who would receive just 40 percent.

Another 8 percent are undecided.

In a potential primary matchup between Kasich and Vice President Mike Pence, the Ohio governor still holds an advantage, according to the poll.

In that matchup, Kasich garners 41 percent support, compared to Pence, who has 27 percent.

Another 32 percent of respondents said they were undecided.

The poll was conducted from Aug. 4 to 6 among 600 likely Republican presidential primary voters. The margin of error is 4 percent.
This poll was conducted in the wake of a report that Trump had called the Granite State a 'drug infested den' in a conversation with the President of Mexico, a report that drew a strong and negative reaction from New Hampshire politicians and citizens.
Looking at the polling averages, we see similar numbers, as well as confirmation that Trump's numbers, which have been consistently bad virtually from the first day he took office, continue to get worse. In the RealClearPolitics average, for example, Trump's approval stands at an average of 37.8% approval and 57.0% disapproval.  This represents the lowest Trump's average as calculated by RCP has been, and the highest that his disapproval numbers have reached, since the start of his Presidency, the previous low was 38.6%, which he last reached in mid-June. On specific issues, Trump does slightly better on the economy, with an average rating of 44.1% approval and 46.3% disapproval. On foreign policy, meanwhile, Trump stands at 38.3% approval and 54.8% disapproval.  In the Pollster average, meanwhile, Trump's approval stands at 37. 4% and disapproval stands at 58.5%. Looking at specific subgroups, the President remains wildly unpopular among Democrats, and wildly popular among Republicans, although it's worth noting that Trump's approval among Republicans has slipped below 80% and his disapproval is inching ever closer to 20%, a trend that suggests that even Republicans are growing frustrated with the Trump Administration. Among Independents, though, Trump's numbers are worse than those among the public as a whole, with 33.8% of self-identified Independents saying they approve while 59.4% saying they disapprove. This marks a low point for Trump's support among self-identified Independents in the Pollster average. Finally, FiveThirtyEight's polling average, which includes adjustments for factors such as the reliability, recency, sample size, and "partisan lean," Trump stands at 36.6% approval and 57.5% disapproval. Recent polling also shows that the President's personal favorability continues to sour. In the RealClearPolitics average, for example, 39.4% say they have a favorable opinion of Trump while 55% say they have an unfavorable view.
As the RealClearPolitics chart shows, the overall trend for Trump's job approval has been overwhelmingly negative: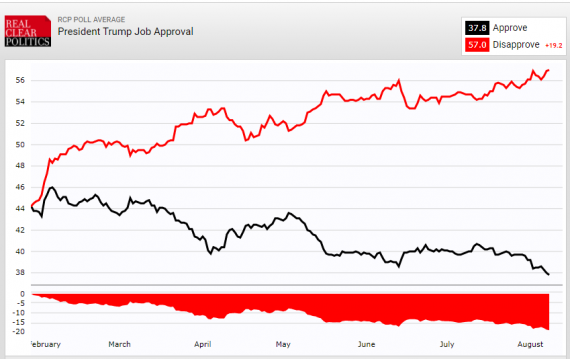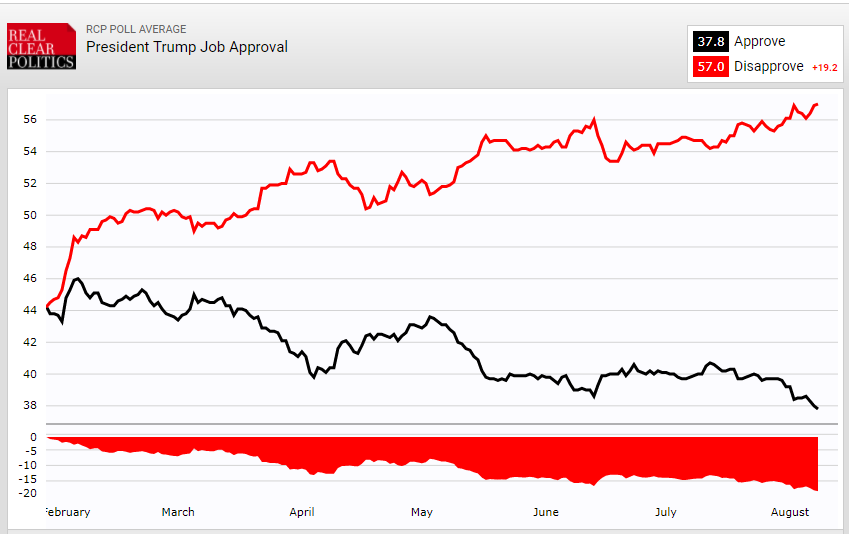 All of these numbers continue to show the same thing, namely that Donald Trump is historically unpopular for an incoming, newly-elected President since the time that modern polling began in the wake of World War II. As I've noted before, this is significant in no small part due to the fact that history shows us that a President's job approval numbers during the first term tend to peak within the first six months after he enters office. The only recent exceptions to this rule have been President George W. Bush, who saw his numbers reach massive highs in the wake of the September 11th attacks, which occurred roughly eight months after he took office, and President George H.W. Bush, who reached similar heights of his own in the wake of the Iraqi invasion of Kuwait and the subsequent responses of Operations Desert Shield and Desert Storm. Additionally, President Clinton's job approval during his first year in office lagged below the historic average, although with the exception of a brief period in June 1993 he did not reach the lows that Trump is showing this early in his administration and did not show the trend of ever increasing disapproval that we're seeing for Trump. Outside of these exceptions, which were of course largely impossible to predict beforehand, the general trend among Presidents has been for job approval to drop while disapproval rises, marking the end of what is commonly referred to as the "honeymoon" that most new Presidents get from the public upon entering office.
Trump, of course, has not experienced any honeymoon at all, and that has been at least partly reflected in the fact that his Administration has had no real success in advancing its agenda in the roughly six and a half months it has been in office. The one exception to this observation has been the confirmation of Justice Neal Gorsuch to the Supreme Court, although it's worth noting that this would not have been possible but for the decision by Senate Republicans to follow Harry Reid's lead and eliminate the filibuster for Supreme Court nominees. Other than that, none of the major agenda items on Trump's agenda have gotten very far. His Muslim Travel Ban has been limited in its impact by rulings from the Federal Courts, his efforts to punish so-called sanctuary cities are largely on hold due to lawsuits filed by localities around the country, and most of the legislation he has signed into law has consisted of relatively minor Congressional action to roll back some regulations imposed by the Obama Administration. On other major issues, the President has largely been undermined by members of his own party. The effort to 'repeal and replace' the Affordable Care Act, for example, appears moribund now in the wake of one bill that barely passed the House of Representatives and a Senate proposal that ended up dying a dramatic death at the hands of Senator John McCain and two other Republicans. Efforts to revive the health care debate, or to move forward significantly on issues such as tax reform, appear unlikely at least in the short term given that Congress will likely be focused on passing a new budget when it returns from its recess after Labor Day. Finally, hanging over all of this is the ever-evolving investigation into Russian interference in the 2016 election and contacts between the Trump campaign and Russian officials both during and after the election, an investigation that seems to be getting ever closer to Trump and his business interests.
One impact of all of this, of course, have been signs that Republicans on Capitol Hill are beginning to assert their independence from the White House in a wide variety of ways. With regard to the Russia investigation, the bipartisan membership of both the House and Senate Intelligence Committees is moving forward with their investigations. Additionally, suggestions that Trump could seek to fire Attorney General Jeff Sessions and/or special prosecutor Robert Mueller have led Republicans to object strongly and take actions to prevent Trump from acting on those apparent threats. Finally, Trump's recent endorsement of a bill that would cut legal immigration by 50% has fallen on largely deaf ears in both the House and the Senate, with House Speaker Paul Ryan saying that he doubts the proposal would have much luck in the House, and Republican Senators saying much the same thing. If Trump's numbers continue to deteriorate, it's likely that we'll see additional signs of Republicans asserting their independence from the White House, a factor that could play an interesting role in the 2018 midterm elections. All in all then, it looks like rough times ahead for the President unless the seemingly unlikely happens and he manages to turn these numbers around.
Update: This post was updated to include the results of a third nationwide poll, from Investors Business Daily and TIPP, that was released shortly after the poll went live. The averages were also updated to the extent that they include the results of this poll at the time of this update. The post was also updated to reflect the fact that President Clinton also had issues with low job approval during his first year in office, although not neverly as severe as those we are seeing for President Trump.