Senate Blocks Trump's Ability To Make Recess Appointments
Even members of his own party don't trust Donald Trump enough to make it possible for him to make recess appointments.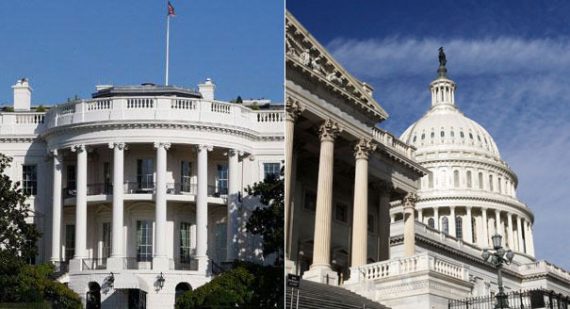 Congress is effectively out of session for its August recess as of today and not set to return until after Labor Day, but the Senate has acted to make sure that President Trump will not be able to make recess appointments during that period:
Before the Senate left for its August recess on Thursday, lawmakers agreed to a series of pro forma sessions that ensures the Senate never officially goes on recess. The move effectively blocks President Donald Trump from making recess appointments while senators are away.

When Trump's public humiliation campaign against Attorney General Jeff Sessions was at its peak, Democrats pledged to block any possibility of Trump naming a new attorney general while they're away for recess.

"Many Americans must be wondering if the President is trying to pry open the office of attorney general to appoint someone during the August recess who will fire special counsel [Robert] Mueller and shut down the Russian investigation," Senate Minority Leader Chuck Schumer (D-NY) said in a late July floor speech. "First let me state for the record now, before this scheme gains wings, Democrats will never go along with the recess appointment if that situation arises. We have some tools in our toolbox to stymie such action. We're ready to use every single one of them."
The Constitution does give the President the authority to make appointments during the time that Congress is in recess, and provides that persons appointed pursuant to this power can continue in their position until the end of the then-current session of Congress. After that time, the Senate would need to confirm them formally for them to be able to continue serving. At the time the Constitution was drafted, of course, this power was necessary in large part due to the fact that Congress would take much longer breaks than it does now and that it was much more difficult for members to return to Washington, D.C. promptly in the event they are needed to act for some reason. With modern transportation and communications, that is no longer the case, and while Congress does take breaks, including the nearly month long August recess, it is far easier for members to return to Washington if needed, even with only a few days notice.
In recent years, though, Congress has often taken the additional step of holding pro forma sessions where the House and Senate would go through the process of convening roughly every three days for a session that quite literally only lasts a few moments. The intent of these sessions is to prevent the President from making recess appointments since Congress technically is not out of session. Typically, these sessions are presided over by a member of the House and/or Senate who either happens to be in town at a given time, or who lives in the nearby area. Several years ago, this led to a dispute between President Obama and Republicans in Congress when the President sought to fill several positions, including positions and the National Labor Relations Board and other agencies, during one of these recesses. Republicans contended that the appointments were invalid because Congress was not in recess as the Constitution defined it and, in a ruling issued three years ago, the Supreme Court agreed, holding that the President cannot make recess appointments when Congress is not really in recess, and that these pro forma sessions are sufficient to constitute Congress being "in session" for purposes of the Recess Appointment clause.
What's unusual about this move, of course, is that both the House and the Senate are in Republican hands under a Republican President, and that Congress is continuing the practice of holding pro forma sessions. In part, this is due to the fact that Senate Democrats were united enough to prevent the Senate from agreeing to a joint resolution that would have put Congress into a formal recess. In this case, though, the move was also supported by many Senate Republicans, and appears to have been motivated by the fear that President Trump might have used the recess appointment power to remove Attorney General Jeff Sessions in an effort to try to undermine the Mueller investigation, or even set up the process of removing Mueller altogether. This became even more important in light of yesterday's revelation that the special counsel had convened a Grand Jury and was expanding his investigation to possibly include the President's finances or those of his businesses. The fact that members of his own party are seeking to rein the President in is a hopeful sign, perhaps one we'll see more of when they return in September.